Been promising myself a bike that could be used as a daily commuter if needs be (after all the effort and expense involved in the 91 DX, and the rarity of the 92 XTR (see links in my sig), neither of those will do) so when Marcin's
For Sale ad
appeared, I jumped on it as it fitted the bill perfectly.
It didn't need a single part except pedals to be fair, but in putting my own stamp on it I've had to change a few things (and stick the pedals on which are NOS Deore XT M735 off my Al Mega XTR) and I had a load of bits I'd originally planned on putting on the DX but decided against either due to their tattiness or simply changing the build, so they were good for this one. Namely, my own Flite saddle from 1992, a USE seatpost I won in MBUK for Letter Of The Month (!), set of Magura Raceline HS22 I had in 94 that I've now added EVO2 brake boosters to, a pair of shifter mounts bought off
racer x
which are mated to the original XT RF+ (I was going to put my XT thumbies on, but I'll stick with these for now), an elusive orginal Alpinestars bottle cage that I got through a wanted ad on here (came as a pair, the other is being re-coated to go on the DX), and some slick tyres I got off a mate.
I have bled and refilled the rear brake but there's an issue with it so it needs sorting - not sure when or how - and the headset bearing feel a bit gritty so I'll swap them out when I get the chance. I need some LED lights whilst the nights are still dark when rippling home from work, but I think it's good to go.
Ideally I'd like to get the frame stripped, re-powder coated and fit some new decals from Gil because it is really worn, but I can't see the point or justify the expense at the moment!
It's nothing fancy but here's the
SPEC SHEET
:
EDIT 13/06/16 (Mayhem Spec!)
Frame: 1992 Alpinestars Easton VariLite ProGram tubing, curved seat tube, elevated chainstays, 17.5", Midnight Black
Fork: Alpinestars Easton VariLite ProGram tubing, 35mm straight blades, cold-forged dropouts
Now with RockShox Mag20 1¼" threaded steerer, ATI shock boots, hand sprayed by me when I was 16 in 1994, polished brake bridge, NOS RS decals added.
Headset: NOS Tange Superlite 1 ¼" threaded
Stem: Alpinestars Easton VariLite clamp-on
Now with ZOOM 1¼" quill, 134mm
Handlebar: Alpinestars MegaLite 7005 aluminum
Now with 1994-spec Alpinestars 6016 Aluminium blue/silver anodised, uncut
Grips:
Now with NOS ODI YETI black grips
Barends: Tioga PowerStuds6, black
Now chopped to super-stubby size!
Brakes: Magura Raceline HS22 + Magura EVO2 brake boosters & QR mounts
Brake Pads: Magura
Brake Levers: Magura Raceline HS22
Shifters: Shimano DeoreXT RF+ M095 on separate mounting perches
Front Derailleur: Shimano DeoreXT M735 1¼" bolt-on
Rear Derailleur: Shimano DeoreXT M735 SS
Derailleur Cables: Shimano (NOS)
Cassette: Shimano HG50 14-32
Now HG70 12-28 (NOS HG90 12-28 on the TDD wheel)
Chain: Shimano HG50
will be replaced for Mayhem with NOS HG90
Cranks: Shimano Deore XT M730, 175mm
Crank Bolts: Shimano XT
Chainrings: Shimano XT SG 46/36/24
Bottom Bracket: Alpinestars BB, Cr-Mo spindle, cartridge bearings
Pedals: Shimano DeoreXT M735
Now NOS Shimano PD-M535 SPD
Hub Skewers: El Cheapo QR
Now stainless steel solid Allen bolt
Rims: Mavic M231 32H Front,
NOS 36H rear
Hubs: Deore XT M730, 32H Front,
NOS Deore XT FH-M732 36H rear
Nipples/Spokes: Original Equipment (front)
Tioga Disk Drive Comp 36H, all NOS Sugino nuts, bolts, screws and nipples, built by Phil Jones at Rhondda Cycle Centre
Tyres: Vee Rubber slicks, 26 X 1.90"
Now a mix of Panaracer XC Pro 2.1 Kevlar blue wall and NOS Smoke & Dart Classic combo
Tubes: NOS Schwalbe Presta
Saddle: Flite Titanium (original)
Seatpost: USE Aluminium, black, USE 31.6mm thermoplastic shim
Now USE silver aluminum, cut to 330mm
Seatpost Binder: Nameless stainless steel collar & fixed bolt
Weight: TBC
PICS
As it arrived from Marcin: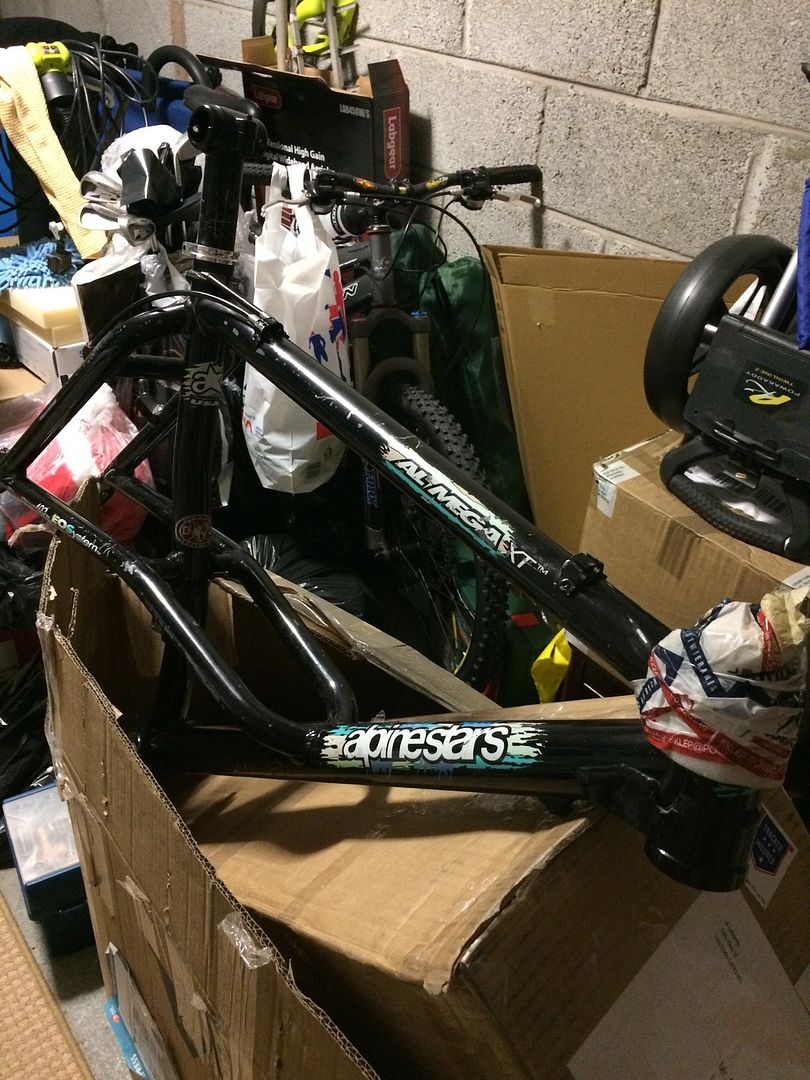 Washed it and degreased it yesterday:
The rear Maguras + Evo2 boosters
The cockpit with the original shifters on racer x's perches with the the Maguras and Marcin's grips (if it ain't broke, don't fix it!). Left some room to stick on some black Tioga PowerStuds which I bought on a Facebook Retro Buy'n'Sell group the other day.
That Alpinestars cage...
Front XT hub (pic taken on iPhone through valve hole, showing original Mavic M231 rim (classic combo!)
A ubiquitous Flite and original USE aluminium post. I've done hundreds of miles on both before, now looking forward to maybe a few hundred more!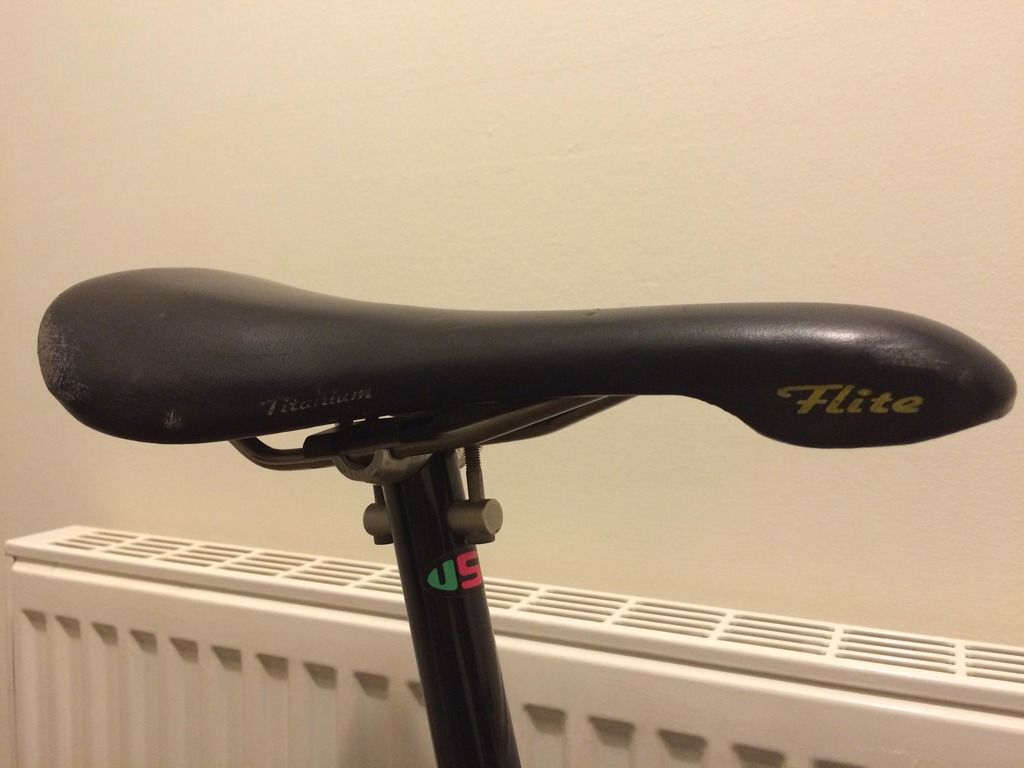 Tidy original chainset, cleaned up a tad, and NOS XT M735 beartrap style pedals.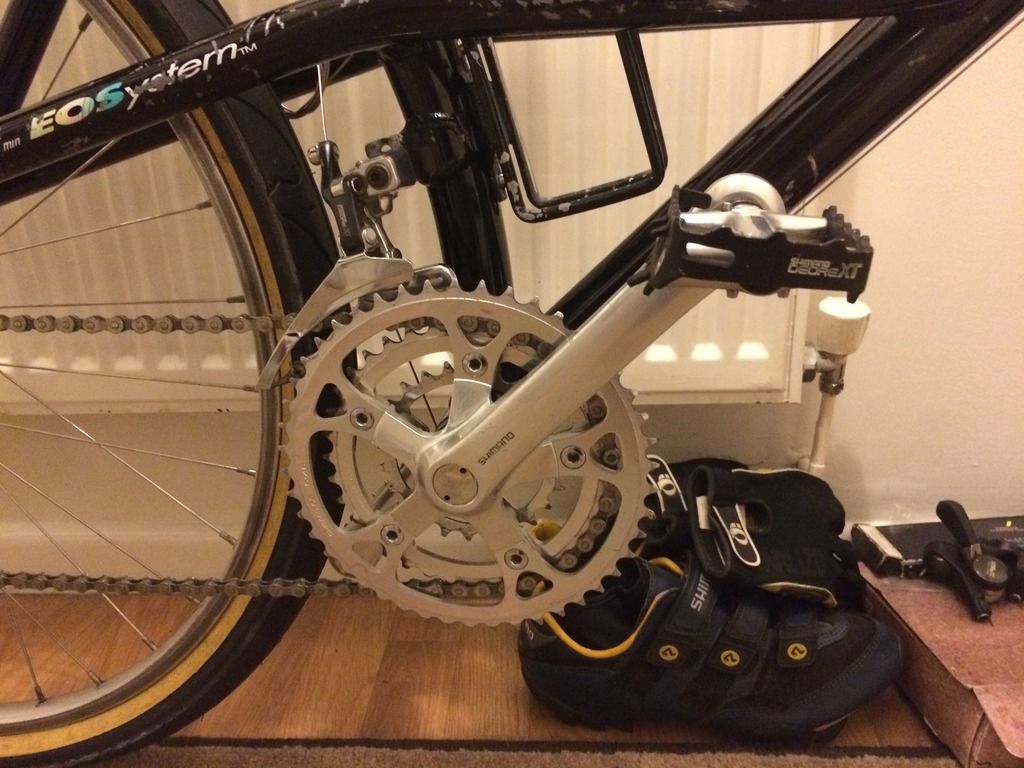 This mech is one I bought in 93/94 - Marcin had a long cage mech that I didn't like the look of, plus mine is in better overall condition so on it went! M735 SS
Finished. For now...!