It's been a while since I updated, but in the time since much work has been done.
Frame: 1996 Stumpjumper
Fork:Original Direct Drive
Headset: Ritchey
Stem: Controltech
Handlebar: Ritchey ForceLite
Grips: ODI Attacks
Barends: hahahaha...bar ends, so silly.
Brakes: Magura HS33
Brake Pads: Standard
Brake Cables: Brake what??
Cantilever cable hangers: in my toolbox...
Brake Levers: Magura
Shifters: XT M732 Thumbies..
Front Derailleur: XT M739
Rear Derailleur: XT M737 ShortCage
Derailleur Cables: Cheap ones
Cassette: SRAM pg 850 11-28
Chain: SRAM pc70
Cranks: Strongarm
Chainrings: 42/32/22(??/Stronglight/Sugino)
Chainring bolts: Metal
Bottom Bracket: UN55 - 113mm
Pedals:xt M735
Hub Skewers: Odyssey(?)
Rims: Mavic 231
Hubs: Hope Ti_Glide(new bearings
)
Nipples: 2
Spokes: long ones
Tyres: Smart Sam(for now)
Tubes: Schwalbe heavyweights or something
Saddle: Flite Ti(205g)
Seatpost: Controltech 27.2 w/ shim
Seatpost Binder: X-Lite
Weight: Dunno, not done yet....
I originally wanted to go silver/polished parts with this one BUT I changed my mind after temporarily mounting the Controltech stem and Ritchey bars. I threw in a basic modern Ritchey headset and ditched the Controtech skewers as it was too much purple, the hubs are enough.
Speaking if the hubs, I had bought this 'superb condition' wheelset from another member to find that the rear axle was nearly seized upon arrival. Seems that the included cassette was stuck on the freehub body and someone tried to use a puller, against the axle, to get it off. I got the cassette off & cleaned up the freehub body. Upon mounting, I found play in the wheel. About 2-3mm at the braking surface SOOO I ordered new bearings from Wiggle. Installed and NOW 3weeks and €20 later, now there in superbly serviceable condition.
I had also made the decision on the drivetrain: the original 42/32/22 'rings with an 11-28 cassette. I chose the SRAM PG850, along with a matching SRAM chain(pc70?). I picked up a 22t Sugino from another member and it was pure luck that I found that new 32t Stronglight at Fahrrad Kalker, for £9!! Still looking for a 42t to finish it off.
At the rear is an m737 Short-cage(thanks Vinevo) and an m739 for the front. Both look great and play the part nicely.
And the sweetest piece so far has to be the Controltech seatpost. Searched far and wide. Picked up a nice example from a fellow MTB-news'er, it arrived this morning and was quickly put into service. Atop this fine piece of equipment, is the standard Flite Ti.
The fresh ODI's will go on once the brakes do, speaking of which,
my loathing of all things 'Canti' forced me to use another method to stop me, more on that next installment...
Onto the Pics: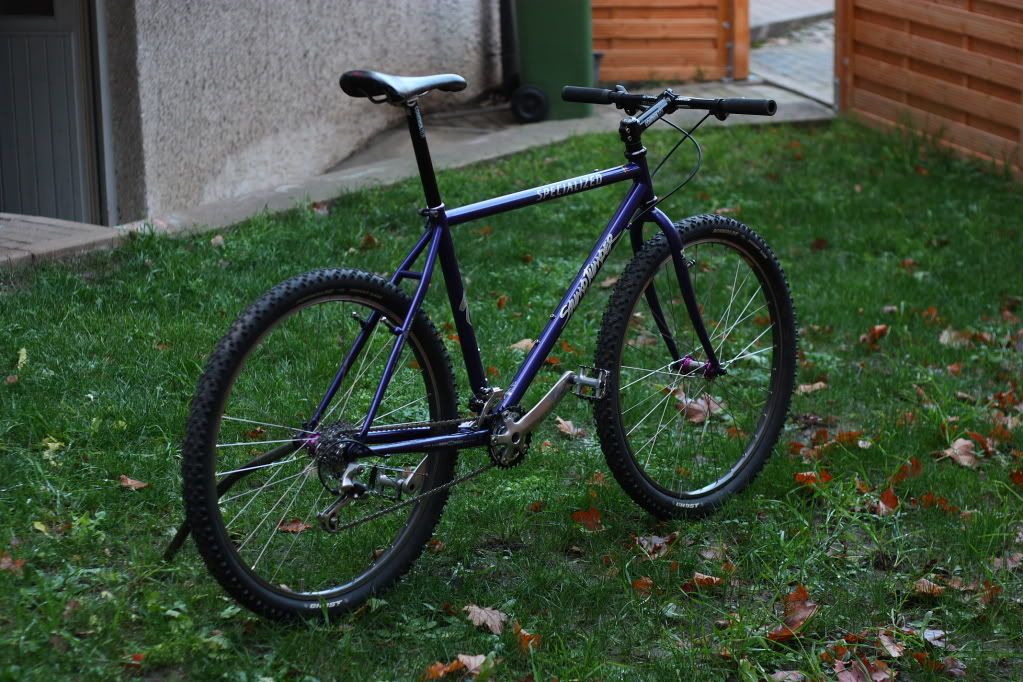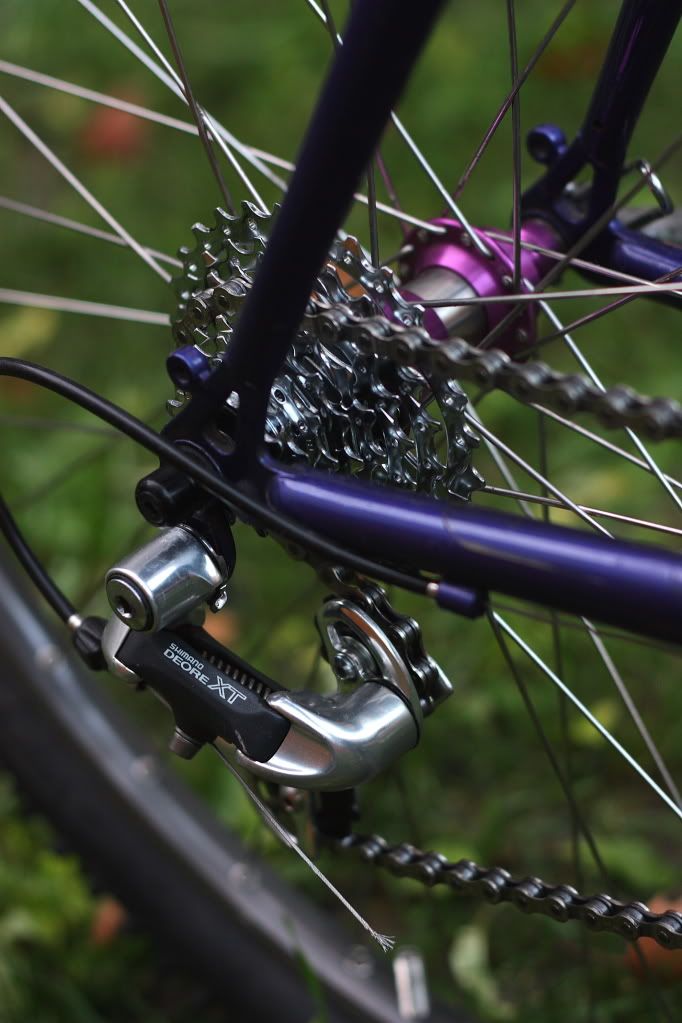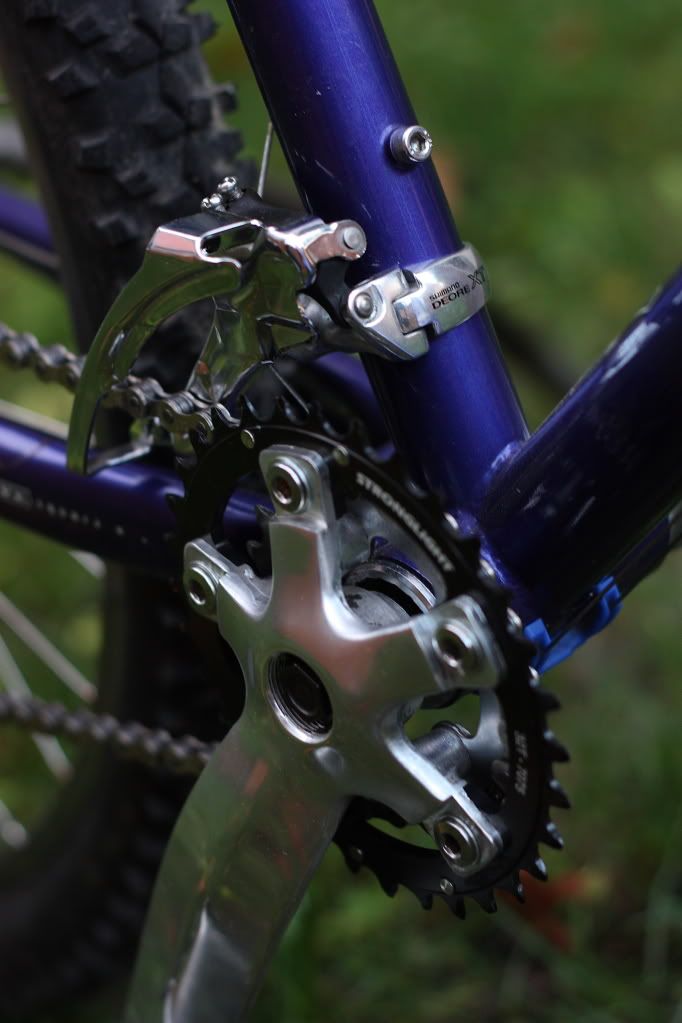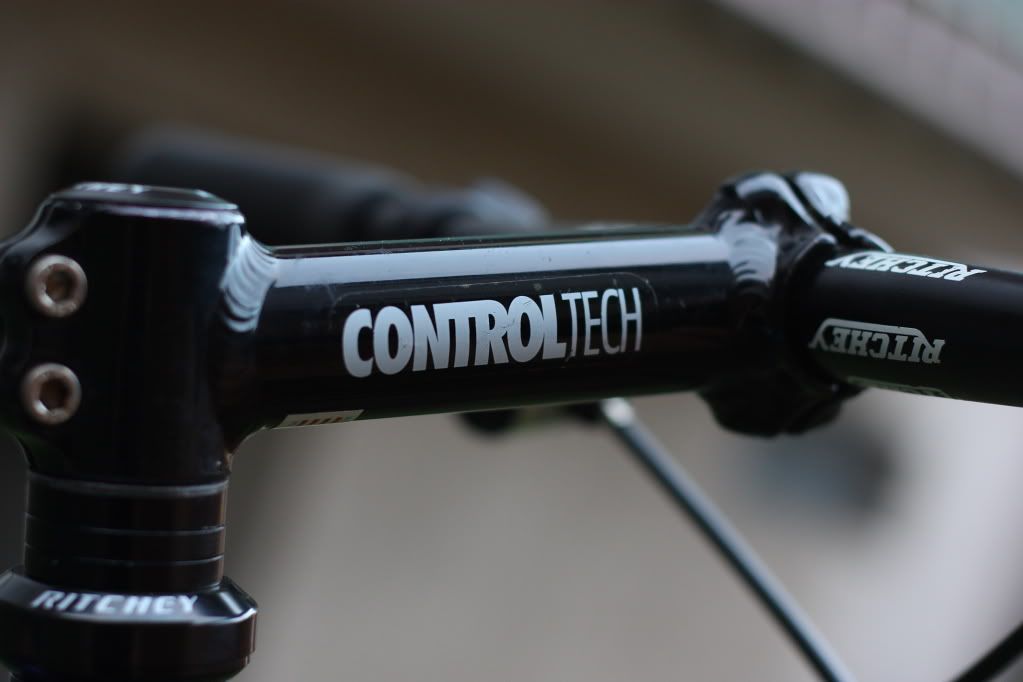 And one more: