This frame, bars and forks was generously karma'd to me by Raidan73 yesterday. 
Its not in bad shape adter 20 years. I'm loving the colour! Would have been stunning in a showroom back in 1992! A few scrapes and the odd patch of surface rust now, but it'll suit my intended purpose well;  I intend to get it built up ASAP to pub bike spec with parts from my spares box (assuming I don't get carried away!
) 
First issue which Adrian pointed out as a possible stumbling block was the  seized BB. It's a fisher evolution pressed in jobbie. I haven't seen one since I worked in a trek dealers back in '92 so I had to dig through the memory bank sharpish! Forgotten how strange but simple they are, 
crazy 88mm shell! 
Funny decal "who you callin a dog?"
Despite water being the culprit for the BB locking up, it doesnt look tooooo bad down the seatpost. 
Nothing a splash of Altrans wont clean up.
But anyway, I don't "do" stumbling blocks
so time for the big guns!
Out came the circlips easy enough.
Then I wanged it out at work on the 10 ton press. It didn't like it much
There! First cartridge through didn't like the strain and exploded! Ha!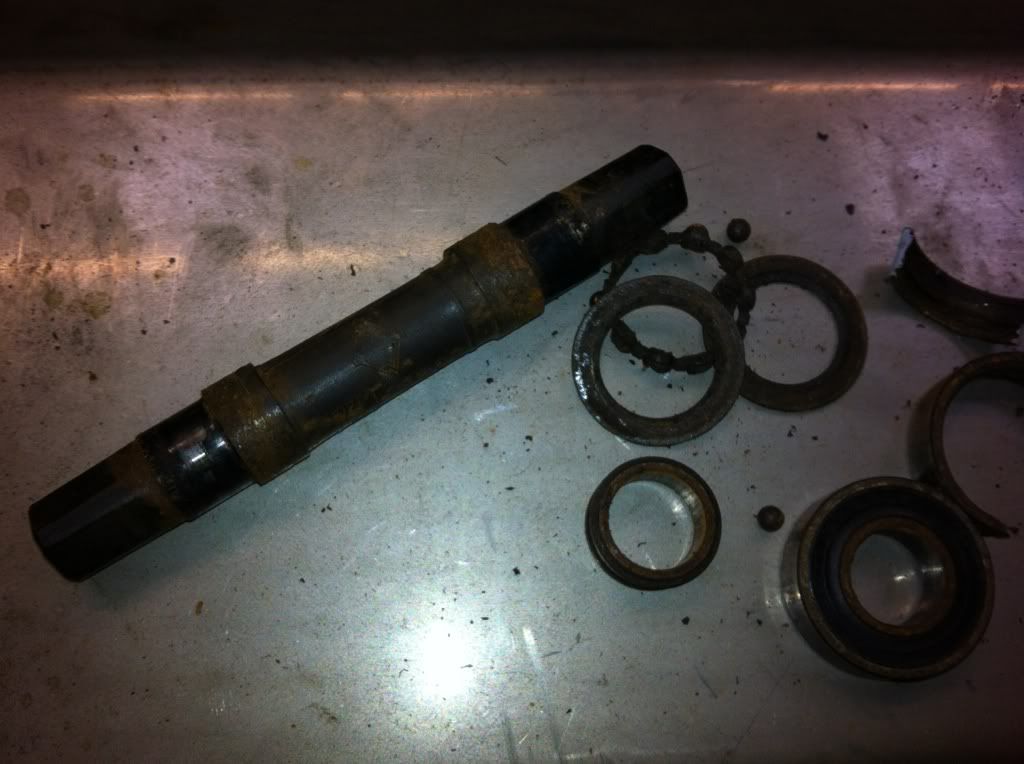 Axle cleaned up OK, neat fisher logo!
BB shell is surprisingly clean and rust free too, should clean up well
New bearings are on order at the local bearing place. be with me in a day or two. then I can get some waxoil in the frame and press it all back together.
Sorted! 
Now what to do with that stem.... Respray and lose that logo or just rub it with the oily rag.....?!