fun at fiftyish wrote:
Oh dear,you have started something now...I was totally lost in that thread.I NEED one!. My favourite bike of the collection is my "99 Haro escape (130mm forks, Maguras etc) ,which I really love to abuse off-road ,Haro seems to be a brand that does not get the credit they deserve ,but on the plus side that keeps the price down!
Having read a bit about the extreme I think it would make a really nice urban bike......Nice to see you are doing it all yourself.the "meat cleaver" made me smile,,,a man after my own heart,no messing about just get on with it
My local powdercoaters want £40 to blast frame and forks ,prime and topcoat!
watching this with great interest...
Mark
Much underrated is the meat cleaver method
this is probably one of the quickest frames ive stripped, mind you the paint was rather weak.... the haro is hopefully gonna be a head turner once its built and im eager to get it finished.
anyway heres the result of the work done last night. I'm going to remove the rest of the paint with nitro mors
the bottom bracket i removed from the frame: its so rusted, that im surprised the axle actually moved, and ive ruined the threads anyway as the bb had to be removed in the vice. im gonna fit a sealed unit instead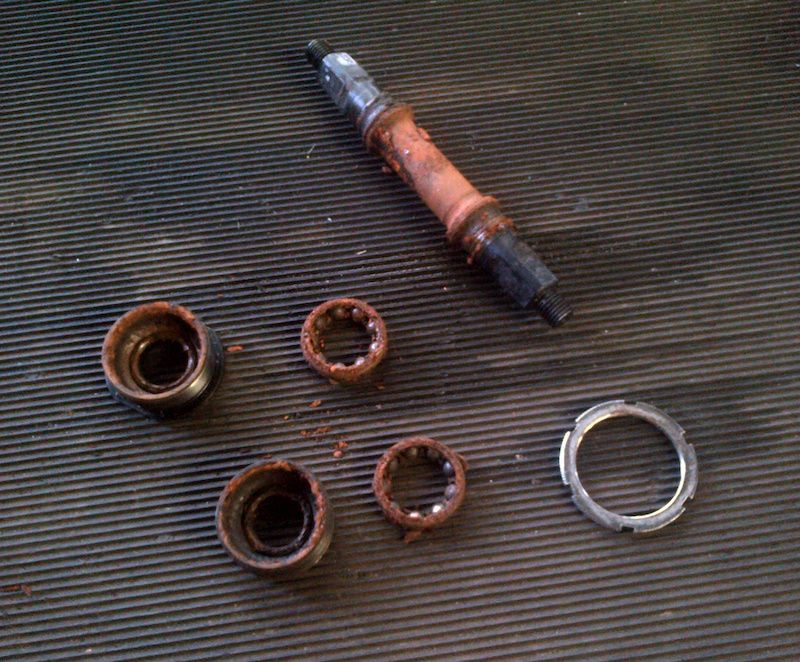 and if mine looks anywhere near as good as yours rob, id be very happy indeed
Sean