This was inspired by two things:
1: KeithB's thread showing the various guises his Bontrager MTB has been through, including a gorgeous road bike build involving 700C wheels and caliper brakes fitted to adapters on the canti braze-ons.
2: The amount of kit in my garage that's surplus to requirements but which I can't bring myself to get rid of.
A few months ago I bought a 1991 Scott Boulder that was advertised not far from where I live, for next to nothing. The owner had about 4 other mountain bikes in his garage and they were all modern bikes with carbon and suspension. This Scott had been his hack and was loaned to his daughter at some point for Uni. Not very many Euros later, it was mine. My initial plan was to build a singlespeed. Here it is when I got it: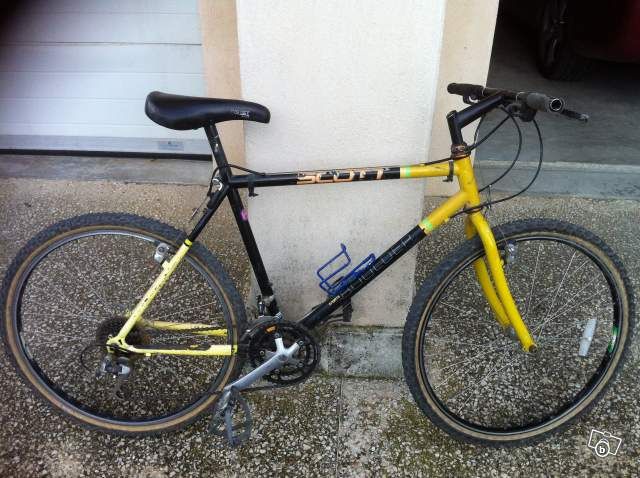 And here it is modded with the singlespeed kit and a few other bits and pieces changed.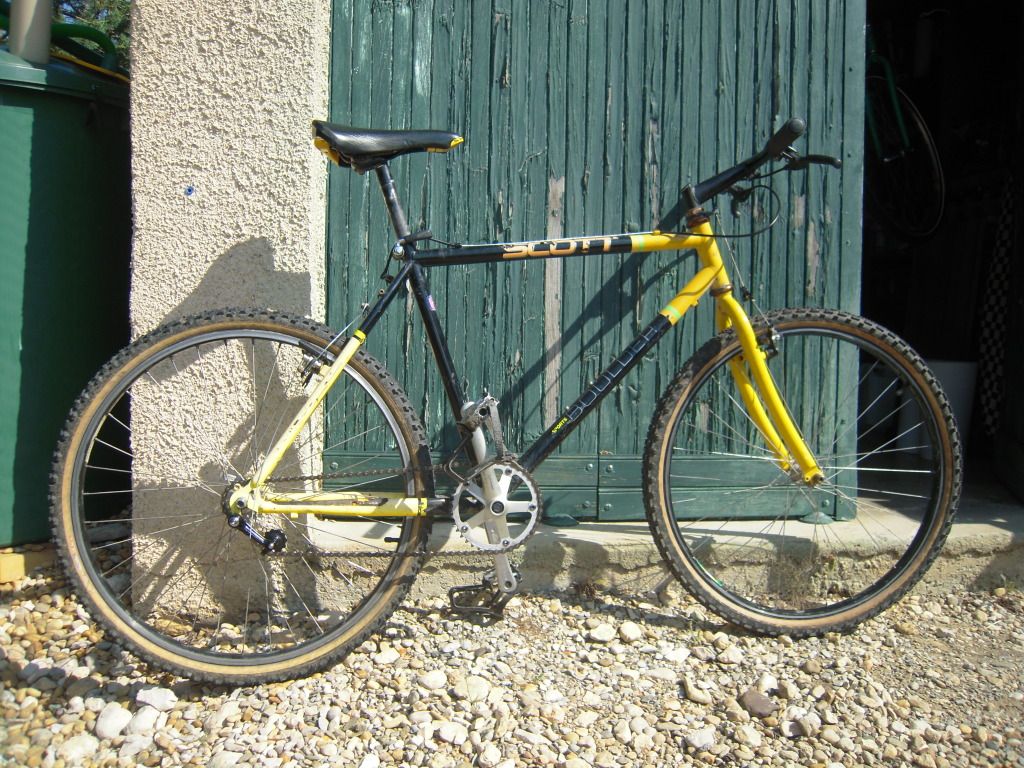 But I didn't really get on with it as a singlespeed, I live in hilly countryside and it seems pointless not having gears on a mountain bike. This was the point when I saw KeithB's thread:
http://www.retrobike.co.uk/forum/viewtopic.php?t=134773
I was in the process of converting my Bianchi from its original Campagnolo Mirage triple configuration to an Athena double build with downtube shifters, so the pile of spares was growing. I tried the Bianchi wheels on the Scott and they seemed to suit it quite well. I had decided on a drop-bar build and the obsolete Mirage brifters were looking handy. I've used a spare 105 rear mech and the original LX front, with the Campagnolo Mirage chainset. I wasn't sure what to do about the brakes initially but loved KeithB's solution - however I had a pair of MAFAC Racer centre-pulls I'd only bought in the first place because they came with a front rack I found on eBay for my Alex Singer. I thought they might have enough drop to fit and I was right. Some people say they're not very powerful but if they were good enough for Bernard Thevenet they're good enough for me.
Next up, the cockpit. I bought a stem from this site for another build but it was the wrong size. It fits this though, and the short reach gives me a comfy riding position with the Cinelli drops I'm using. I swapped the Scott MTB seat for a well-used Selle Italia with yellow flashes that match the frame.
It has a nice riding position, relatively upright but still able to crouch for long downhills and headwinds. The Mirage 8-speed kit is nice to use if a little clunky (first impressions, remember). The brakes work very well indeed so I'm chuffed at remembering I had the MAFACs.
By this stage I'd already decided I wasn't going to use it as a road bike, but would build it as a sort of cyclo-cross hybrid. I'm riding this with 700x30C Michelin MUD2 cyclo-cross tyres and there's plenty of clearance with the MAFACs but it's fairly dry where I live (Southern France) and if I hit the tracks in the wet I'll go on a mountain bike, not this, so mud clogging isn't an issue. I might end up stripping the frame and painting it but we'll see. I can't bring myself to take a Dremel to the cantilever bosses so they'll stay.
Now that I know it works I'm going to clean it all up a bit, I plan to polish the seatpost as it's tatty as hell and black doesn't match the other components now. I'd like to thank KeithB for his inspirational thread, and also my missus, who made me smile by describing my day in the garage with the Scott to her friend the other day over the phone, by saying "He's built a… what is it?"

_________________
"The champions have better bikes, more expensive shoes, many more pairs of cycling shorts than we do, but they have the same roads" - Tim Krabbé