I've been after this double down tube B2 for quite a while and when it finally turned up on eBay I was fortunate to grab it for a song. Knowing the "lightbike" potential of the frame I made an effort to use the lightest bits I had on hand, scavenging/swapping some from other bikes in the stable, to build it up. The end result is a 21.9lb Retro FS XC bullet.
Anyway, here's the latest addition to the stable:
Frame: 1993 AMP Research B2 (Small)
Fork: AMP Reseach F2
Headset: FSA Orbit X 1 1/8"
Stem: Kore Ahead Lite
Handlebar: Kore Elite
Grips: Yeti Speed Grips
Barends: Bovine Stubs
Brakes: Avid Tri-Align III front / Avid Tri-Align II rear
Brake Pads: Koolstop
Brake Cables: Avid Flak Jackets
Cantilever cable hangers: Avid Tridangle
Brake Levers: Real Design X-levers
Shifters: Shimano Deore XT Rapidfire pods 8-spd
Front Derailleur: Shimano Deore LX
Rear Derailleur: Sachs D.I.R.T. Plasma
Derailleur Cables: Avid Flak Jackets
Cassette: Real Design 11-30
Chain: Shimano HG
Cranks: Topline
Crank Bolts: SRP aluminum
Chainrings: 22t Real Design / 34-46 generic aluminum
Chainring bolts: Generic aluminum
Bottom Bracket: TNT titanium 122mm
Pedals: Bontrager RE-1
Hub Skewers: Generic non-QR aluminum nut / steel bolt
Rims: Mavic X517
Hubs: Hugi 240 / S-works
Nipples: DT Swiss Aluminum
Spokes: DT Swiss DB
Tyres: Huchison Pyton Air Light 2.1 F/R
Tubes: Blackburn 1.25 Presta
Saddle: Selle Italia SLR
Seatpost: Sette APX Alloy
Seatpost Binder: AMP Research
Weight: 21.9lb!
Some pics from the seller before the purchase:
Junk components tossed, frame cleaned up, TWP brace and some new decals installed:
Finished product: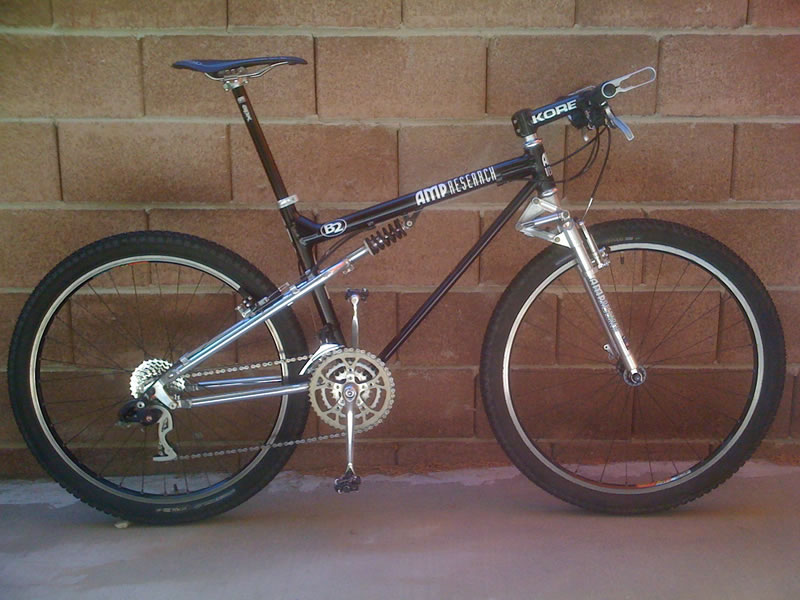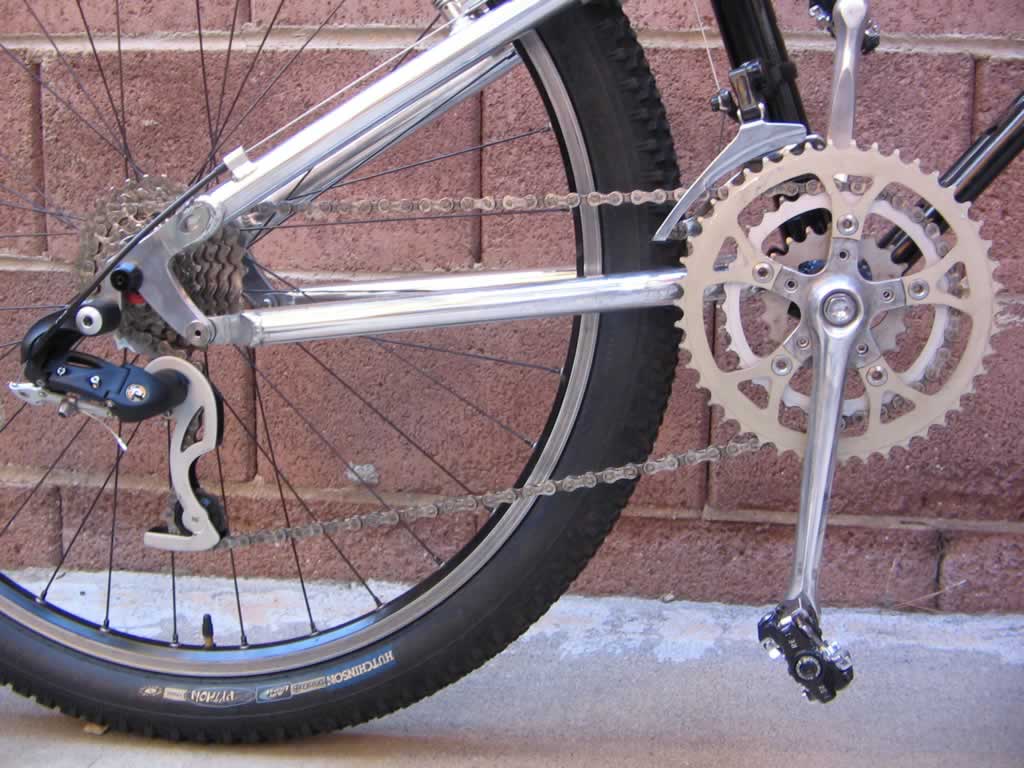 _________________
"...if 4130 were discovered tomorrow, it would be hailed as the greatest building material in the history of mankind." - Keith Bontrager

"...And the secret of steel has always carried with it a mystery. You must learn its riddle, Conan, you must learn its discipline. For no one, no one in this world can you trust. Not men, not women, not beasts... This you can trust." - Conan's Father