Right, I don't have much time right now, but I do have some updates...
Re compensation for my damaged P7, that was a non-starter.
She will be restored in a year or two for road use - same theme as the clockwork except for carbon bladed forks and road wheels. I'll hide the dent with a slender top tube pad.
Anyhow, on to much more exciting news, the Clockwork!
Some pics [before]:
Shot-blasting: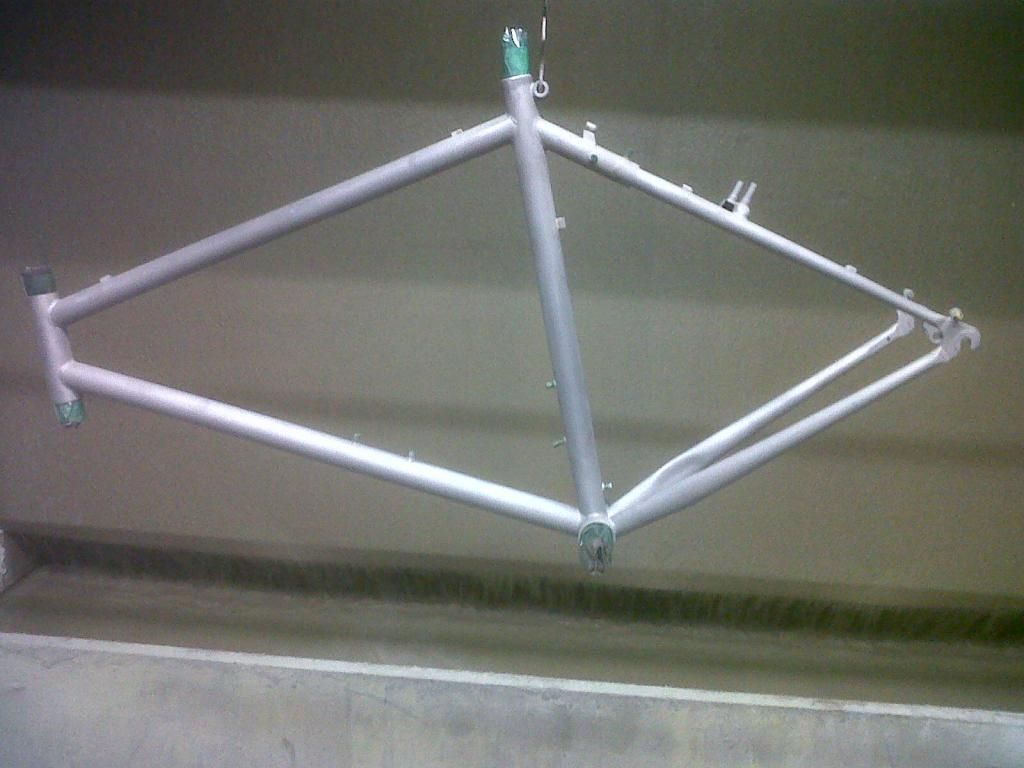 Powder-coated [and the beginnings of assembly]: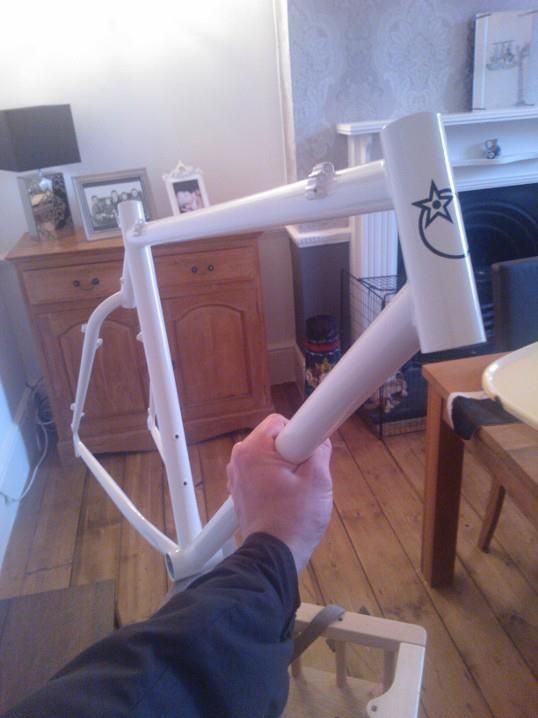 I tracked down these guys
http://www.fullrangefinishing.co.uk/album/album.html
who shot blasted the frame and fork, powder coated both, applied the lone decal on the head-tube and then lacquered all for £90. Very happy with their work.
Left to do is the following:
Order and fit stem adaptor.
Fit stem and bar.
Fit v-brake levers/route cabling and fit white grips (lizardskin chargers)
Chain length and alignment; fit spacers, cog, lockring and

red

chain.
Take more detailed photos in better light and post the finished product on this site.
Cosmetically speaking I've got some black hub skewers en-route from CRC. The bottle cag bolts are anodized red and compliment the chain nicely. When I ordered the wheels from Merlin Cycles I asked the builder to ensure that he used black hubs - turns out he didn't see that part of my instruction but regardless, the silver hubs work well with the scheme and match the rim braking surface colour. So, so far so good and she's looking
awesome
in the metal. Can't wait to get out and see how she handles.
Should feel like 'going home'.
Buzz.