And so we begin..
This is my ever faithful but long deserted Orange P7, purchased during the summer of 1995 (not that you should reveal a ladies age, but her frame number identifies her birthday as June 1995). Several years of solid MTB'ing predate many more in the wilderness of being lent to my brother (road use) before finally being retired to my attic.
There she has sat, for at least four years, gathering dust and ageing gracefully. My previous bikes, in chronological order are as follows;
- 2008 On-One Scandium 29'er (didn't like the 29" wheels, so sold)
- 2009 Giant Anthem X2 (broke this one)
- .. replaced with 2011 Anthem X2 (a lovely bike but doing everything so well I lost connection with the trails, sold on)
- .. for 2011 On One 456 Carbon hardtail/single-speed (a great bike, but I had the crazy idea of trying Cyclocross - sold to fund what was in retrospect, a mistake. Returned to store for a full refund and here we are..)
This neatly brings me full circle. When I realized how the CX wasn't for me it got me thinking about what I wanted as my next bike. Loathe to stump up another £1500+ for a decent hardtail et al, I stumbled across inspiration via this site -
http://orangeproject.wordpress.com/
. Credit to Chris Gillespie (thanks Chris).
I like the colour scheme he's used for his wonderful looking P7. My steed will be restored for the discipline she was created for; MTB'ing. So no bladed carbon blades (however pimpy they look), but I will probably be nicking Chris' colour scheme and simple look.
Without further adieu, here is my start point.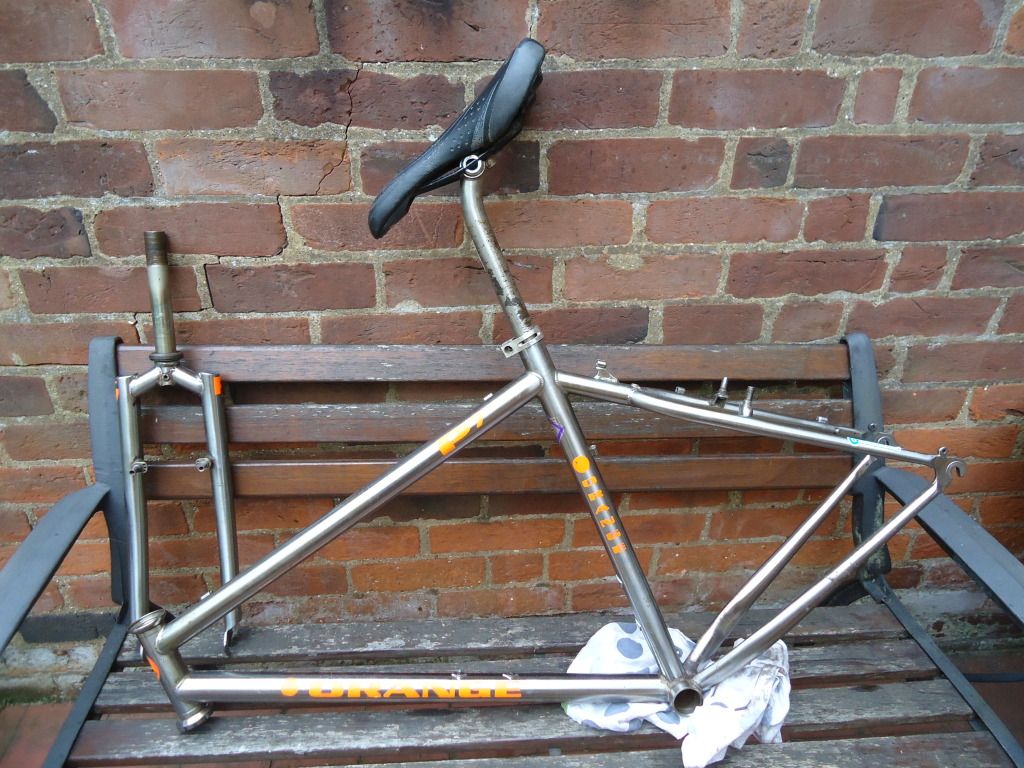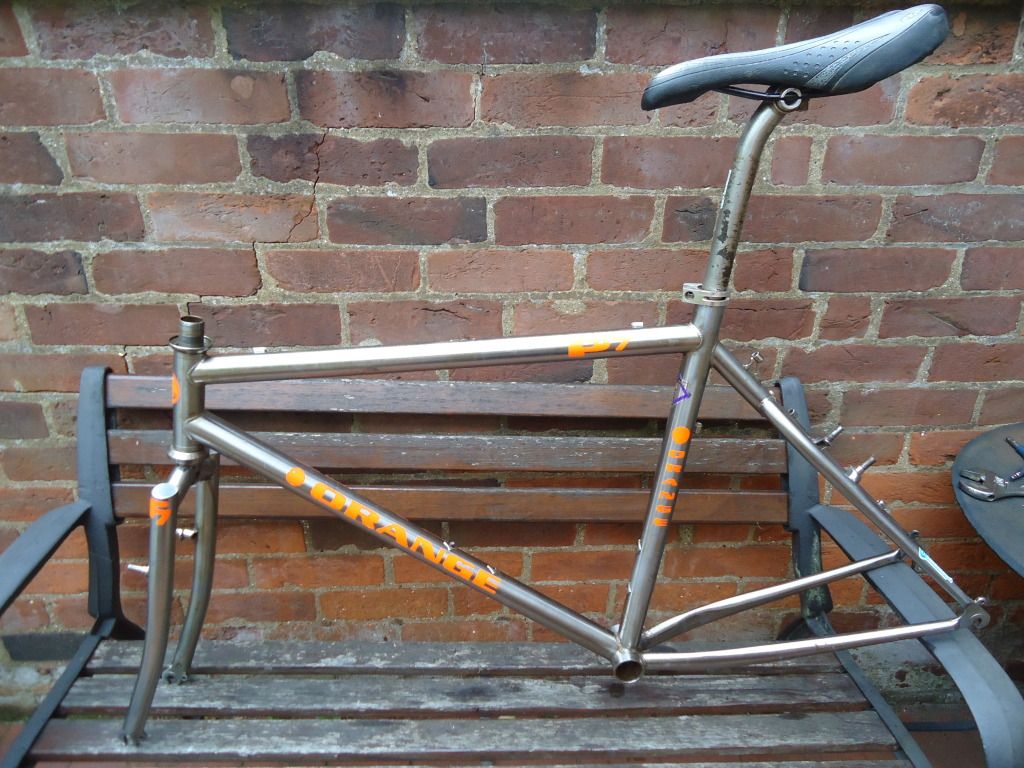 [/list]
More to come as I get her up and running. First things first will be the frame and fork. I think I'll move away from the nickel plating and get her sand-blasted and then powder coated white, re-decalled and then lacquered.
I'm thinking single-speed via
http://www.velosolo.co.uk
(used these folk before and their kit is first class). Trouble is, how do I run SS on the P7. I don't think the BB shell will take an eccentric BB. I don't really like chain tension devices and I'm REALLY REALLY loath to chop out the vertical drops for new horizontal drops - to me, it feels as though I'll be wounding the old girl.
Ideas, please?
Buzz.