Well here it is in all it's glory, finally finished and ready to go off-road tomorrow (now its all shiny I'm gonna shit it up!!). Decided to leave it as is and just see how it goes......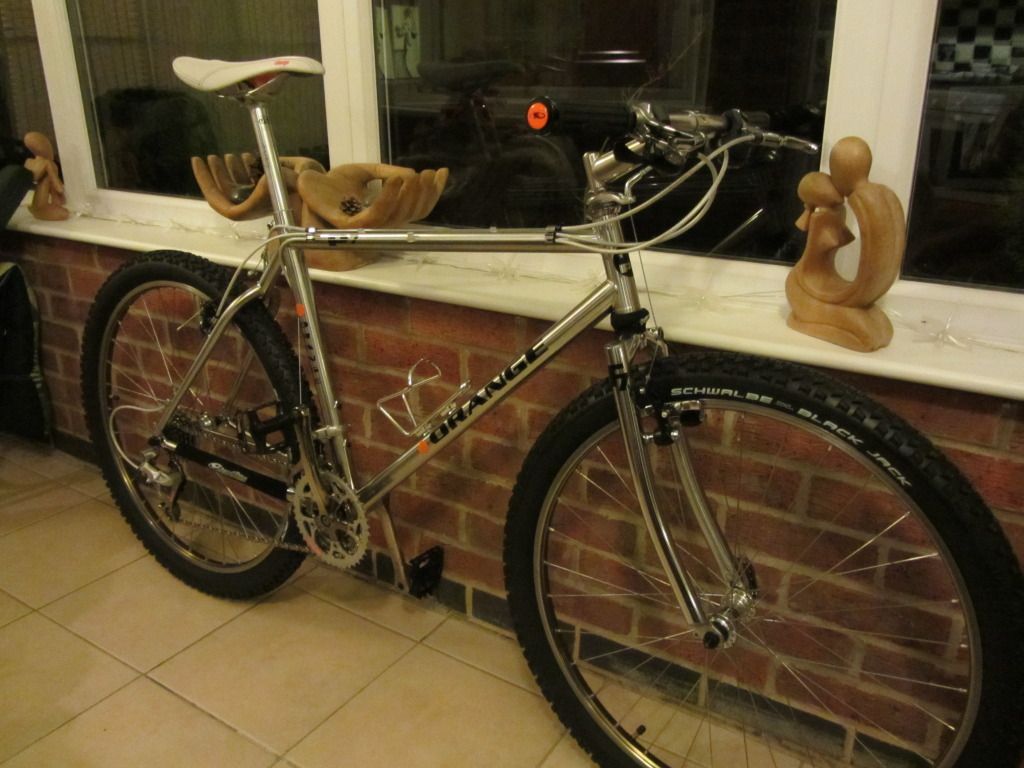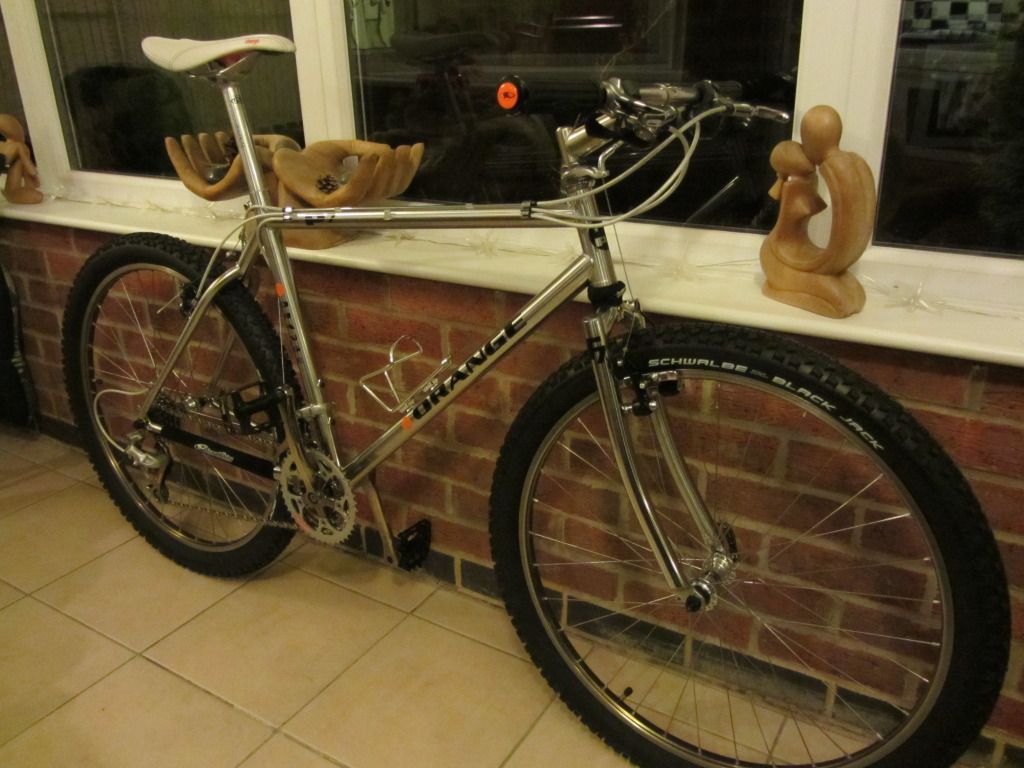 Frame: Orange P7 1995
Fork: Orange F7
Headset: Shimano STX
Stem: Orange SK8
Handlebar: Orange Hot Rod
Grips: Lizard Skins Charger Lock On w/. Orange end caps
Brakes: Shimano Deore LX M560 (Work great, cheers Juice!)
Brake Pads: Clarks CP522 70mm Pads
Brake Cables: Clarks Pre Lube Inners/Outers
Cantilever cable hangers: Shimano Link's
Brake Levers: Shimano STX-RC STi
Shifters: Shimano STX-RC STi
Front Derailleur: Shimano STX-RC
Rear Derailleur: Shimano STX-RC
Derailleur Cables: Clarks Pre Lube Inners/Outers
Cassette: Shimano IG Casette 7 speed
Chain: Shimano IG70
Cranks: Shimano STX-RC
Crank Bolts: Original
Chainrings: Shimano STX-RC 3-Speed
Chainring bolts: Original
Bottom Bracket: Shimano UN55
Pedals: Shimano Deore LX M560
Hub Skewers: Shimano
Rims: Mavic 230 TIB 26"
Hubs: Shimano STX-RC
Tyres: Schwalbe Black Jack
Tubes: Slime Lite
Saddle: Charge Spoon (White/Orange Wiggle edition)
Seatpost: USE Alien Aluminium 270mm, 26.8 diam
Seatpost Binder: Original Orange
Lizard Skins black neoprene headset cover and chainstay protector
Weight: 26.4lbs / 12kg
So new BB, second hand canti's w/. new pads, all cable inners and outers replaced, new tyres/tubes, new grips, new chain, new seatpost and new saddle everything else has been cleaned and serviced back to a decent nick.
Hope you all like it anyway, thanks for all the help because I'd have been lost at times otherwise, such a great forum here and you're all so friendly and welcoming (not always the case on t'interweb!). I shall keep coming back too, I'm officially hooked!!
Cheers
P.s. Sorry about the white/orange saddle, you may think it doesn't match but I needed an orange based one and Wiggle didn't have the black/orange one in stock anymore!! I kinda like it now its on, it doesn't look too out of place to me, let the firing squad commence!!
P.P.S. Sorry for the grainy pics, my camera doesn't do too well indoors with low light, more pics to come tomorrow hopefully.