The tires (Tyres
) are Cyclopro Snakebellies. In 1982 decent tire choices for 26" rims were still pretty slim. If I want to keep it era correct, my options for the most part are the Snakebellies, IRC X1, or Specialized Stumpjumpers (the tires not the bike). All three are very difficult to find, and when you do, after 30+ years, chances are the sidewalls are destroyed. I felt pretty fortunate to find this never mounted set a while back from a member here. With the yellow in the decals and the gold rims already on the bike, I decided to go for it, and have no regrets now. The Snakebellies are a BMX crossover and they came in a few unique colors. Certainly it is an acquired taste, that has grown on me the more I play around with the bike.
Needless to say, these tires are for show only. When it comes time to ride, the tires, along with the 30+ year old Mathauser brake pads will need to be changed out.
Old Rubber. F to R IRC X1, Snakebellies, Cyclopro Snakebellies, Uniroyal Knobbies, Spec Crossroads, IRC X:.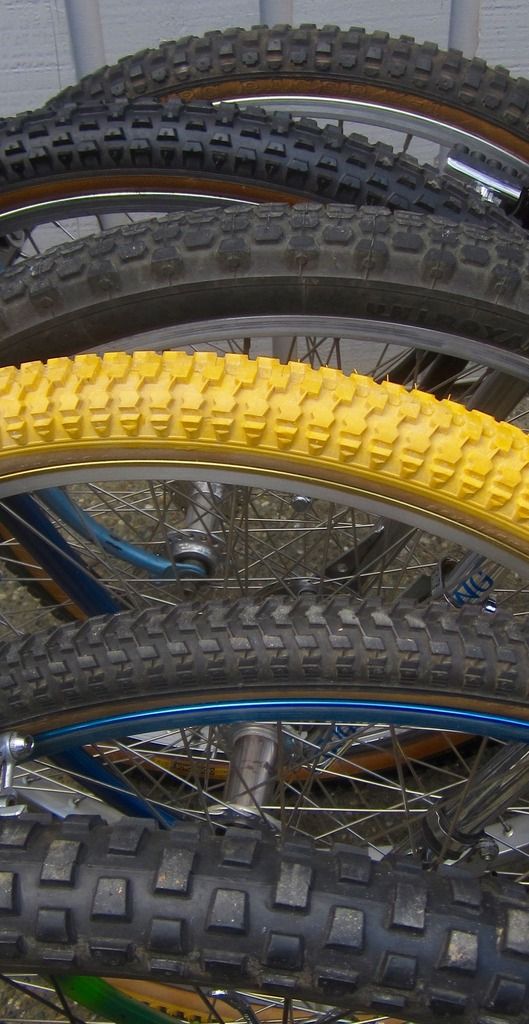 _________________
Seek: Cunningham, Koski Trailmaster, Breezer Series II or III, Early Ibis Custom.