mkozaczek wrote:
kleinrenzo wrote:
As well as the carbon fiber strips in the headset it doesn't make any sense to me why??
As to the carbon strip I imagine it had something to do with stress concentrations due to welding thin wall aluminum in the headtube. I don't think that the Adroit had a thinner headtube than the Attitude, at least there is nothing in the literature to indicate that, so why on the Adroit?? Maybe it had something to do with the fact that the height (length) of the headtube was constant from Adroit to Attitude, but the Attitude had the larger down tube and possibly larger top tube putting the welds much closer together creating a thermal stress zone.
As for the post, I imagine that they wanted to use a larger diameter seat tube but there wasn't any seatpost to fit that size on the market. That's they started making their own posts in 1992 maybe?? So, they had to adapt to the 1 1/4 tube to house the 27.2 post. I'll examine it to see ho far the 1 1/4 sleeve goes into the 1 3/8 lower section.
I would understand if they wrapped carbon around the welds but the carbon inside is ineed a mistery.
But the thinner part is a sleeve then? Sure they must have brands that made 31,6 mm seatsposts,but maybe not, i don't know.
Although this Adroit (from your website
) has got the same narrow bit at the top so it could be that nobody made 31,6 mm seatposts.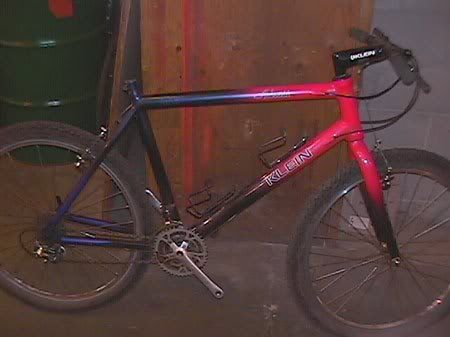 From everything I've read, another benefit of adding boron to certain elements of the frame/fork was that it reduced high frequency vibrations which supposedly add to a rider's fatigue over a long ride. In other words, reducing the vibrations improved rider comfort.