Picked this up recently off Ringo to add to my stable, going to ride it as is untill the replacement parts pop up , its back to original spec with dx etc but the 3d forks are staying.
I cant wait to feel the difference between this and my 91 version,
going to start on the frame work first as the rear dropout adjusters are seized and snapped, then I will sort the paint work out by spraying the stem fluro yellow and re tiger striping the forks and stem,
cheers Ringo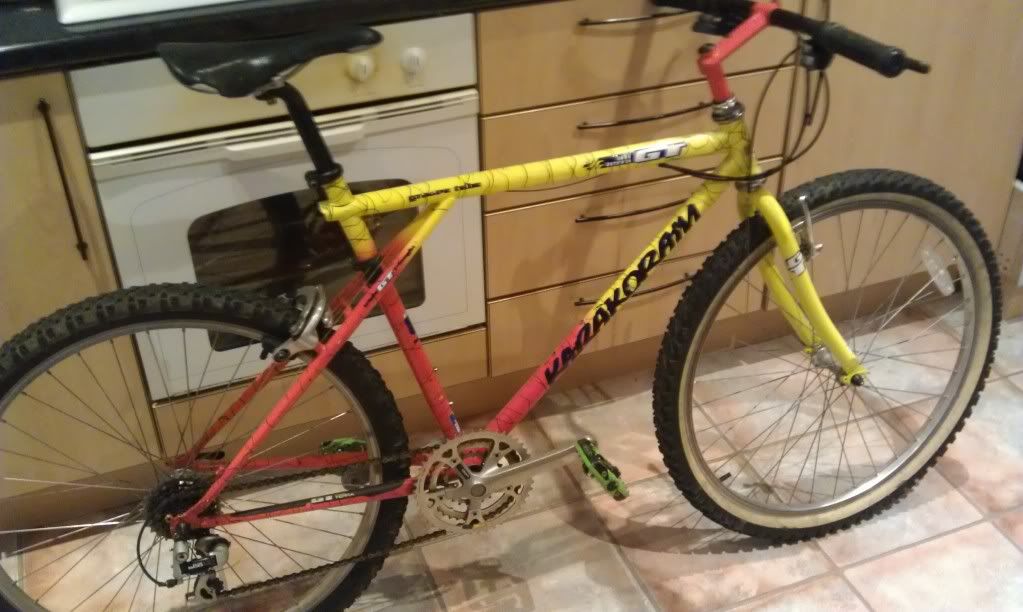 back on its feet (for now)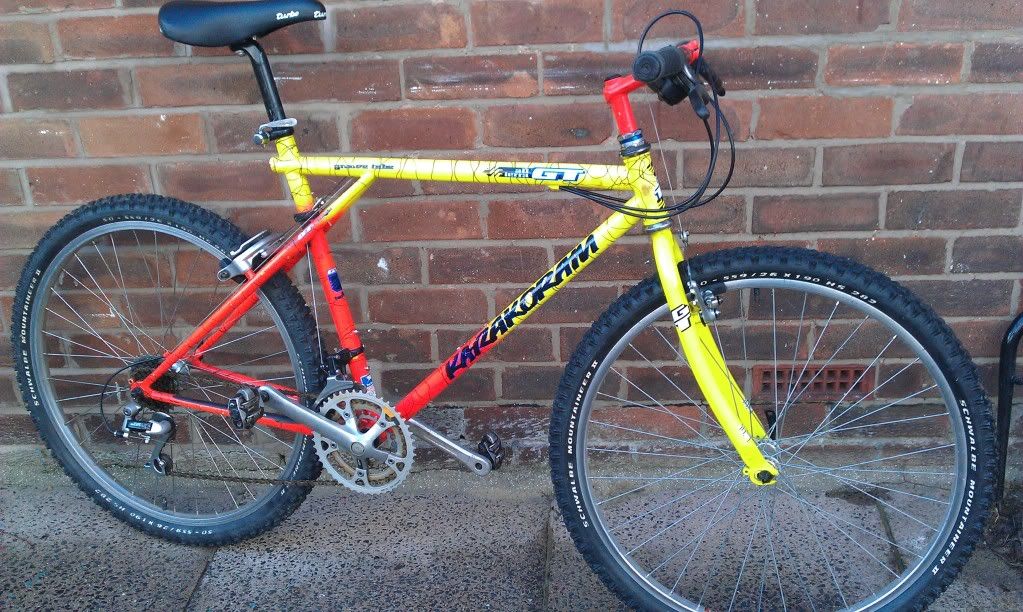 nos lx canti's (for now too)
update soon,
Frame: Gt Karakoram true temper gtx
Fork: Gt oem 3d
Headset: Gt oem tioga avenger
Stem: Gt flip flop
Handlebar:
Grips: odi mushroom
Barends:
Brakes: campagnolo canti's and U brake
Brake Pads: Cool stop
Brake Cables: ?
Cantilever cable hangers: Onza chill pills
Brake Levers: Suntour xc limited
Shifters: Shimano deore
Front Derailleur: xt
Rear Derailleur: xt
Derailleur Cables: ?
Cassette: Hg 50
Chain: kmc
Cranks: stronglite
Crank Bolts:
Chainrings:
Chainring bolts:
Bottom Bracket: un52
Pedals: time atac
Hub Skewers: tekro security skewers
Rims: Mavic 217 ub
Hubs: Hope sus and Ti glide blue
Nipples: brass
Spokes: dt swiss
Tyres: schwalbe mountaineer
Tubes:
Seat: Gt 1994
Seatpost: Gt oem
Seatpost Binder: Gt oem
Weight: ?
Lee.