Hey all.
Never posted pics on here, so thought be nice to show the steed off.
Always been a Kona fan since riding with James Mosley back in 1996.
At the time he was racing a sunburnt Orange cinder cone and one of his friends had the aqua colour explosif I think.
I was then obssesed by Kona's and still to this day, I am on a quest for an Orange 1996 Cinder Cone in 16". (or ill settle for a 1996 in Aqua).
I know exactly what ill be getting for it too.(lots of lovely purple and green anodised parts)
A few years back I did mangage to find a 1998 fire Mountain in Blue and she has done me proud.
It was still as new when I got her, but I put some Racelines on it and some slicks as was using it to ride to work and didnt ant to use her original tyres.
Oh and put a more comfortable saddle on her.
Since then Ive got myself a Boardman Road bike, so some panracer chunky tryes have gone on.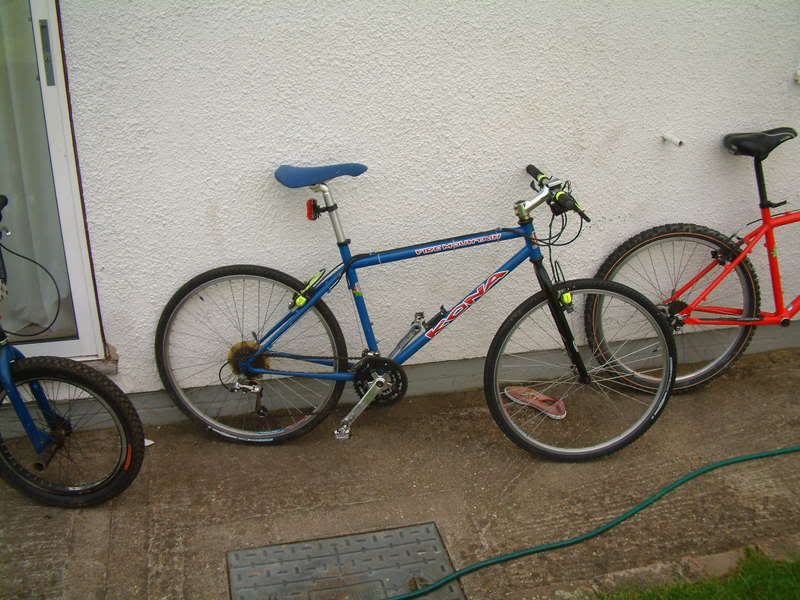 Also managed to get hold of a 1996 Marin Muirwoods in 15.5 last year, but I sold her because I needed money.
Sold her to a friend at work, and now I want her back as she is too nice to sit in his cold dark garage.
Some of my other bikes are in my photobucket album.
Few changes to the set.
Now included is a Chris Boardman Road Comp, Fly Pantera Bmx and a '97 (ish) GT Palomar in 20" which ill be selling.
http://smg.photobucket.com/albums/v119/sterns/Bikes/
Got a few more bikes to fix up, and the obvious Cinder cone im hunting for.
any comments welcome.
Cheers
Tony