Takes me absolutely ages to build a bike
, think i've been at this frame for about a year
, nearly there now though, want to (WILL) get it riding for the end of the month for the Macretro ride at Dunkeld
so will update this thread in the coming weeks.
Loved my Zaskar for a while (still do), fancied giving a steel GT a try, really wanted a Psyclone (or Cyclone) but those are rare and expensive, this Bravado turned up in my size (16"), really liked it as it has it's original 3D forks and FlipFlop stem, it's also a Groove Tube frame, all the cables run under the top tube out of sight.
Frame is sound, dent and rust free but the XT U-brake was pretty nackered.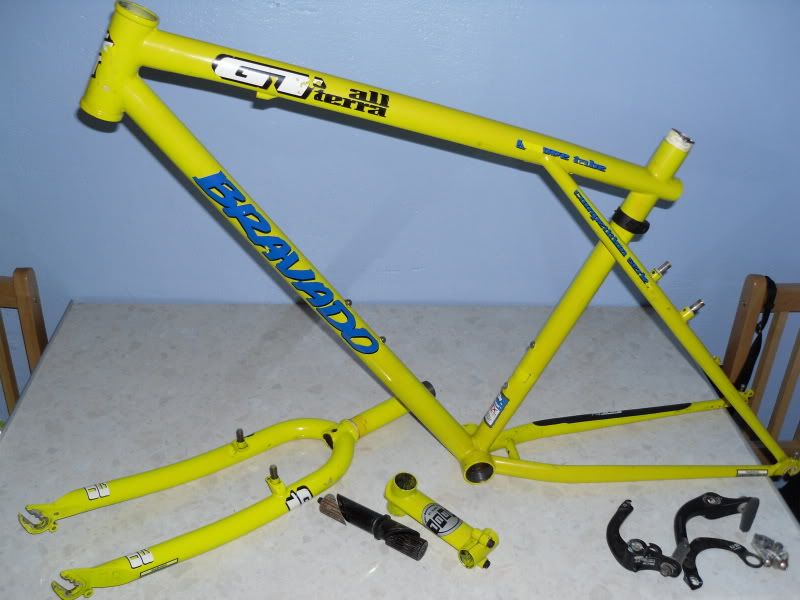 Look's quite tidy in the pics apart from the stickers but the frame was quite battlescarred with the usuall wear and tear so decided to strip and re paint it, was going to re-do it plain yellow with new decals but in a moment of madness decided on Rasta
, colours used are Ford radiant Red, Ford signal Yellow and Rover brooklands Green, used Rattlecans from Halfords, rattle cans are not ideal for a bike frame (paint is quite fragile) but ok as long as you dont lean it against lampposts or crash too often.
Painted my Clockwork two years ago and it still looks pretty decent after regular offroad abuse.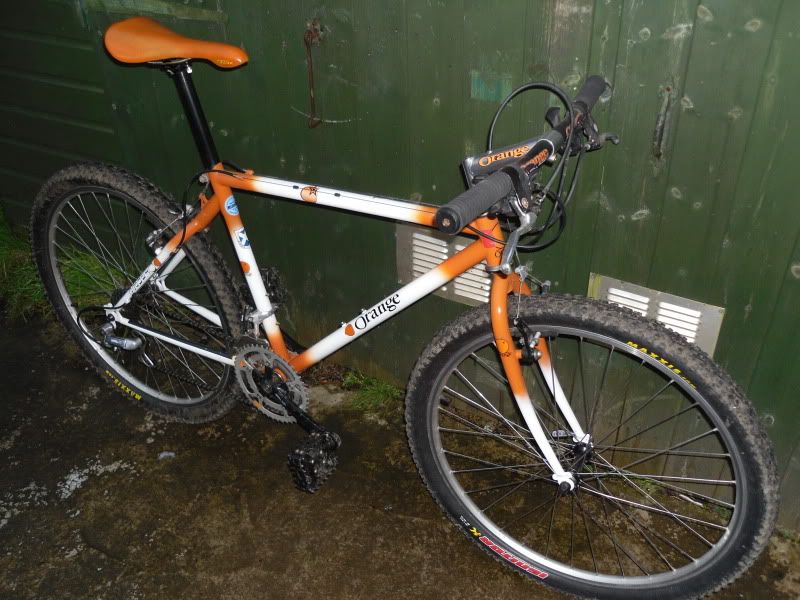 The Rasta Bravado
Mocked up for size, have ditched the levers and singe R/H shifter for XT units, was going to run it as a 1x8 but going full geared now.
Made a b*lls up with the stickers on the top tube and the GT all terra ended up the wrong way round on one side, i'd laquered over them so when i peeled them off it ruined the paint so i've re painted the top tube and ordered some more stickers.
As it sits at the moment.
Anyone know the idea behind these screws in the rear drop outs, i know it's to raise the wheel but why ?, is it relative to the multi axle positions in the 3D forks ?
Some bits, White Industries (Sugino) cranks, Race Face and Middleburn rings, Proper (BMX) CNC U-brake, XT M735 rear mech.
(Eventual) Spec List,
Frame..................................91 GT Bravado
Fork.....................................GT 3D Rigid
Stem....................................GT FlipFlop
Headset................................Token threaded
Shifters/Levers......................XT M738
Rear mech............................XT M735
Front mech............................XT M736
Cables..................................Clark (yellow gear, red brake)
Bars.....................................Azonic
Grips....................................Yeti (red)
Saddle..................................Flite (red)
Rear brake............................Proper (BMX) U-brake
Front brake...........................XT M737 (for now, hope to find maybe a blue anodized pair, maybe Dia Compe ?)
Cranks..................................Sugino (W.I)
Rear hub...............................LX M565
Front hub..............................XT M750
Rims.....................................Mavic 517
Tyres....................................Maxxis Advantage
QR's.....................................X-Lite (red rear, blue front)
Idealy i would have gone for all Red/Green/Gold anodized bits but gone for blue, keeps my options open as i may get sick of the Rasta after a while, re-do the frame Yellow, the blue bits will still work with the blue decals (as they do now)