I've always found Slingshots interesting. During my race heydays, I was friends with the company owner's son, who raced for them. He tore up'the scene' on some serious tricked out Slings, and yammered on about how good they rode. We always assumed he was just trying to pump his Dad's business. I never really gave them a second thought until I got into the retro game.
I found this bike at the Denver Veloswap. It was basically the only real 'retro' bike there worth considering. I had a wad a cash ready in case I spotted a Yo, so I didn't want to blow it all on this. I flip-flopped all day, and eventually passed. I knew the seller from MTBR.com, and [non] buyer's remorse had me emailing him the minute I got back home. He offered to sell it to me for what he had it listed at VS.. which was cheap and attractive.
Its original build can be seen
here
Immediately after I got it, I knew there would be problems. The 1" headtube completely through my whole built off. So I basically spent an entire day (no joke, about 13 hours straight) to get this in rideable condition. This included breaking some of my coveted rules, like clamping a ahead-type stem onto a threaded steerer
I rode it pretty hard with a rigid fork, but I never really found the 'soul' of the bike that everyone was talking about.
My first crack, for riding purposes
here
I still have to get some saddle time, but I figured I would be better off with a shock. That and some parts I had laying around in the garage.
So this is the end result.
Frame: 1994 Slingshot (so I'm told by the former owner, the serial ## is illegible. Year seems to meet all the 'tells' for Slingshots).
Fork: Rock Shox / Specialized Judy FSX
Rims: Mavic SUP Ceramic
Hubs: XTR M910
Skewers: Ringle
Tires: Ritchey Megabite front / Onza Porc rear
Pedals: Shimano M747
Crank: XT Hyperglide - C
Chain: Sram
Rear Cogs: XT 8 spd
Bottom Bracket: UN71 XT
Front Derailleur: STX
Rear Derailleur: XTR M900
Shifters / Brake Levers: XTR M900
Handlebars: Syntace
Grips: Specialized
Stem: Titec
Headset: Chris King 'rasta'
Brake set: XTR M900
Saddle: Flite Titanium
Seat Post: USE
Bottle Cage: Ringle
Place of Origin: Grand Rapids, Michigan, USA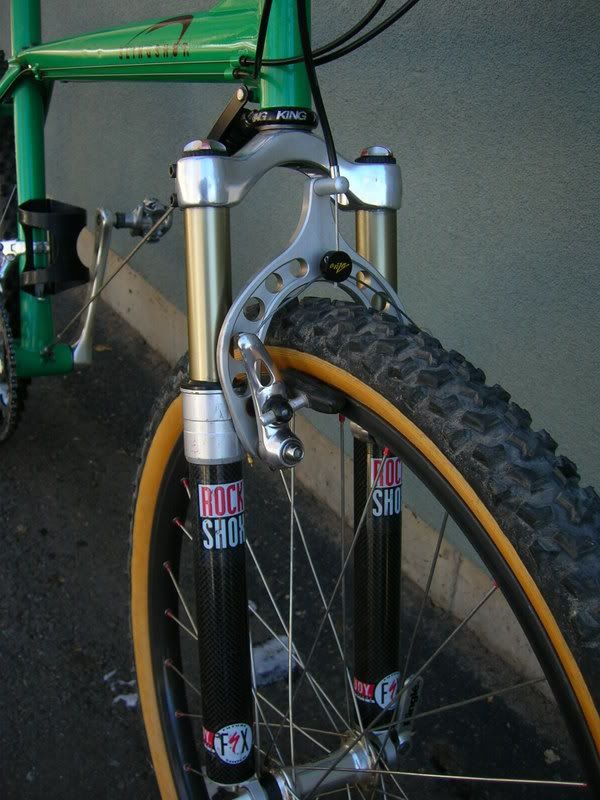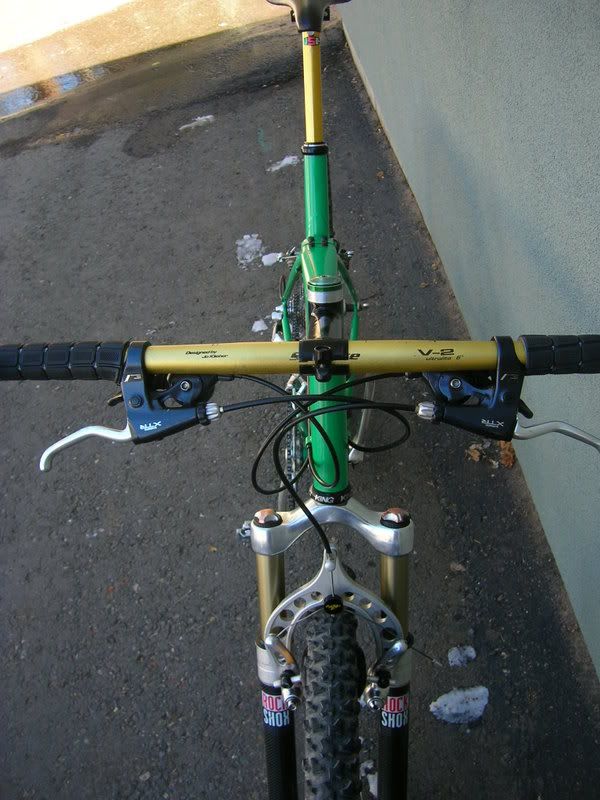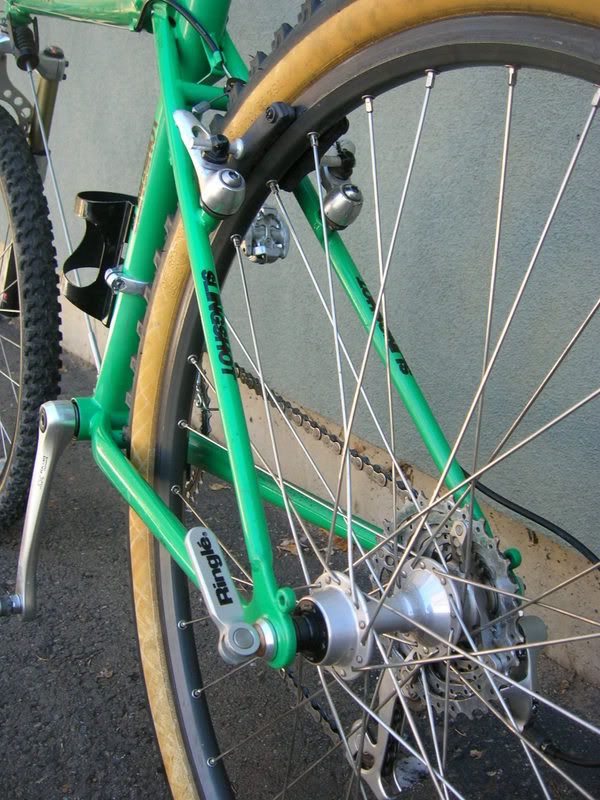 Winter has decided to show its face, so it might be awhile until I can properly take this out to shred. For now, it'll look pretty in the corner of my garage. Or just about anywhere for that matter