After a bit of a sneak preview at Mountain Mudhem I've finally got this back in one piece as my regular rider: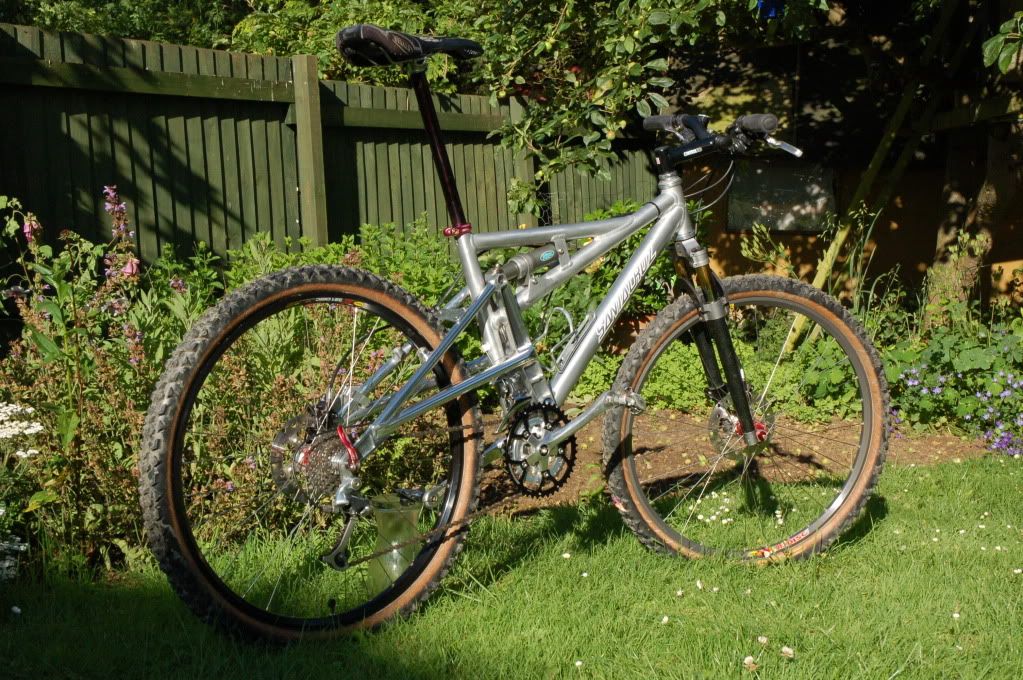 Hardly got any miles on it yet, but I'm sure I will get to know it well soon!
Current build is:
1996 Santa Cruz Tazmon with Risse Genesis shock
Pace RC36 Proclass forks
Hope C2 Brakes with dropout calipers and specific hubs - looks like a manufactured rear caliper mount rather than a homemade special as originally thought
Hope Ti-Glide hubs on Mavic 317 / 321 rims - need to get a matching pair of something
Continental Traction Pro tyres (cheers Reki!)
XT 737 mechs, shifters, chainset, pedals, headset
Syncros Seatpost with Flite Gel saddle
Control Tech stem
Coda bars with Ritchey True Grip grips
Hope Sport brake levers - need a front Pro lever so I can replace the pair
It has a higher longer position than my other Tazmon, which suits my [slightly] older body better.
Comes off the scales at 29.5lb, which suprises me as my other one is around 26lb.
Still want to get some replica decals made, and would like to replace the hubs, skewers and seat clamp with silver pieces to get rid of the red ano.
I need to find some M10x1.0 plugs to fill the unused canti mounts, and come up with a way to replace the one rear disc hose cable tie.
I'm really pleased with the finish of brushed alu, polished alu and black, just wish I could take a picture which shows the contrast well!
Next stop the Gates ride....