This is my 1992 Cadex CFM 1.
She has been raced and well used by myself as a youth. A few problem here and there all of which I remember:
1. lending it to a friend who found it too light and fell off, scratching a large chunk of the Giant logo off on the down tube,
2. school cycle trip where a teach strapped the bike to a canoe rack, which scratched paint off the forks and fibre off the rear
3. falling off it in the first few weeks and bending the mech hanger, it still isn't straight,
4. finding out "allegedly" that the shop i bought it from, got it cheap or dropped it, before they sold it to me, there is a dent on the bottom brack lug
5. being annoyed by the soft aluminium used on the head tube lug which is very easily cable rubbed,
6. finally, lending it to a friend in 2005 for a triathlon and only getting it back a few weeks ago, cheeky git
Anyway spec:
Frame - Giant Cadex CFM 1
Fork - Giant Cadex CFM 1
Headset - XT (mid 90s)
Stem - Syncros
Handlebar - 3ttt
Grips - Tomac
Brakes - XT Vs
Cantilever cable hangers - n/a
Brake Levers - XT sti
Shifters - XT sti 8sp
Front Derailleur - XTR M900 (original)
Rear Derailleur - XT (mid 90s)
Cassette - 8sp shimano
Chain - Sedis
Cranks - XTR M900 (original)
Chainrings - Middleburn outer, TA middle, XTR M900 (original) granny
Bottom Bracket - shimano
Pedals - Shimano SPD DX
Quick Releases - shimano
Rims - Mavic
Hubs - XT
Tyres - n/a
Saddle - Turbo
Seatpost - no brand (original)
Weight - n/a
Originally came with M900 throughout (apart from seat post), considering putting it back to original, done the saddle, got the 737 SPDs, m900 headset, m900 wheels, and m900 cantilevers ready to fit, watch this space, possibly a mix of modern xtr and m900,
sadly the lacquering is pretty bad, any tips on recoating?
Have never seen another CFM 1 from the same year, however there was a CFR 1 from the same year on Ebay last week with the same colours,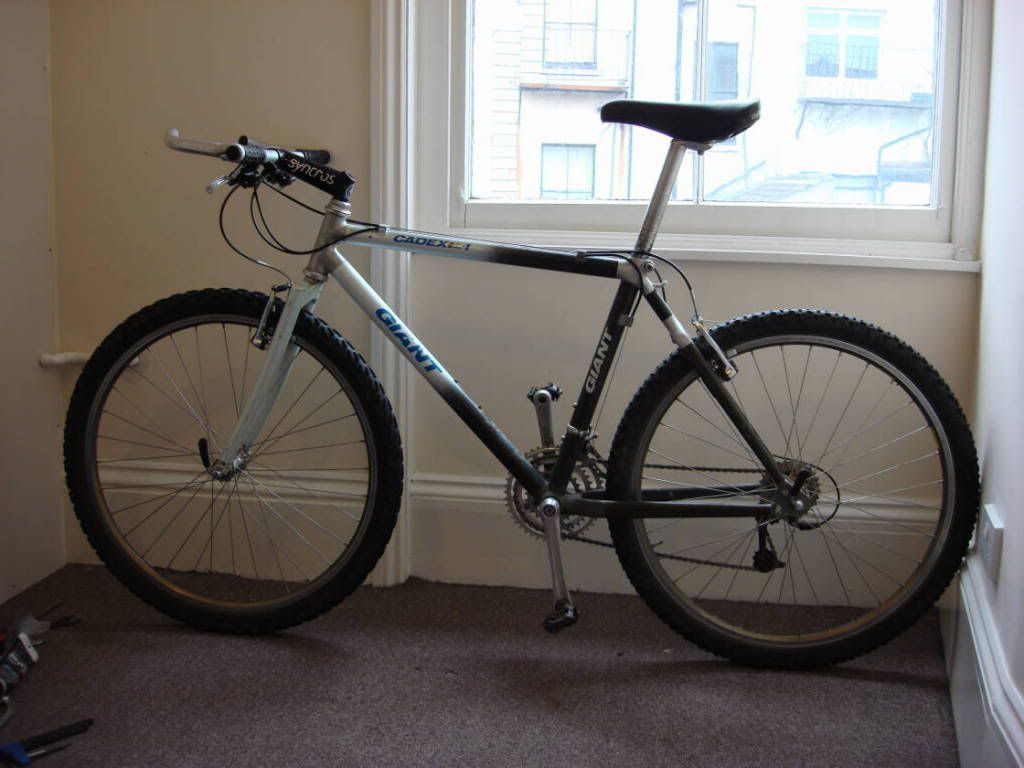 original catalogue scan

_________________
Giant Cadex CFM1 1991 single speed