Hi Guys
Saved this from the tip today, for massive investment of £7. She needs a bit of love and affection.
She has the original tyres, wheels, pedals, crank set.
My plan is to strip and clean the frame new cables, and gears keeping them as they all work, repaint the handle bars black, new brake pads, and re-cable the brakes, but again they currently working. New tubes and tyres, will be sticking with my favourite Continental MountainKing tyres. Hunt for a saddle and seat post (which i think i have some where)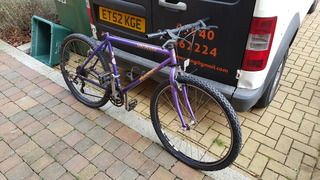 But looking forward to takening her for a run soon.
_________________
1998 FSR Extreme
1997?? PACE RC200 F6 or possibly F7
Rapid Remapping: Creating Bespoke ECU Tuning
http://www.rapidremapping.wordpress.com
facebook.com/rapidremapping