Finally got this bike finished (well, pretty much!), only things that will change will be a swap to a San Marco Regal saddle at some point (White/gold rivets) and a wheel change to Specialized GX26 rims with (probably) XT-M730 hubs when I get around to building them...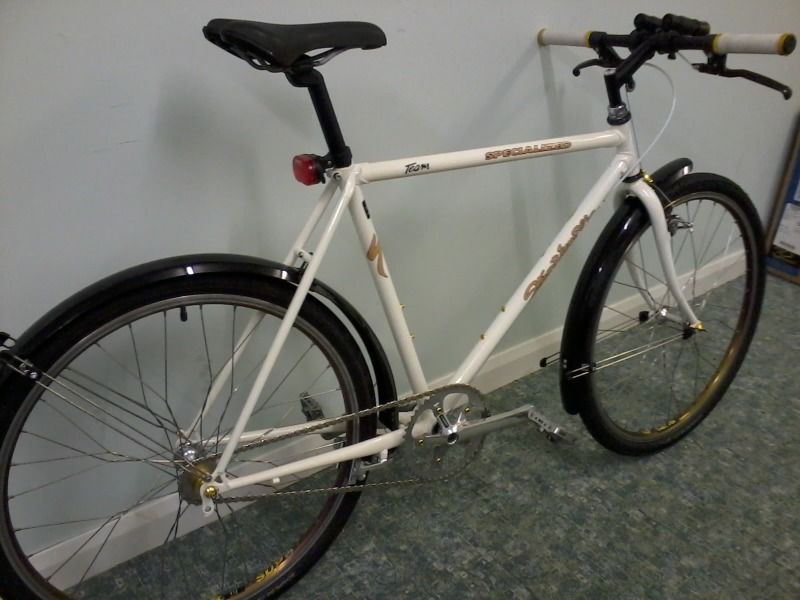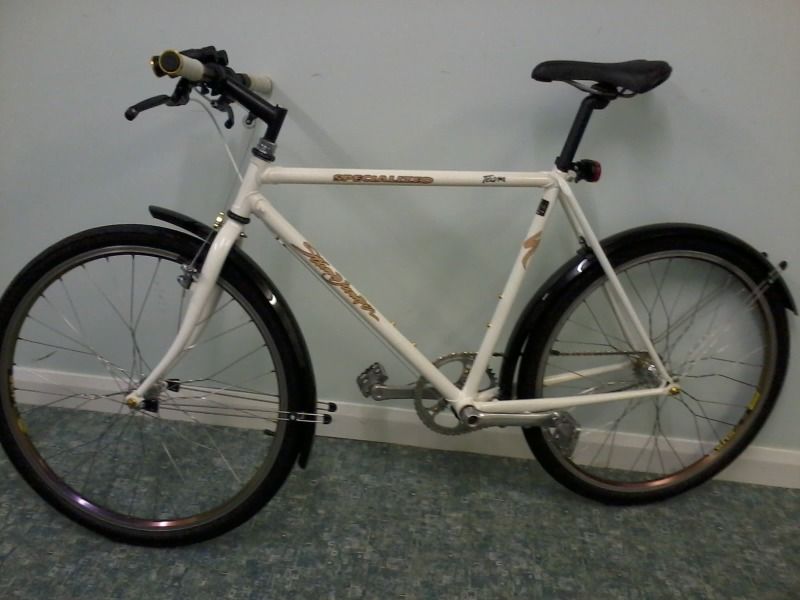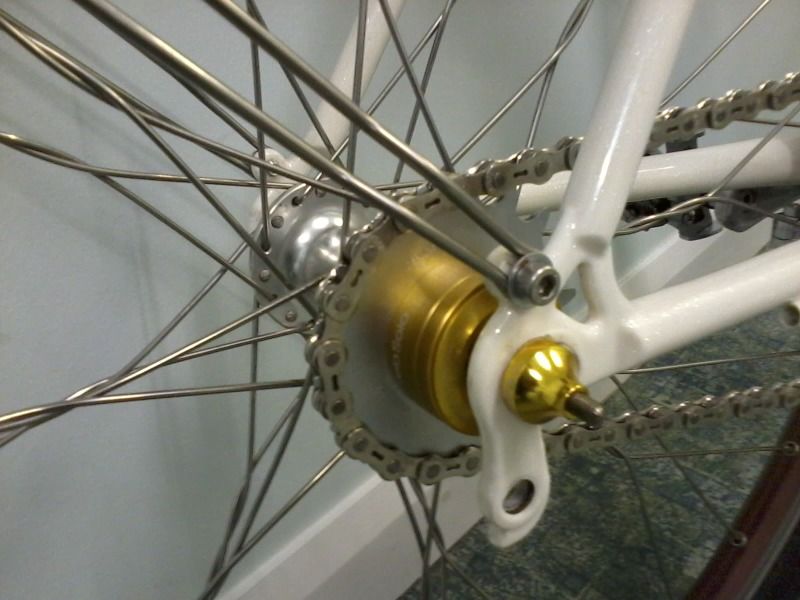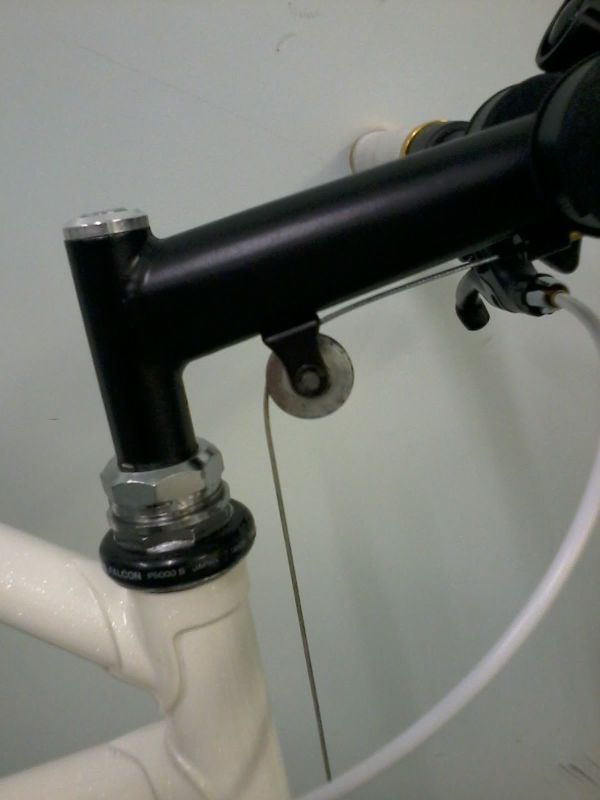 Chain tension is now sorted, I bit the bullet and filed out the rear dropouts a few millimetres, which was just enough to provide decent chain tension without the need for a tensioner.
I also changed the Shimano Biopace chainring for an SR one as the SR has what look to be higher profile teeth which should be better for keeping the chain on.
Mudguards and lights have been added as I'll be using this bike to/from work.
Given the bike a couple of brief test rides and so far so good, chainline and tension seem ok, have to laugh at myself though as I find my right thumb still thinks that there is a shifter there
For those interested in the Suntour rollercam brakes here's a few pics which show the difference between the brake which came with the bike (maybe a Suntour XC Sport 7000?) and the XCD4050 which replaced it...
The biggest difference is the old brake (left) had internal springs, one of which was slightly bent out of shape and made setting it up a nightmare, the XCD4050 has an external spring between the two brake arms and setup was a doddle by comparison.
Here the old cam is laid on top of the new cam, and the cam profile is pretty much the same.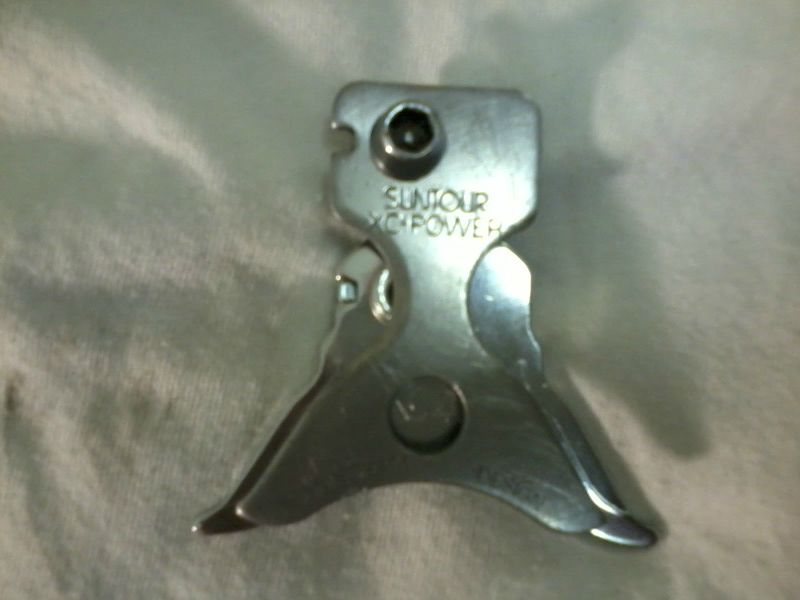 The Specialized GX26 rims (as per original spec) awaiting building up into wheels...
I'm very happy with how this bike turned out, when I look at the pics of the frame as I bought it and what it looks like now I can hardly believe it's the same frame! It's nice to know that I'm riding about on a 25 year old mountainbike
and that it will continue to be ridden for many more years to come...
Much thanks to fellow Retrobikers in helping me out with various items used on this build...
Kaya - Chainring
Marc Two Tone - Stem
Andypasher - Brake
Stumpjumper1990 - Rims
Spec List...
Frame:
1988 Specialized Stumpjumper Team, Tange Prestige Tubing
Fork: Specialized
Headset: Tange Falcon P5000 S
Stem: Marin
Handlebar: Outland M25Four
Grips: Ebay special lock-ons
Brakes: F: Shimano M730 XT / R: Suntour XCD4050 Rollercam
Brake Pads: Unknown
Brake Cables: Generic
Cantilever cable hangers: Unknown alloy
Brake Levers: Shimano BL-M730 XT
Shifters: None!!
Front Derailleur: None!
Rear Derailleur: None!
Derailleur Cables: Generic
Cassette: Shimano DX 18T, Velosolo Spacers
Chain: Sachs PC-80R
Cranks: Shimano Exage 400LX
Crank Bolts: Steel
Chainrings: SR 46T
Chainring bolts: Alloy
Bottom Bracket: Shimano UN??
Pedals: White plastic ebay specials
Hub Skewers: Halo Hex
Rims: Specialized GX26x1.5
Hubs: F: Shimano Deore MT90 / R: Shimano RSX
Nipples: Brass
Spokes: Unknown
Tyres: Schwalbe City Jet 26x1.5
Tubes: Michelin
Saddle: Selle San Marco Regal
Seatpost: Raleigh Alloy
Seatpost Binder: SRP Ti seatbolt
Mudguards: SKS Commuter
Lights: F: Saik Ebay bargain lights! / R: Smart e-line.
Weight: 23.1lbs