Well the HOPE BB I wanted to use feels as rough, so will have to find a new plan for that, maybe steal a royce from one of the cyclocross bikes.
Still havent sorted out which chainset I'm going to use.
Choices are
XTR M900 175mm with Pace 26 and 48 rings, and some other fancy middle ring @ 36 teeth. But really a 48 big ring is too much, needs a 44 really. This is currently on the Kona
XT slightly newer M737 175mm with 94 BCD, but no rings at all on these cranks
LX that was on the Kona until the middle ring wore out, so would need a new middle ring its a 26/36/46 setup.
However I have nicked the USE seatpost and Flite Ti from the carbon and dropped that onto this frame, I think its suits it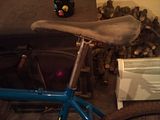 _________________
I used to be quite good in 1993 ....
'93 Al Carter Carbon (Rebadged Giant Cadex) XTR - For XC Racing 23lbs - In pieces needs: BB, shorter stem; brakes and forks robbing from AA
'94 Kona AA RC35 Magura LX/DX - For General use - 28lbs - working, occasional use
'97? Sintesi Hale Bopp - with all modern parts - broken, needs wheel, mech
1990 531C custom tourer - TRUE Retro and was getting plenty of use 50-150miles/week commuting
viewtopic.php?t=135744&highlight=