Well it seems I've acquired FOC from my mate Jed, this frame he also had given.
1997 Hale Bopp came with XT-RC as OE equipment from what I gather, and thats about it.
Frame seems quite light, I needed to build something a little more capable as I want to do some longer races like the IoM End-2-End.
Bought some disk-ready wheels for £50; £50 for some Judy 4's, Hayes Sole front brake, another front wheel; and a headset for £8.
I also raided my mates sheds for
Front and rear old school HOPE brakes, needing attention/spares but are no longer supported.
Orange bars and stem (but then found a short stem at a different mates house).
X-Lite Super Stubbies
STX XC front mech (thats too big @ 34.9) and shifter
XT cranks - M737
XT Rear Mech - M750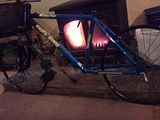 -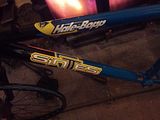 -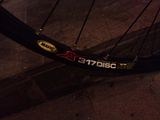 _________________
I used to be quite good in 1993 ....
'93 Al Carter Carbon (Rebadged Giant Cadex) XTR - For XC Racing 23lbs - In pieces needs: BB, shorter stem; brakes and forks robbing from AA
'94 Kona AA RC35 Magura LX/DX - For General use - 28lbs - working, occasional use
'97? Sintesi Hale Bopp - with all modern parts - broken, needs wheel, mech
1990 531C custom tourer - TRUE Retro and was getting plenty of use 50-150miles/week commuting
viewtopic.php?t=135744&highlight=