After my wheel building escapades the time has come to finish them off
This involves trueing them up and replacing the freehub body
I trued them up first as it's not a good idea to attempt to unscrew a freehub from an unbuilt wheel with out a tyre on
In the tried and true style of this build I though I'd explore an alternative to trueing stands and dishing sticks
We've all straightened wheels on bikes, so I tough why not true a new wheel on a bike, alignment, centering will be easy but could do with a bit of precision... And what about vertical alignment...
This is my answer:
My trusty Univega is now a trueing station!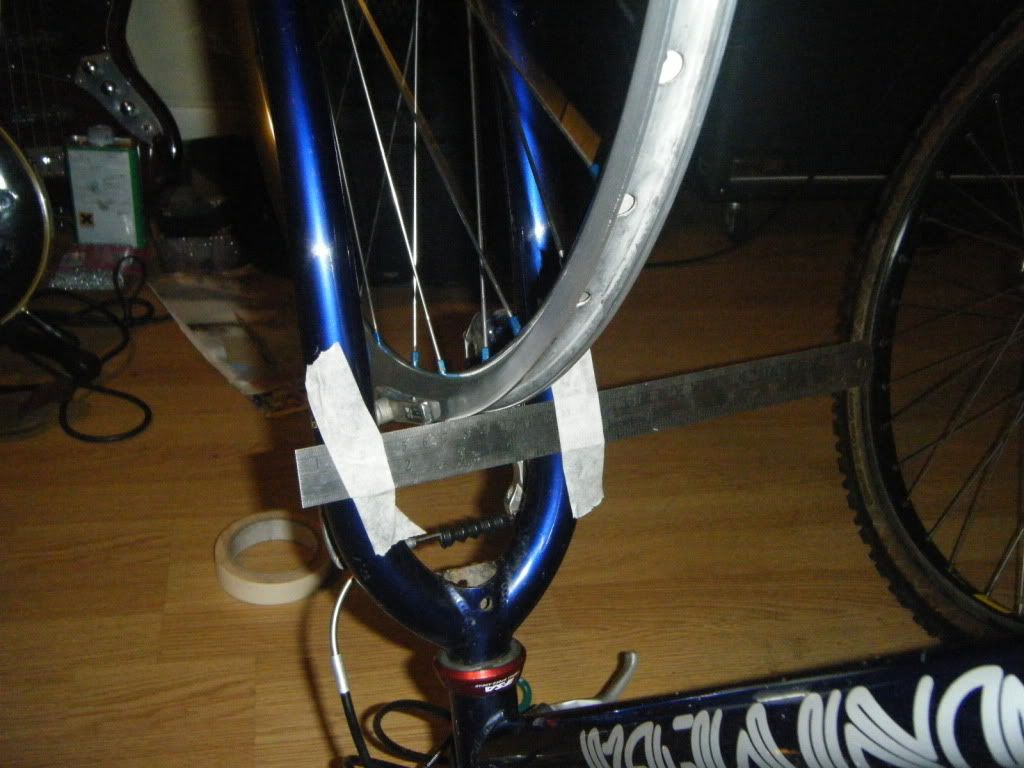 And the rear: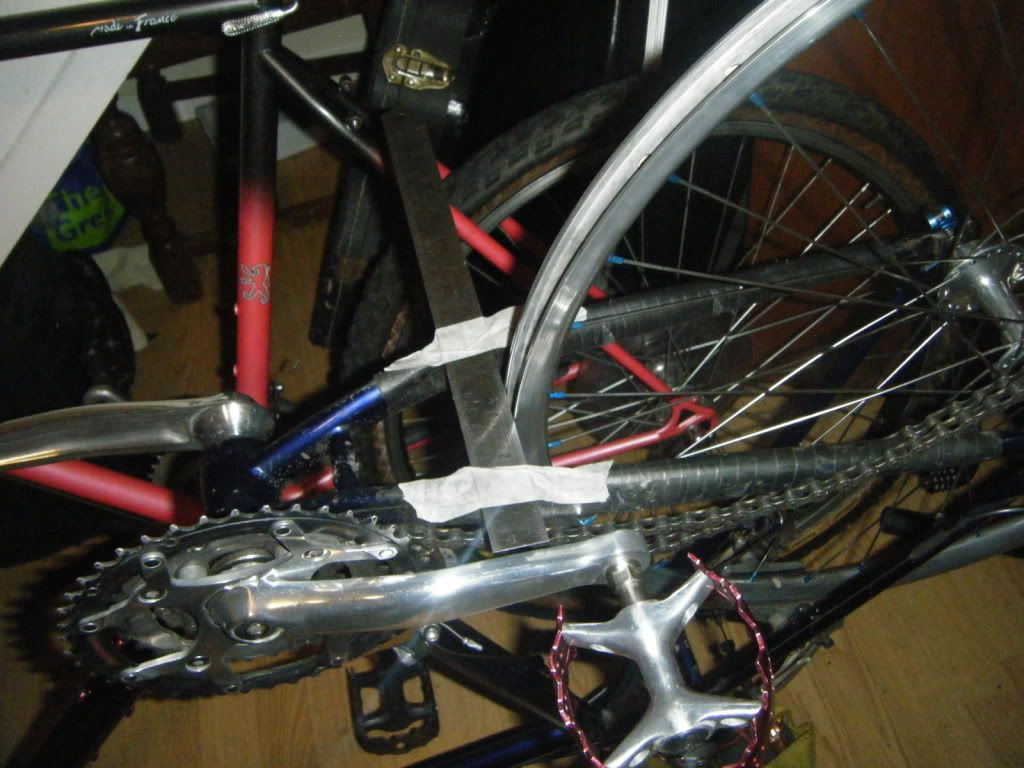 The brake blocks served as feelers for lateral truing and the steel rule as the feelers for vertical trueing and the scale was handy for alignment but to be honest it was obvious from the wheel being centred in the frame/fork
It was a geat plan, the only downside being there is a bit of bike in your way here and there!
Next job...
I want to run 11 tooth top gear on the rear and a 50t up front so the old freehub body had to be switched, you can't get an 11t cassette to mount securely
Original body was so old it had threads on it! (for uniglide compatability)
The real problem is the splines go all the way to the end, you need the spines to stop about 1mm from the end of the body to accomodate an 11t cog - Had one on another wheel
Here's the bad body:
Freehub body removal is simply a case of removing the axle and sliding a 10mm allen key into the vacant hole, the freehub is held in by a hollow bolt which you can simply unscrew
It has normal threads (couter clockwise, to unscrew)
Removal: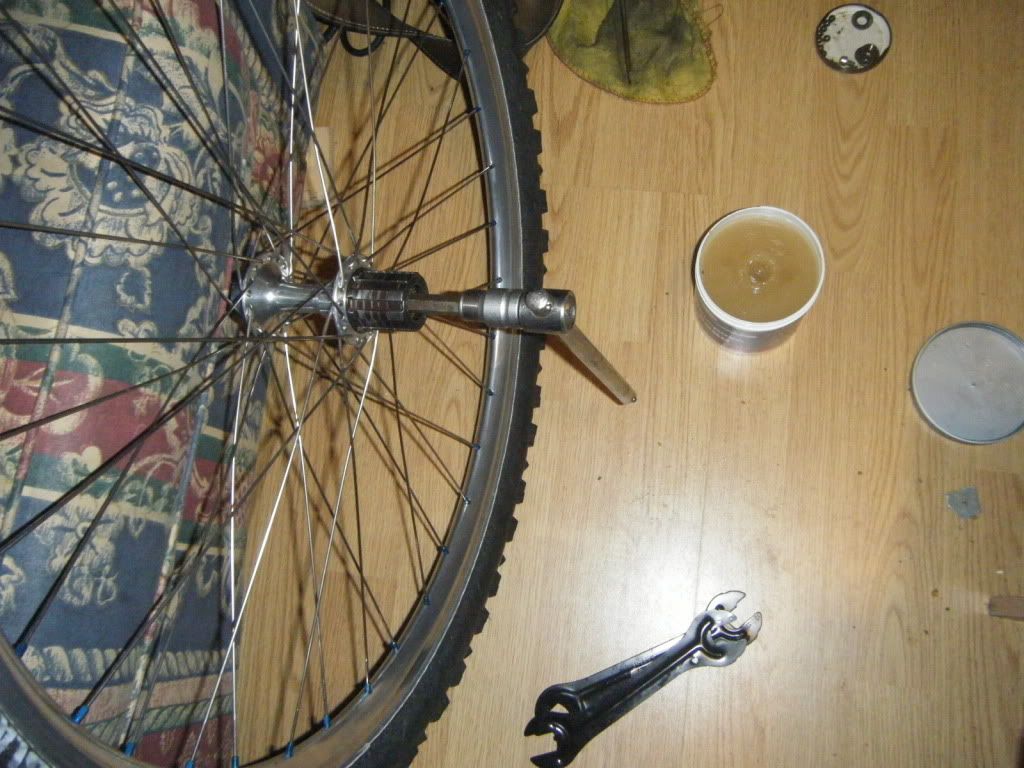 New cassette fitted: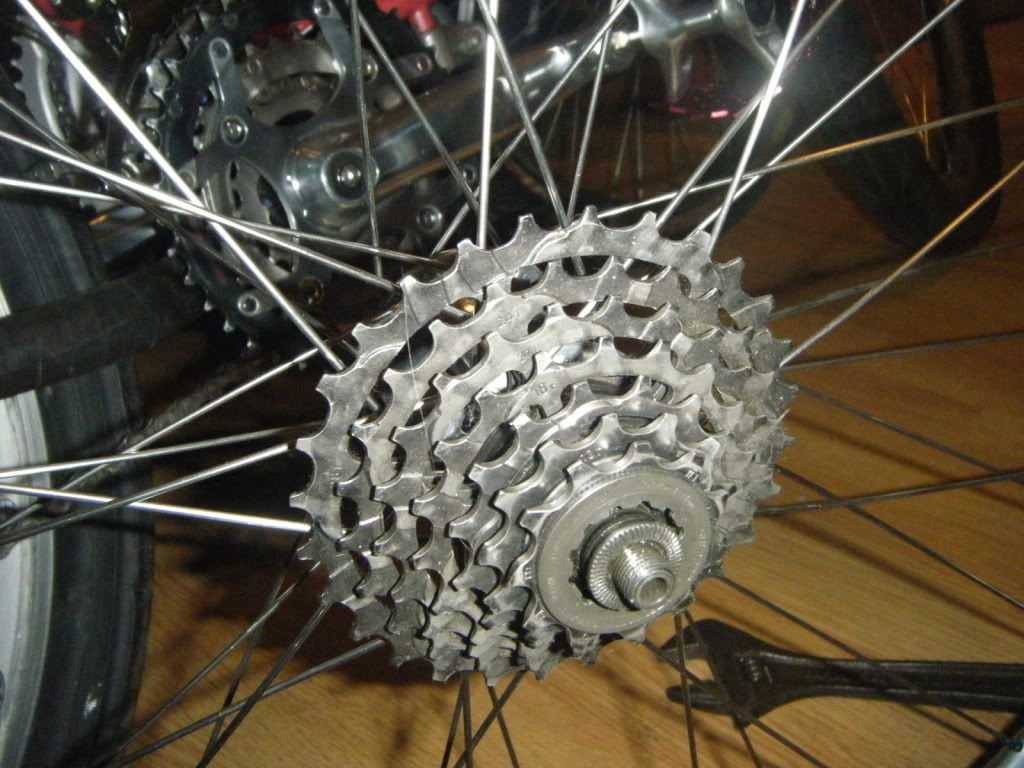 I got these sexy skewers from user "GaryTurner" on here too:
Currency converted price about £20, they are TEC titanium skewers they are sexy... I couldn't help it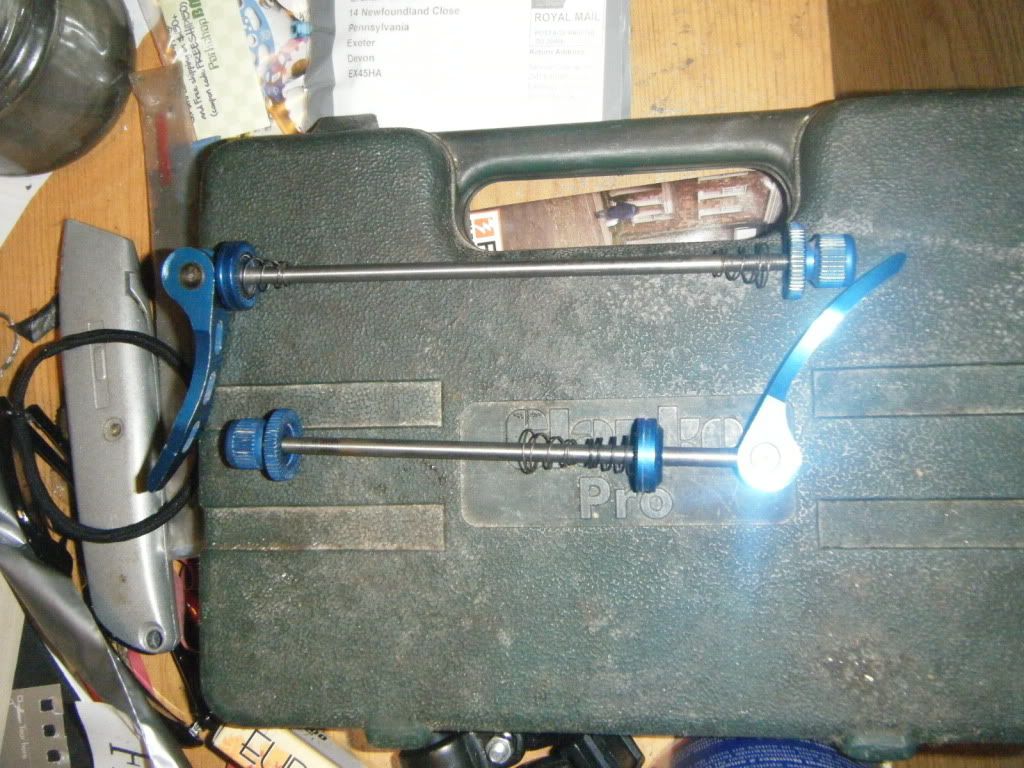 I almost bought X-Lite blue bar ends, but why fit stuff you don't need? And I'm trying to keep the cost of this build low
When I'm finished I'll post the specs ~ and the costings
_________________
'89 Specialized Stumpjumper Team
- '8? Klein Mountain Klein (WiP) - '89 Puegeot Scorpion 531 -
'90 Look Mi80
- '91 Britsh Eagle something or other XT
- '92 Specilaized Hardrock -
'93 Saracen Race Elite
- '93 Specialized Stumpjumper (stolen!) - '94 GT Zaskar LE Frame sold on RB - '95 Univega Alpina 508 XT - '97 Cannonadale Super V 1000 Freeride - '97 Cannondale M900