...Its my 1998 Orange O2!
Okay so its been finished about 2 months but i thought i had best do a post on it.
This bike was inspired by an ebay auction i won shortly after i joined this site, the auction was for an assortment of junk bike frames with no names mentioned at all in the advert (see the image below)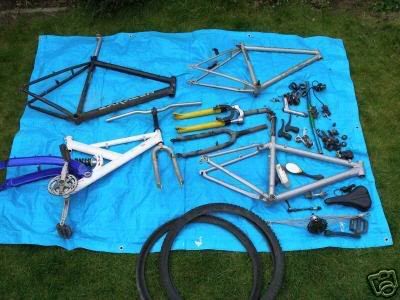 (thats the one, bottom right)
SoI collected the whole lot from Bristol for the princely sum of £10
At some point in its life it had been rather crudly sprayed silver this soon came off with paint stripper. The stuck seat post took more effort (the sort of effort that requires, 3 people a drill and a garden fork) But eventually that came lose.
I thought about spraying the frame white, but in the end thought it looked nice as pollished aluminium.
the bike is kitted out as follows:
Orange O2 frame (1998)
Decals from ebay
Pace RC36 Pro class (90mm)
XT M739 cranks with middleburn rings
XT SPD's
Deore XT M739 rear mech (with Bulls eye jokey wheels
)
Deore XT front mech (new)
Specialised seatpost
Flite Ti saddle
Syncros stem (came as part of a rocky mountain instinct frame and parts bundle i won on ebay)
Magura HS11's
Deore LX (1996 ish) shifters
Unbranded Ti flat bars
Deore XT hubs with 217 rims
The idea started off as a cheap bike to slug around the ridgeway on, and to be honest i think it panned out well considering it started from a £10 ebay auction.
Cheers to the various people on these forums that i acquired info and parts off for this build.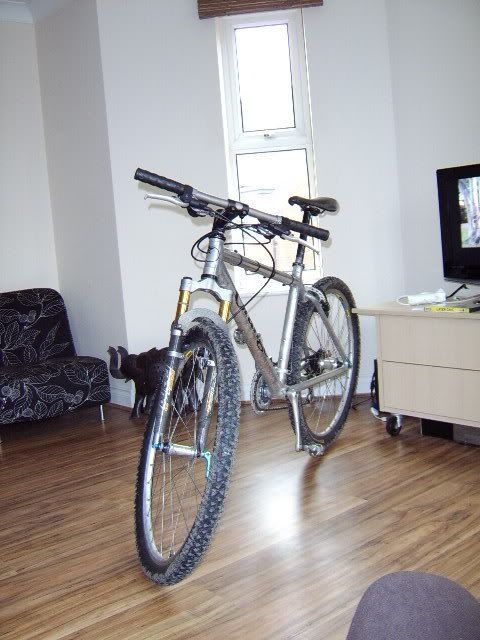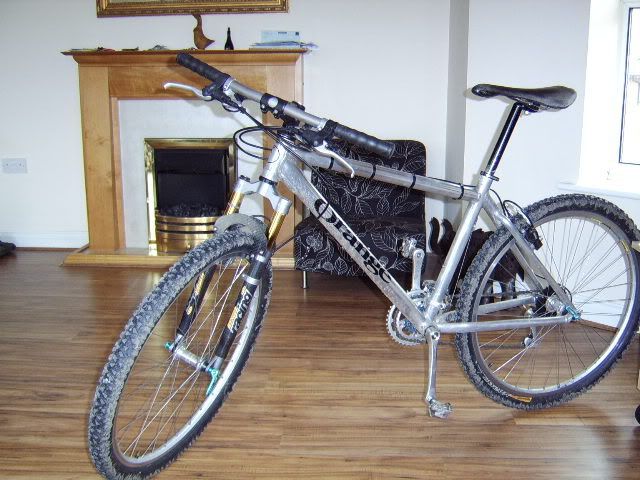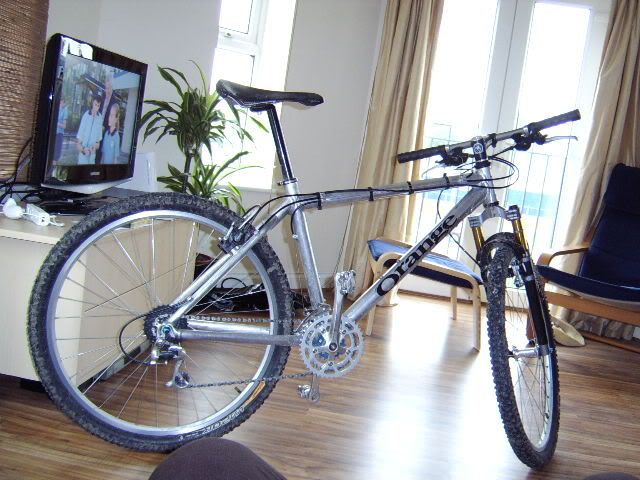 _________________
[size=67]Where we're going we don't need roads!
Under cover operative of the YVMBAPFS cartel.

The Pace fleet:
16" RC100/ 21" RC100/ RC100 Trials prototype/ RC200 F5/ RC200 F8/ RC250 Trials/ RC300 Gunmetal/ RC300 Silver/ RC500 F1 DH