Well, here it is, my first complete restoration. A 1989 Gary Fisher Advance.
There is a bit of a story to tell so bear with me.
It all started in 1989 funnily enough with this bike. It was bought by a good friend who was a couple of years older than me. At the time I had some dog of a Universal or summat, but desperately wanted a decent bike. In 1993 I bought a Marin Eldridge Grade and over the next few years it was truely pimped. I stoopidly sold it when I was 17 to buy a car and mountain biking became obsolete in my life. Same for my friend with the Fisher, but for some reason I ended up buying it off of him for £80. I rode it a couple of times but then girls and stuff got in the way and it ended up in my parents shed unloved at the bottom of their garden. Cycling was well and truly out of my life.
Fast forward to February this year, I was reading the classified section of the local paper and noticed a 1997 Specialized Rockhopper for £100 no offers. Something sparked inside me bringing back memories of MBUK and Mint Sauce, and told me this was a bargain, so I offered £80 and got it, cleaned it up, set it up nice and sold it to a mate at work for £130 a week later.
For some reason this then prompted me to dig the Fisher out of the shed. It had been there so long there was a tree growing throught the wheel that I had to cut down to get it out. The forks that were on it were some prototype ones that I had been given for helping out during the initial building of PORC in Kent, but they had seized and were unusable. Thats the point where this site comes into play whilst I was searching for some 1 1/4" forks.
So that led me into a total restoration and upgrade using period (ish) parts.
The original spec was 500LX and steel bars/stem, ie nothing fancy.
The spec now is:
DX short rear mech
DX NOS front mech
DX hubs, Araya RM20 rims
DX cranks
DX NOS cantis
DX thumbies
DX levers
Manitou 2 1 1/4" threaded forks with new preload adjusters and elastomers
Syncros Cattleprod stem
Syncros NOS bar
Flite saddle
Onza Ules
Original Kalloy post
Original Evolution headset
2.1 Panaracer Smokes or grey Conti Cross Countrys
The paint was done by a mate in 2k, it was supposed to be a Nissan colour but came out a bit darker, but its really deep and is a metallic pearlescent, the photos dont do it justice.
New decals by Gil_M that are fantastic - I still havent paid you Gil! give me your details!
So finally here are the pics, sorry for the long intro. I have done it in 2 different styles as I am undecided which looks best. I think black saddle and tyres as the yellow and grey will look better in my Clockwork which is about to get pimped.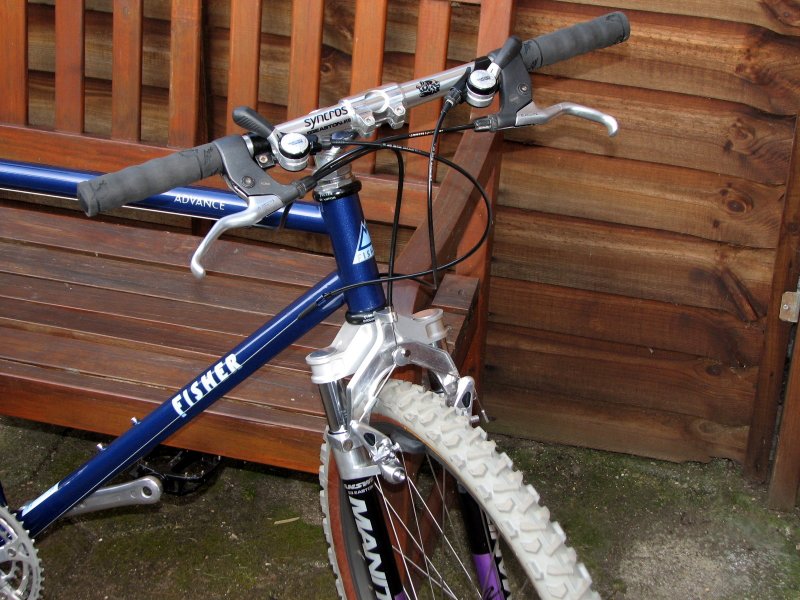 Feedback appreciated!