al-onestare wrote:
44Racing wrote:
Need to get some decent pictures of this bike once the weather lets up a bit. Got a moody black and white pic of it in the workshop the other day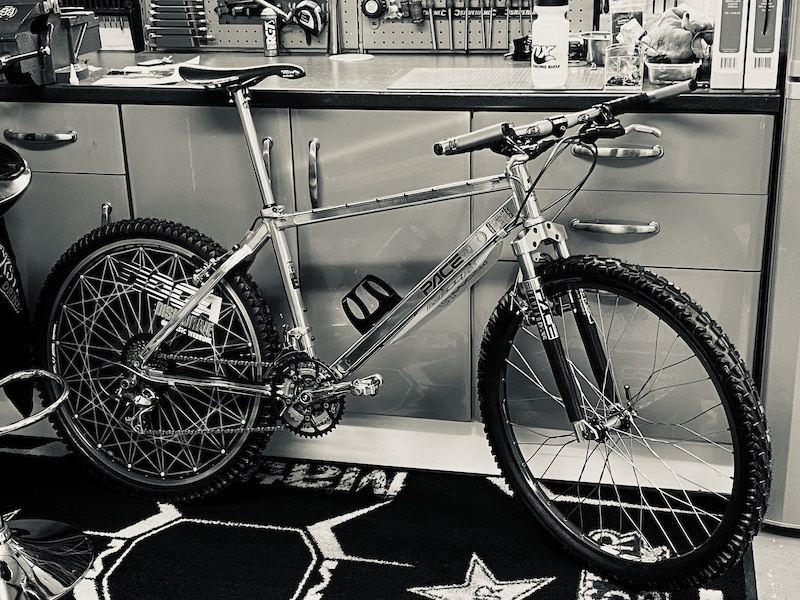 Don't tell Kona HQ, but I prefer this over your beautiful HH. There's something about it...it's just spot on and looks like it'll go like stink.
Ha ha cheers mate.
It's hard to get pictures to show how "race" this bike actually is as it looks fast just sitting still in the flesh.
This is pretty much the same weight as the Hei Hei and there's not that much titanium on this...well apart from the majority of the bolts, bb axle, saddle rails, Q/R's, front hub, cassette and some carbon thrown in for good measure
...however the Hei Hei is covered in titanium.

_________________
In the stable - Pace RC200 F3 with Disk Drive Comp (My dream bike/build from when I was 15) BOTM December 2020 | Near NOS 93/94 GT RTS-2 with Spins (Replica of my 94/95 race bike) BOTM October 2020 | 94 Kona Hei Hei with Disk Drive Pro (My unicorn build...always wanted one) | 93 GT Tech Shop Zaskar in anodised black with Disk Drive Pro | 99/00 Intense M1 | Verlicchi Rudy Project (silver/3DV) *** up for sale soon *** | Verlicchi Rudy Project (silver/Turquoise) *** up for sale soon ***

Previous builds - 94 GT Zaskar in anodised Aqua 16" | Verlicchi Iron Horse Cully style (silver/3DV) | Giant ATX 990 | 94 GT Zaskar in anodised Aqua 19" | 93 GT Zaskar in ball barnished 16" | Pace RC200 F6 | GT LTS DH 1st generation