sparkiegaz wrote:
Great build also pace one of my favourite from years gone by, but have to say awesome looking workshop you have also immaculate like your bike..good luck for the future..
Thank you so much
Like the bikes the workshop has been a dream/labour of love as well that makes working on the bikes a lot easier and comfortable.
I used to be a Rockstar Energy MTB athlete and then went on to own the Rockstar Energy UK MTB team for a number of years, so that's why there's a lot of Rockstar merchandise in the workshop.
Here's a bit of a better picture of it...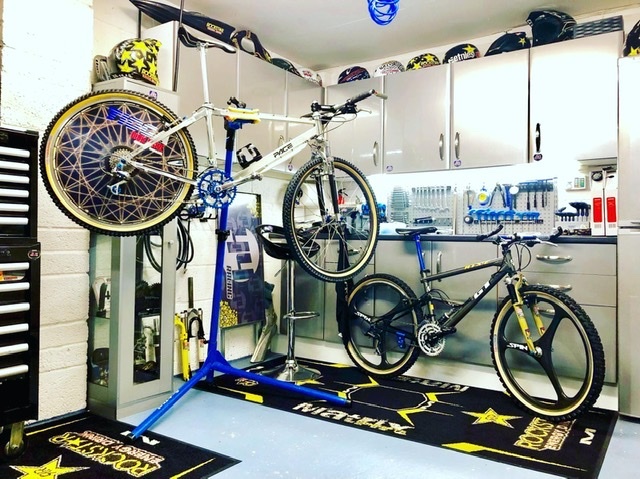 _________________
In the stable - Pace RC200 F3 with Disk Drive Comp (My dream bike/build from when I was 15) | Near NOS 93/94 GT RTS-2 with Spins (Replica of my 94/95 race bike) BOTM Oct 2020 | 94 Kona Hei Hei with Disk Drive Pro (My unicorn build...always wanted one) | 93 GT Tech Shop Zaskar in anodised black with Disk Drive Pro | 99/00 Intense M1 | Verlicchi Rudy Project (silver/3DV) *** up for sale soon *** | Verlicchi Rudy Project (silver/Turquoise) *** up for sale soon ***

Previous builds - 94 GT Zaskar in anodised Aqua 16" | Verlicchi Iron Horse Cully style (silver/3DV) | Giant ATX 990 | 94 GT Zaskar in anodised Aqua 19" | 93 GT Zaskar in ball barnished 16" | Pace RC200 F6 | GT LTS DH 1st generation