Having recently picked up a 97 Lightning in pretty much standard spec I've decided to do a small build thread on here.
Always fancied a Ti bike as I've had many of Aluminum and carbon but hadn't scratched the Titanium itch until last year when I purchased a Titanium Kingdom vendetta as my winter trail bike. I've loved riding it over the last 8 months through all manners of weather and even use it now in summer for longer rides and less demanding rides like Cannock etc.
I'm a big GT fan so when the Lightning came up for sale on here I sold off a few other projects and went for it.
As most will know the Lightning is effectively a Taiwan welded Xizang (kind of) and is in fact rarer I believe. But the spec they came with new isn't that great due to GT I assume trying to meet a price point.
So now I've had the Lightning a month nearly I've had time to strip it down and start collecting bits. Frame has cleaned up well and is a extremely nice example.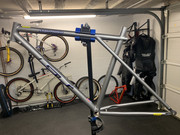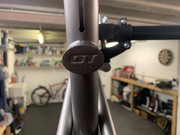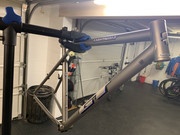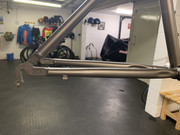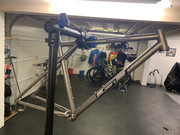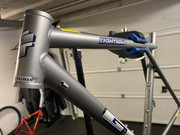 Only issue I had whilst stripping it was a crank arm which had stripped threads and was pretty much welded on. Ended up cutting it off but more than worth the sacrifice as it was only a cheap arm.
Now in terms of spec I've decided for a dark grey theme with mostly XTR kit. I've got some of the bits ready. Thomson post and stem in black , and a black flite.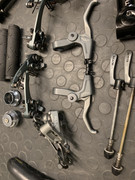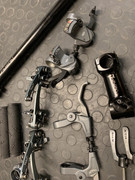 The bits I'm not sure about is forks , cranks and front mech. Hoping to sell the bits below and go for some blue 98 SID , XTR cranks , and XTR mech. The middleburn cranks I have are nice but don't feel the silver matches too well with the build.
Other thing I'll need is a nice flat handlebar. Maybe a Ti pair would be nice but let's see.
Wheels wise I'm torn. I've got a pair of lemon 517 on XT 750 hubs with wildgrippers sprints. Lovely wheels and I like the lemon contrast to the dark grey. But feel the hubs might feel like a little low spec. So maybe thinking of some grey X517's on XTR hubs.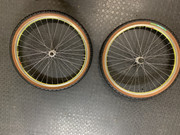 Open to suggestions and comments. It might be a slow build though as funds allow.