pipmeister wrote:
Ugo51 wrote: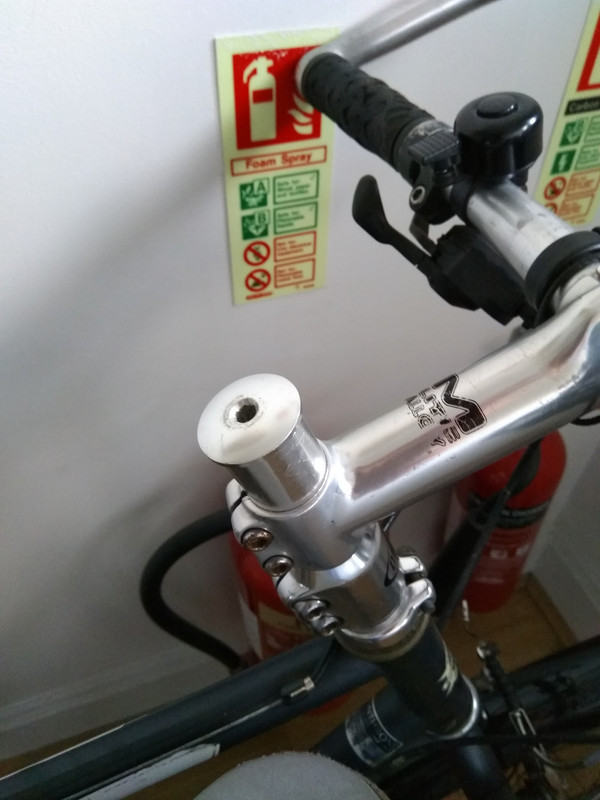 This is the current setup.
The top cap is a threaded cap that screws onto the extension tube, which is why I thought all top caps were threaded.
Whoa
that is some set-up! There is a lot going on there. I am struggling to figure out what you have on your bike. If that lower collar with a pinch bolt is the Headset bearing adjuster, then I assume that you have Threaded Headset with a Threadless conversion. Your Top Cap seems to be an integral bolt type, which I assume is pulling on the Quill sliding "Nut".
I would start again with either a Threaded / Quill set-up if your Steerer is Threaded, or if your Steerer is actually Threadless, fit the simpler Threadless set-up that utilities a Top Cap like the example in my picture.
I'm probably not helping you a great deal with a solution, but perhaps THM can figure out what is going on with that unusual set-up.
Pip.
I have to admit I have difficulties understanding what you wrote
I am a total novice when it comes to bike jargon, so no idea what a quill is.
Anyway, the stem is threadless. I have no idea why there is a collar, I think it's just there to be a spacer, but correct me if I'm wrong and you think it's there for a reason.
It's clear the previous owner wanted a higher handle bar and it looks to me it shoved all the spacers he had onto the stem and, when it was not enough, he added the extension tube.
So, going back to my original question, the top cap - a real top cap not the bolt-less top cap I have now - should just fit onto the stem, and host the nut that pulls on the star nut, right?
At the moment the star nut is tightened through a bolt housed in the extension tube.
The plan is to simplify this setup, although I don't want to go too low because I use the bike for commuting and I need it to be fairly comfortable.