Carron Valley 19th April 2009
Having left home at 7 am the previous morning, spent the day helping with a course in Inverness and then arriving in Glasgow just before midnight I am not surprised I was running late on Sunday morning.
I had decided to take the singlespeed Stumpy as I need time to get used to it and also to tweek it some. Only problem was that it wasn't completely built yet. Not a worry I thought, heather, my partner was in Glasgow on Saturday. I gave her a list of pieces I needed, seatpost, straddle cables and a bmx chain, oh and a crank bolt.
So Sunday 7.30 and the alarm goes off, time to get up have breakfast say a quick hello to my soon to be inlaws and get this stumpy built. No problem I hear you say? Well I then had to be on the road to Carron Valley by 9.30 for the 10.30 meet to ride at 11.00. At least it was a glorious sunny day and I sat out back and quickly put it all together whilst finishing my cuppa.
[IMG]
Nearly but not quite, I arrived just after 11 to see Velo's reliant and Gazza's car but no Velo or Gaz. Lots of people in the carpark so thought I would have a quick look to see if any other macretro clan were about.
Then riding towards me out of the crowd of modern mediocrity comes clockworkgazz on his cannondale singlespeed, velo on a unbranded black geared steed and jimihendrix on a lovely Manitou with gears. They had come back for me after a short blast. That was a relief. Thanks guys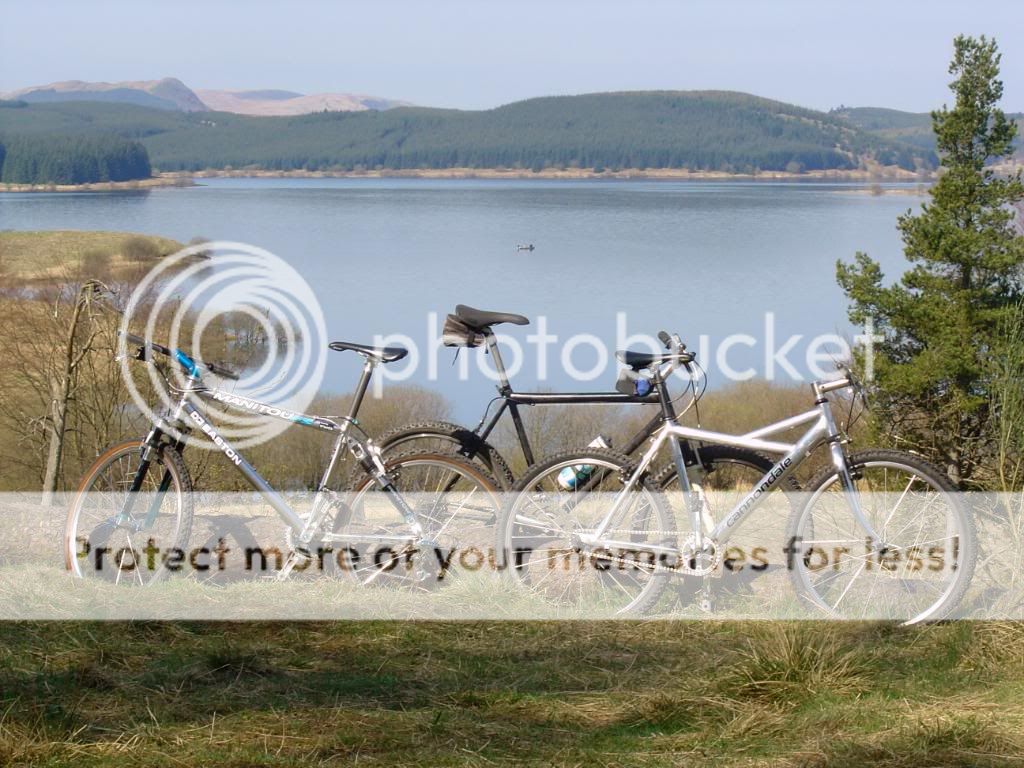 I then quickly got my gear on whilst the guys tried various ways to get my chain tensioned, in the end Velo used a piece of elastic/ string stuff to tension the tensioner. It worked a treat all day.
Ok off we go up the first climb, two bends up and I have to stop. My bars are turning in the stem when I pull back. Out with the multitool and fixed, the Stumpy has been put together on a bare frame over the last month and only finished this morning with no shakedown ride. Liking it though and the 32/16 gearing seems fine so far. Off I go catch up to the others who are waiting further up. We take off and soon we are waiting for Jimi, chatting and waiting, seems awhile so Gaz goes back only to return a few minutes later with the news that Jimi's lost his chainring bolts and sheared a chainring through. Jimi's day was over. You were missed mate.
Off we go up the trail.
It's a good trail but it is very rocky with large loose rocks as well as some large ones embedded in the dry hard trail. Very jarring on the old rigid that's for sure. It all evens out as the sun is shining, its quite warm and everyone, bar Jimi, is smiling. We stop for a drink once on the fireroad and the conversation is about Jimi and his broken ring. I thought I should check my cranks and gearing as well, only to discover I only had two out of five of my chainbolts left. A quick tighten shows they would have been off soon as well. I mustn't have tightened them properly as its rough and jarring but not that bad. What can you do? Tighten them and get on with it. One thing was certain; it would go till it stopped.
We climbed a bit further and chatted to other riders here and there before coming to the start of the run back down the hill.
This was a good track, still rocky but flowing and swooping. I hadn't been here before and I am on a recently built singlespeed so I was taking it cautiously but still it was a lovely ride.
We stopped and got a pic of Gaz coming over a rocky stretch and then proceeded through the forest on some nice singletrack. Some nice scenery all the way down, past a canyon with waterfall and then out of the trees onto a high flowing berm.
We stopped and had another shot at the berm and then decided to shortcut onto the fireroad and climb back up to another trail. A couple of metres onto the fireroad and Velo's chain snapped. What is it with chainsets today?
Luckily he had a link so while he was fixing it Gaz and I finished of the trail with the berm returning back up the fireroad to find Velo ready to go once again.
It was a short climb but a satisfying one, mainly due to catching and leaving a guy spinning away on his modern Stumpy. Cheeky I know but after seeing it glide over the rocks I did have a hint of the 'tables are turned now my modern foe'.
Karma smacked me in the arse and then laughed verily as this next section was the rockiest yet and made the last section look like a not very rocky thing. It was really nice and flowing but was quite washed away with big blue metal type rocks embedded everywhere so it made it very difficult to blindly jump the crests not knowing what was on the other side.
Still fun mind you but riding with a lot in reserve. This track then came out through the trees to show the trail turning and running across the field with a series of jumps all the way across. This section was great and would have been a bit better but for the rocks, but all three of us had a ball and after a quick chat to the nice guy with the stumpjumper (arent they all) we decided to do it again.
The second time was better as I knew what was around the corner, over the jumps etc.
Then it was back to the car park, change and head off back up the road.
Thanks Gaz, Velo and Jimi I had a ball and as usual cant wait till the next time. For which I will be better prepared.
Another excellent ride with the Macretro clan.
Jamie