Years back one of the races I did was in the Sidlaws in
Dundee so on Sunday I decided to go and try and find
the old race route and access paths. Miniken and myself
were dropped of near the Sidlaws at Newlandhead.
It was a stunning day as we started out (Miniken and
myself). We could have done with a machette for the
first section with gorse and nettles covering the original
access path, which was now also a stream bed.
We battled through to the foot of Balluderon hill.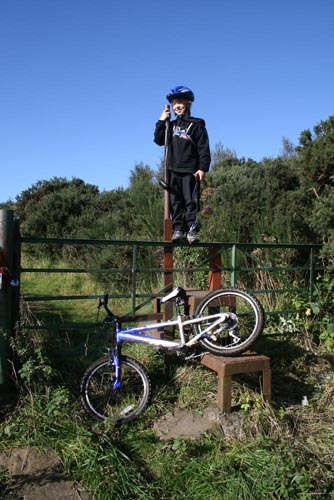 Finding the long disused track leading up the hill we
realised a lot of walking might need to be done. Little
did I know.
After fighting our way up the long grass, me cycling,
minken walking, we got to the start of a rocky path.
I started to recognise some features so I climbed
higher, the first landmark on the course the bombhole
and it's swooping path.
Finally some playtime! shot down this section, it was
great fun, got to the bottom and miniken wanted to do
it again, so back up we went, on the way down I noticed
him locking up is wheels, so at the bottom I mentioned
it to him, saying if you lock up when you hit rocks you'll
likely get a flat. We turned to reclimb the hill and guess
what I'd got a pinch flat.
I was prepared, puncture kit and minipump ready I
stripped the wheel down fixed both punctures and tried to
blow it up, the cheap mini pump I bought around 95 was
perished, it couldn't create enough pressure to get air
past the valve. I was stuffed! 6 miles from home and
2 hours from being picked up.
Well I decided to push on up the hill bike in hand, just so
Miniken could see the view from the top. Ofcourse now I
couldn't cycle the tracks got better and so did the weather,
it actually got hot.
The route up we were taking would make an amazing
downhill, very loose, the occasion quarry drop on one
side and heathery single track.
Reaching the top was stunning - 360degrees of 50mile visibility.
After a stop for lunch and too many photos, we began our
decent. With the original route finding plan abandoned, we
set off down the Auchterhouse side of the hill to meet the
wife in the car park.
Again some amazing tracks I didn't cycle, spotted an old
gate that was part of the route with it's track snaking up
the adjacent hill.
Miniken had a great time with one very steep track catching
him by suprise, he skidded all the way down back brake
locked for about 30 yards, he never put a foot down.
I'll definately be doing this again, it's amazing what you live
with on your dooorstep for 10 years but still choose to drive
40 miles to get to what you thought were the real hills.