Having only committed to going to the Malverns at the very last minute and even then with very mixed feelings and modest expectations, I've got to say it turned out to be surprisingly good… for better or worse this is no Mountain Mayhem – they are different and I hope there's room for both. MalvernsClassic will be back next year and fingers crossed for a Mayhem too.
Camping pitches were initially allocated upon arrival and very regimented in the order you arrive, but Gruff kindly saved me a prime spot next to him and close to the arena by appeasing the fun police who demanded 4 meters between plots, just encase you set fire to yourself or tent whilst frying Sausages etc ……although by mid-morning Friday they had lost their zeal and much to my surprise all the gaps began to get in-filled anyway.
My new neighbour was bonkers and I'm talking a full blown Fruit & Nutz bonkers and so funny with it, turned out to be no other than the legendary and original "Naked Lake jumper" and "Beer tent Pole climber" Richard Vickery, it was like going to Glastonbury and camping next to a fusion of Bez from the Happy Mondays and Shaun Ryder mashed up with a mellow hippy in Hawaiian get up… got to say he is a Real Top guy
Late Saturday Night me and Gruff wondered back to grab our coats only to witness one serious Mofo firework display going on at Eastnor Castle (they host proper posh weddings) where upon Rich and his wife came out of their camper and all four of us stood there in awe of the free show, with Rich singing like a canary about how much he enjoys f*%king fireworks (Man !) As naive as this sounds when it was over he told me he was going in to skin up, I thought he was off to re-acquaint himself with his wife (if you catch my drift) however a quick Google search soon put me right !
….although I never witnessed it I'm told a few hours later he was naked in the mosh pit and re-enacting his legendry 1990's naked pole climb.
The main man himself taken a lot later at the show and shine, (I'm not sure what my Phone did to the pic but he looks like a cardboard cut out)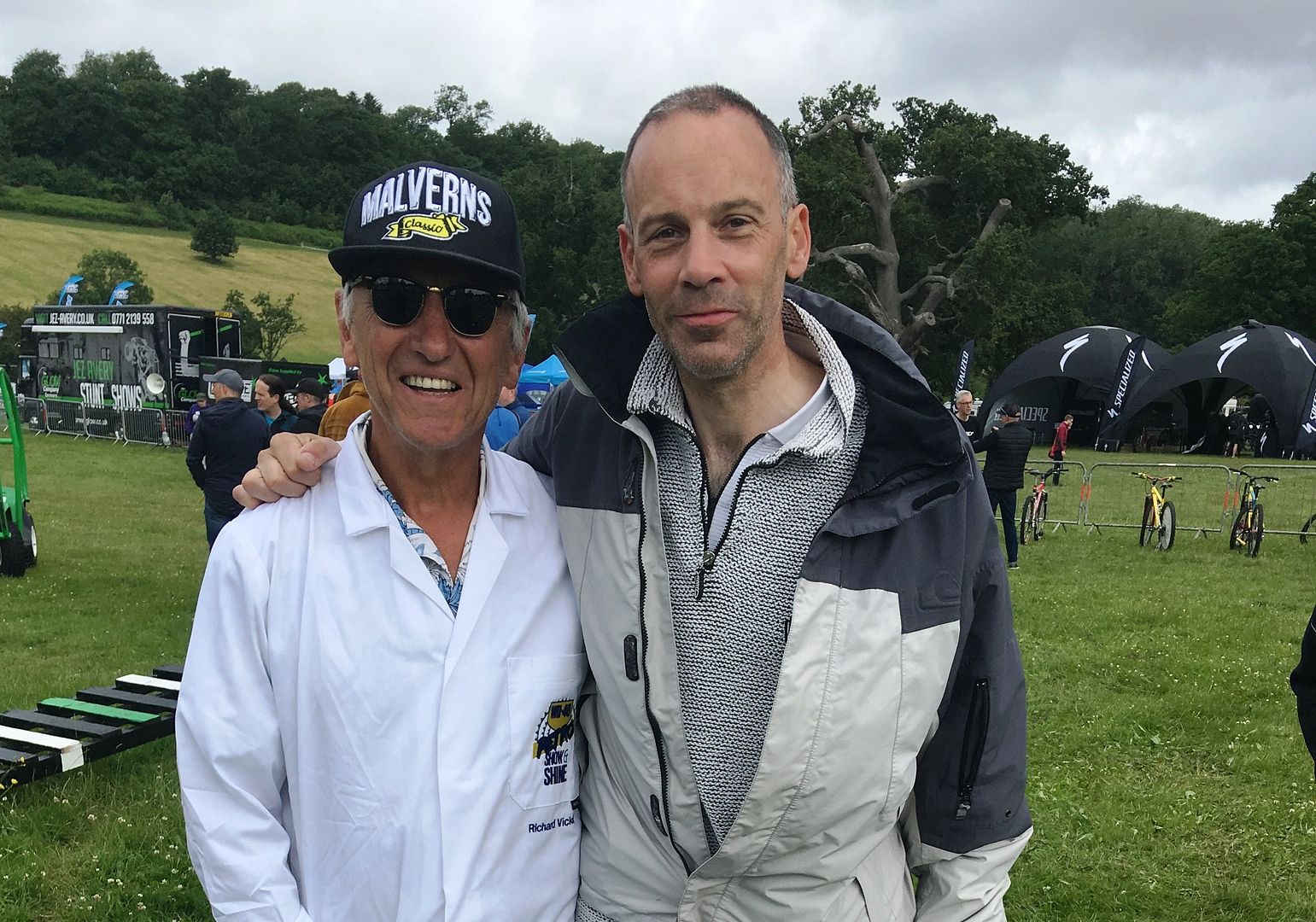 I came home sun burnt however we had everything from glorious sun shine to cold winds and at night it pissed down for an hour or so but being the summer it was bone dry again my 10am. Anyway before I go any further I've got to say a big thanks to Longun for sorting out the Retro Bike Area in the main arena (Track side) and bang next door to PACE UK, which turned into base camp and an impromptu staging area for the upcoming show and shine,
The weekend was surreal, Dave Hemming turned up with a fully loaded Campag Klein and just left it with us, or should I say abandon it for neigh on three days…. Didn't even bring a lock nor come back at night for it, he turned up only when he needed it, had a bit of banter before leaving (he'd entered three or four legend races and embraced the 90's fully check out the get up)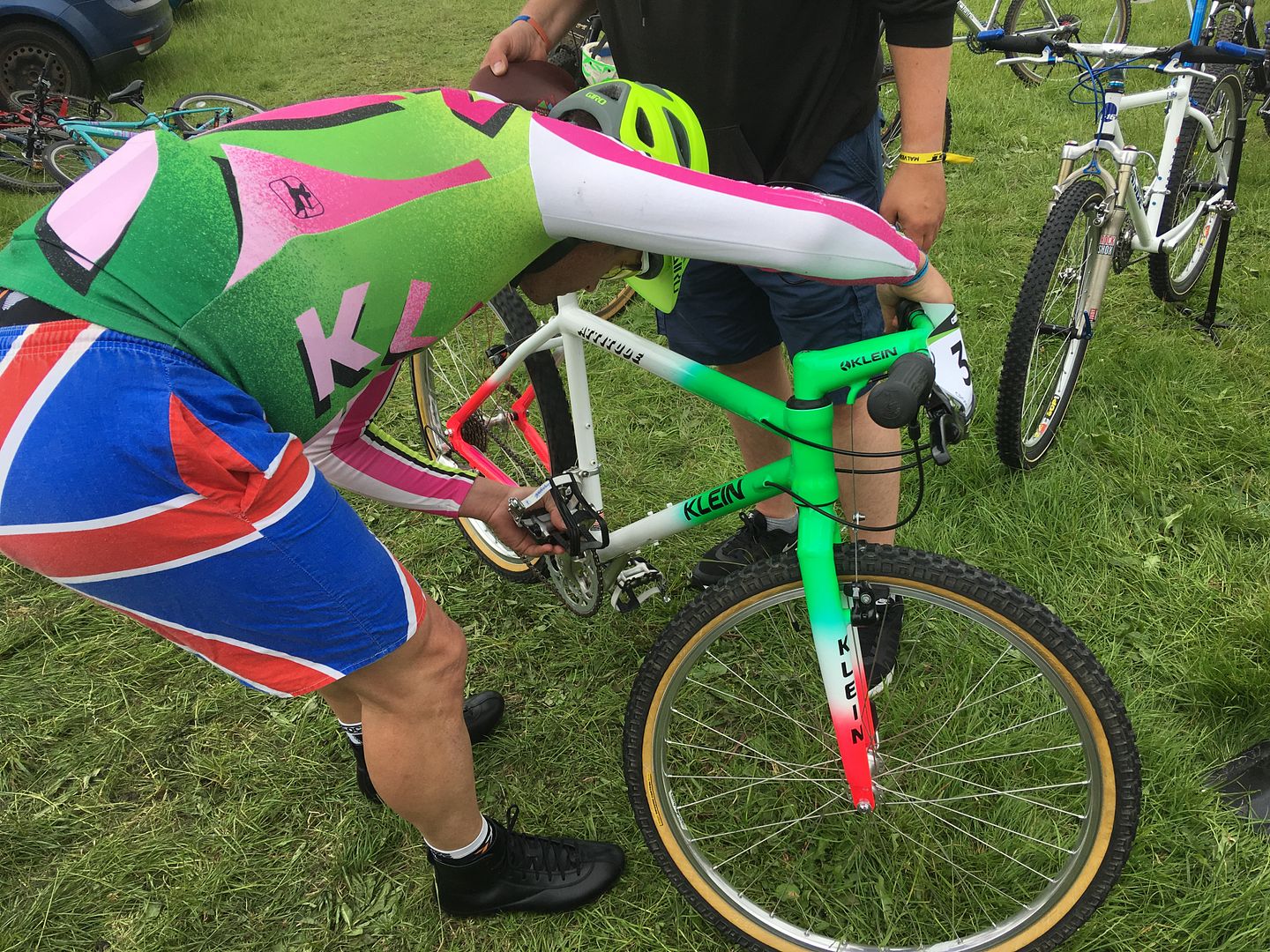 And this F2 Pace had to sleep with Longun as its owner forgot where he'd left it and at 2am we gave up waiting on him coming back so Chris forced himself to find a home for it, cool as a cucumber he eventually rocked up as if he'd loaned out a pub bike.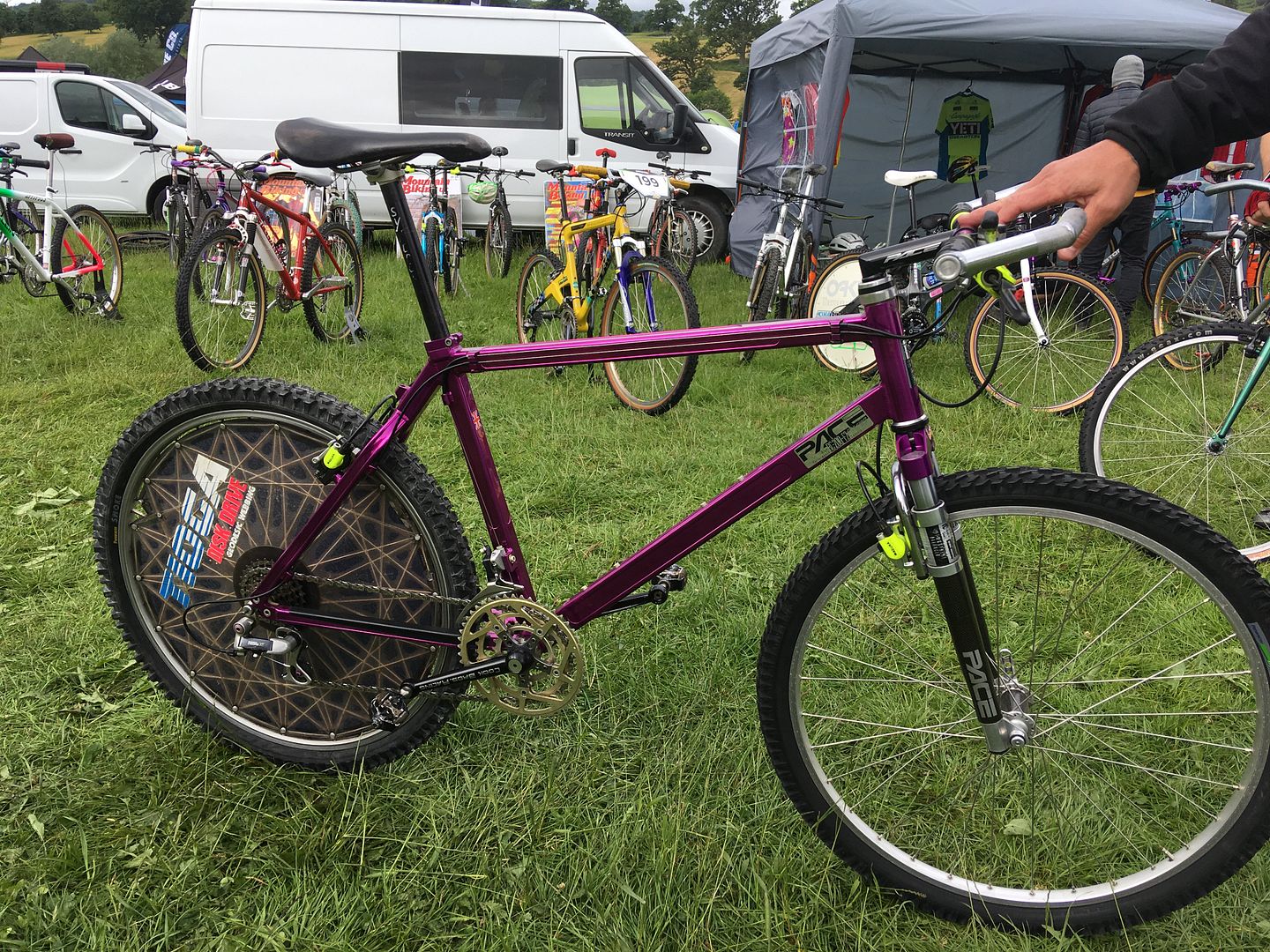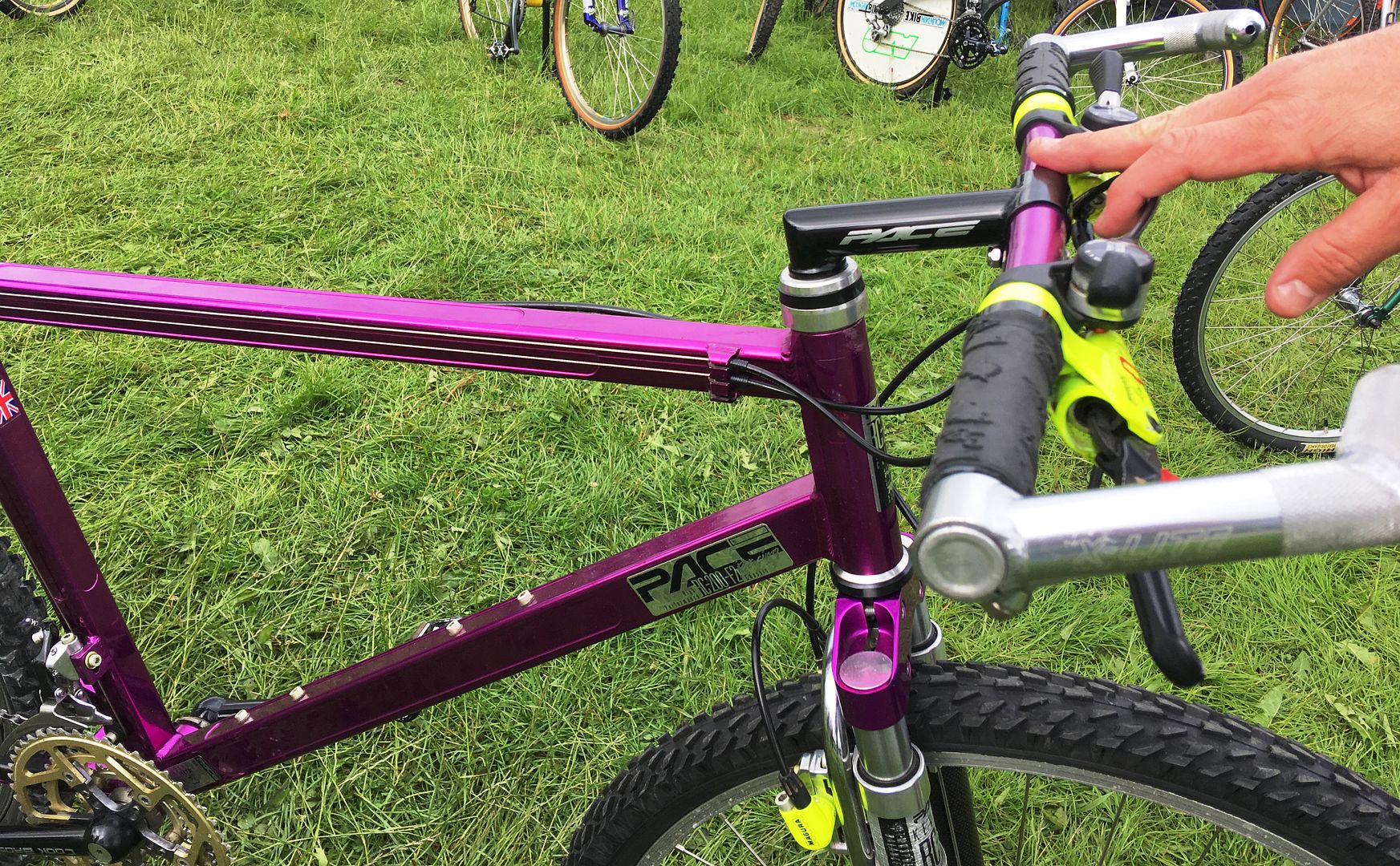 Not long afterwards Smiffy turned up on his Mountain Cycle and spent an age with us on the Friday whilst he didn't leave his bike he did make Gruffs day/Year but I'll leave that one to Gruff to explain, anyway whilst Gruff picked his brains I couldn't help but have a sneaky go on his Mountain Cycle and as a result I had to be insulted by Longun and Smiffy.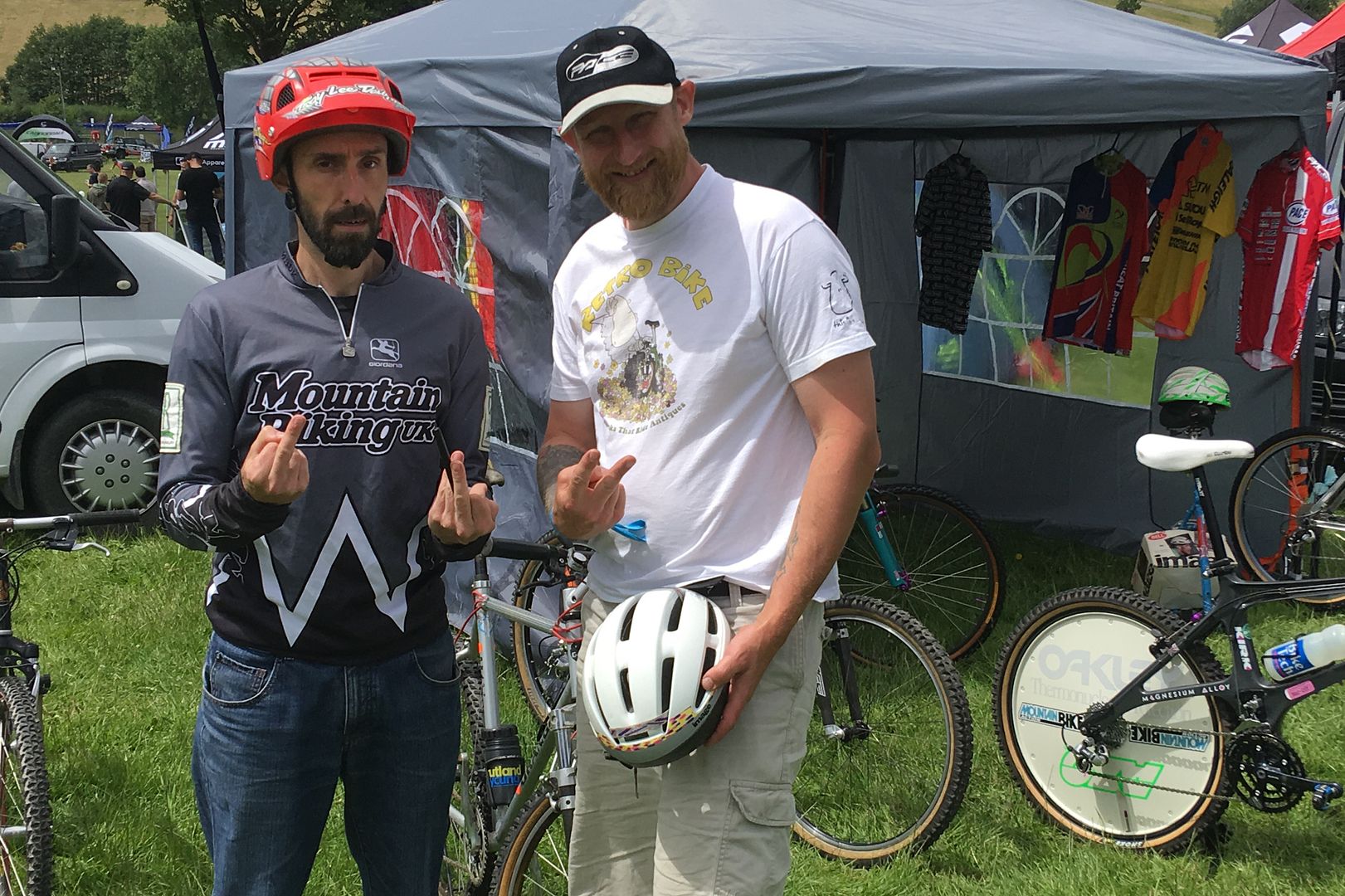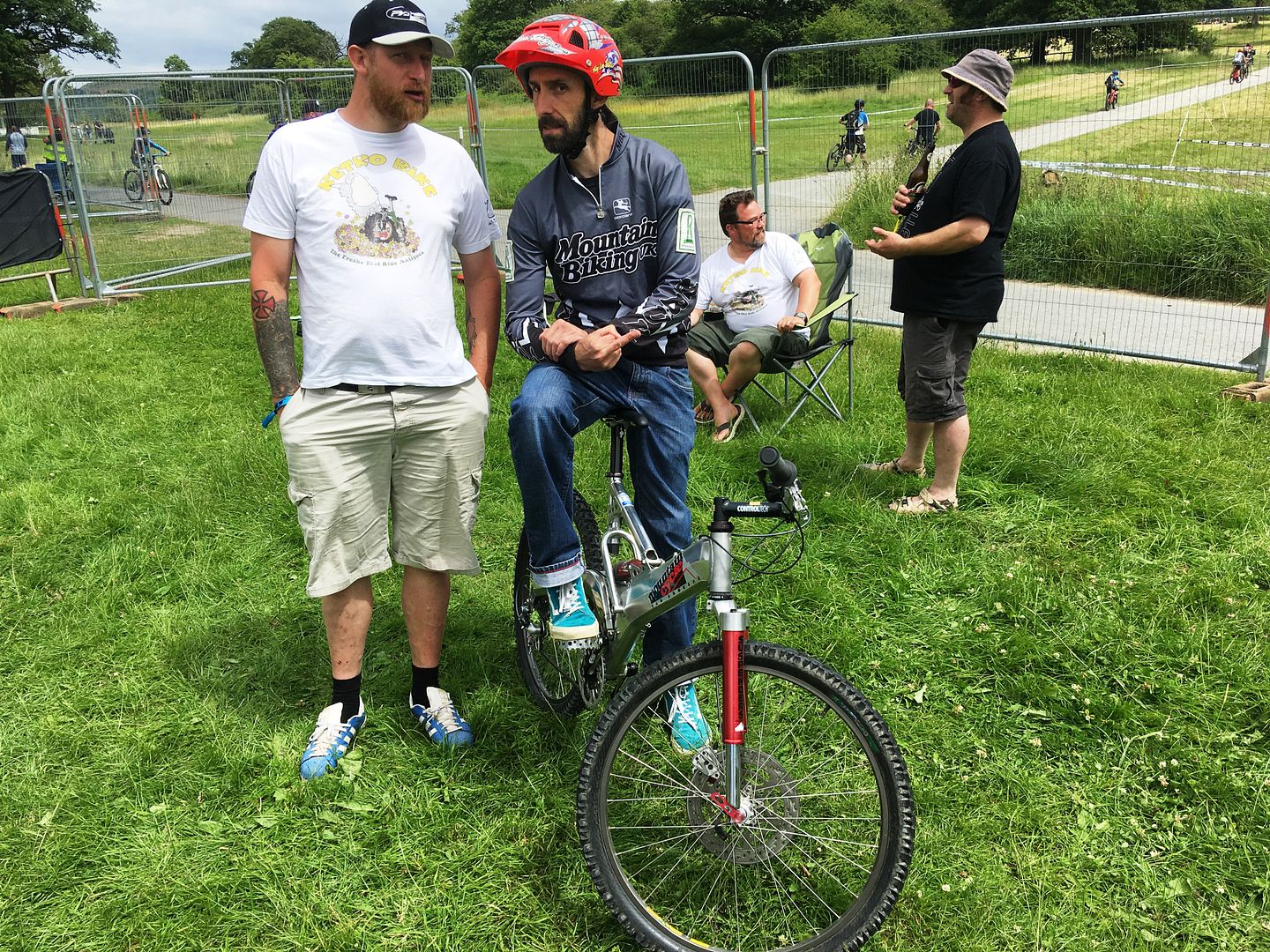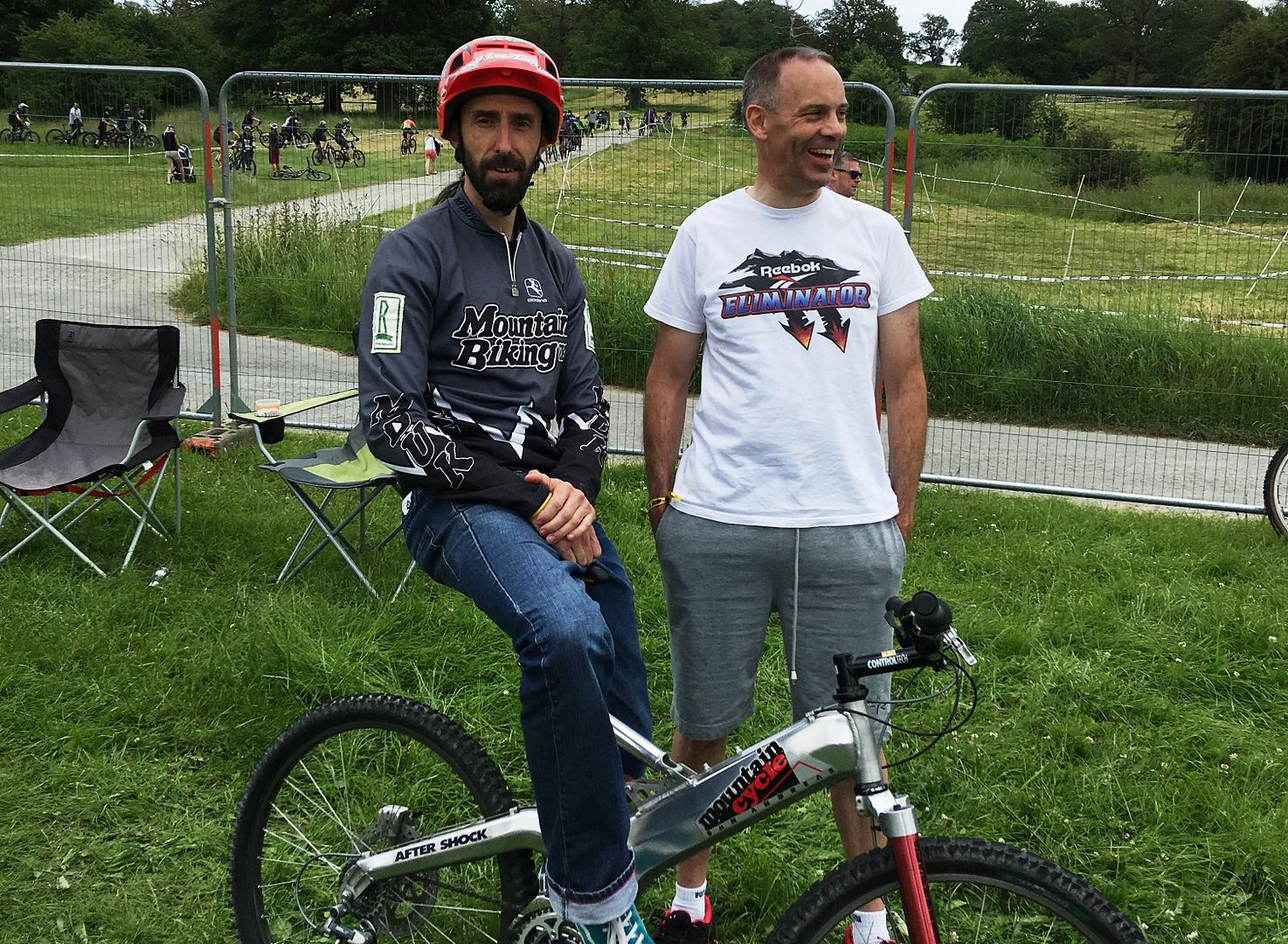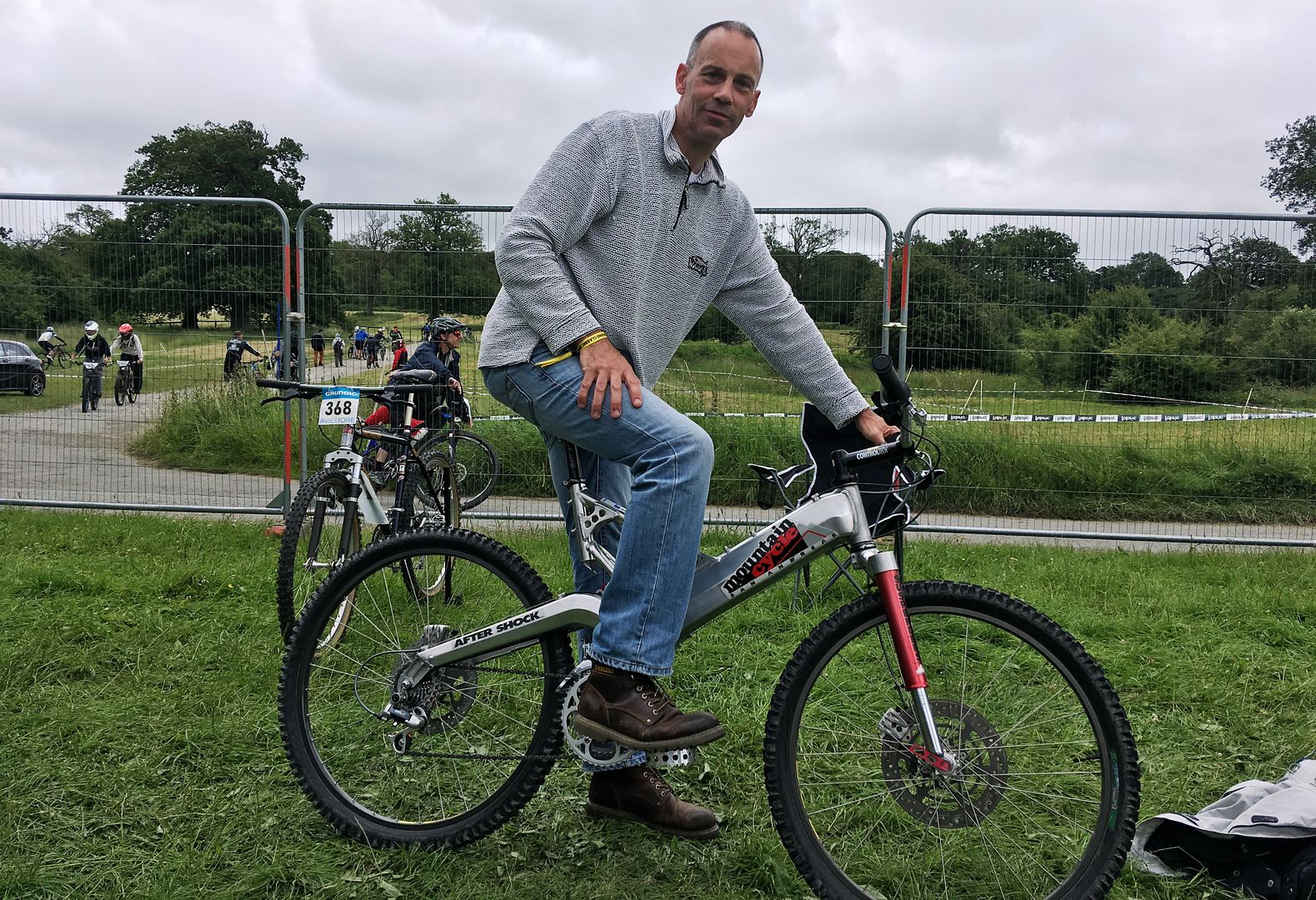 Both Steve Behr and Geoff Waugh came round at various points for a few pics and after a bit of banter with Steve I shamelessly asked for a pic with him, which rather took him by surprise, gotta say everyone we met were really down to earth but Steve Behr is a true gent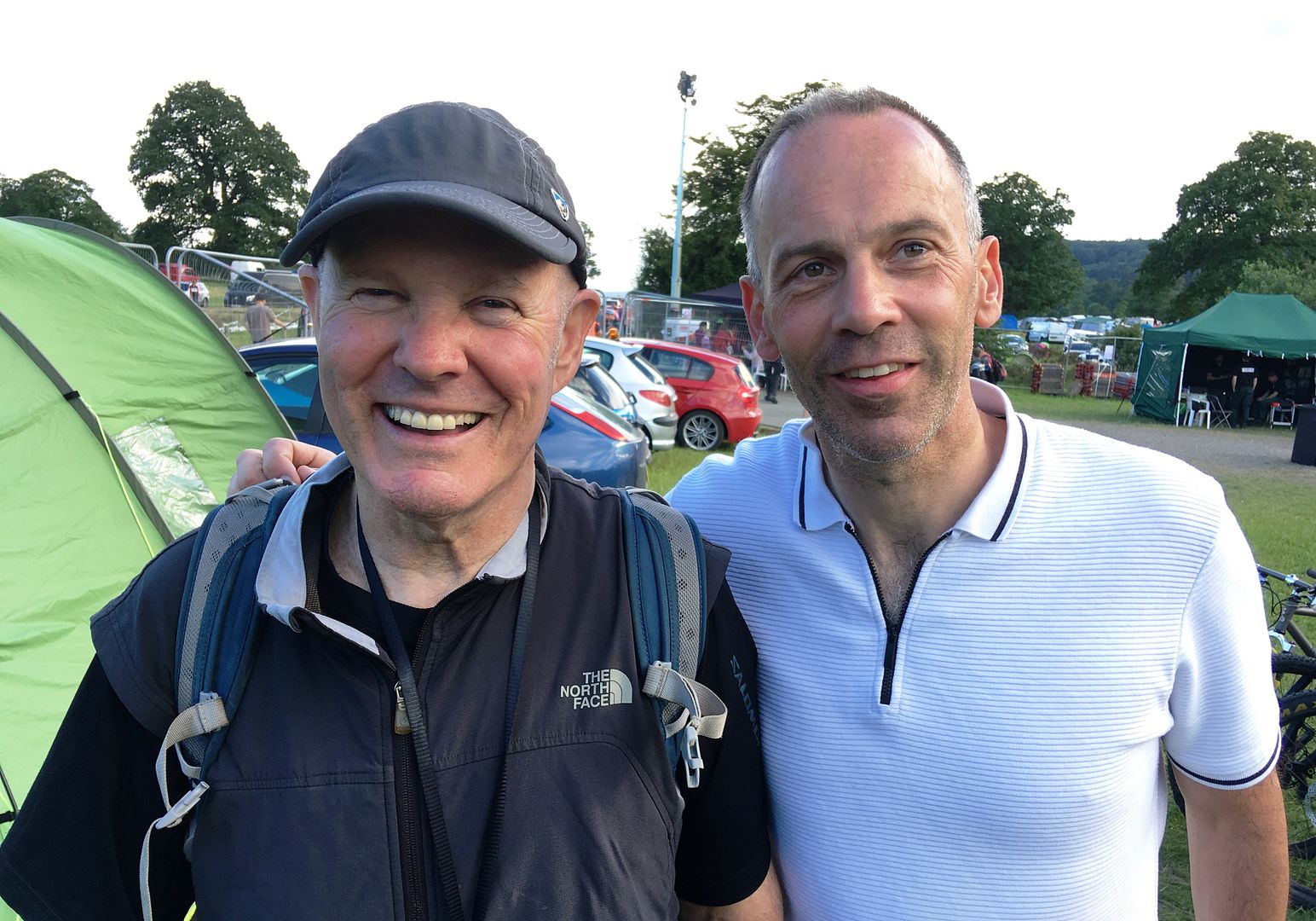 Me and Longun found Mint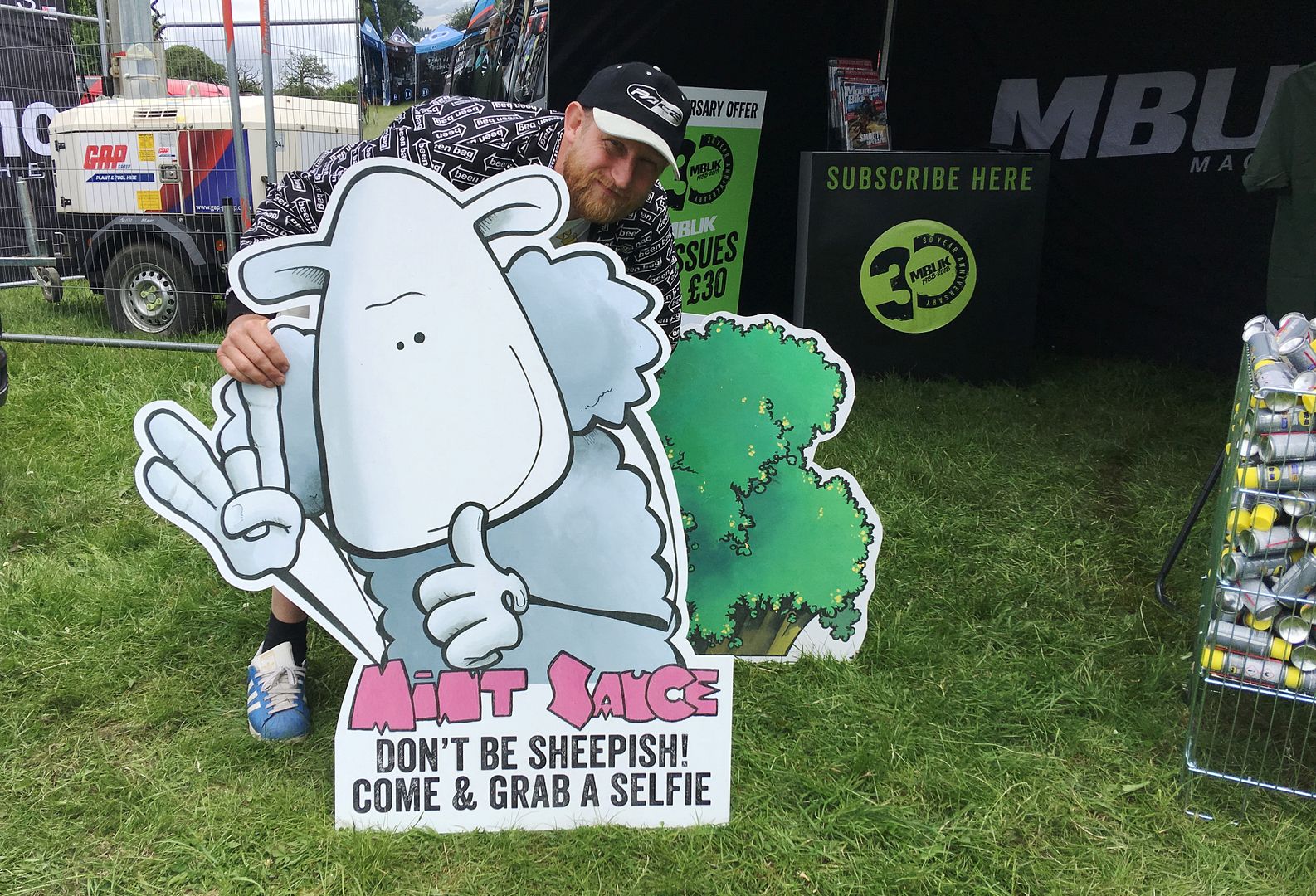 On a walk round we also Found one of JMC's actual racing bikes complete with correct tyres but I'll leave Spudly to JMC you all up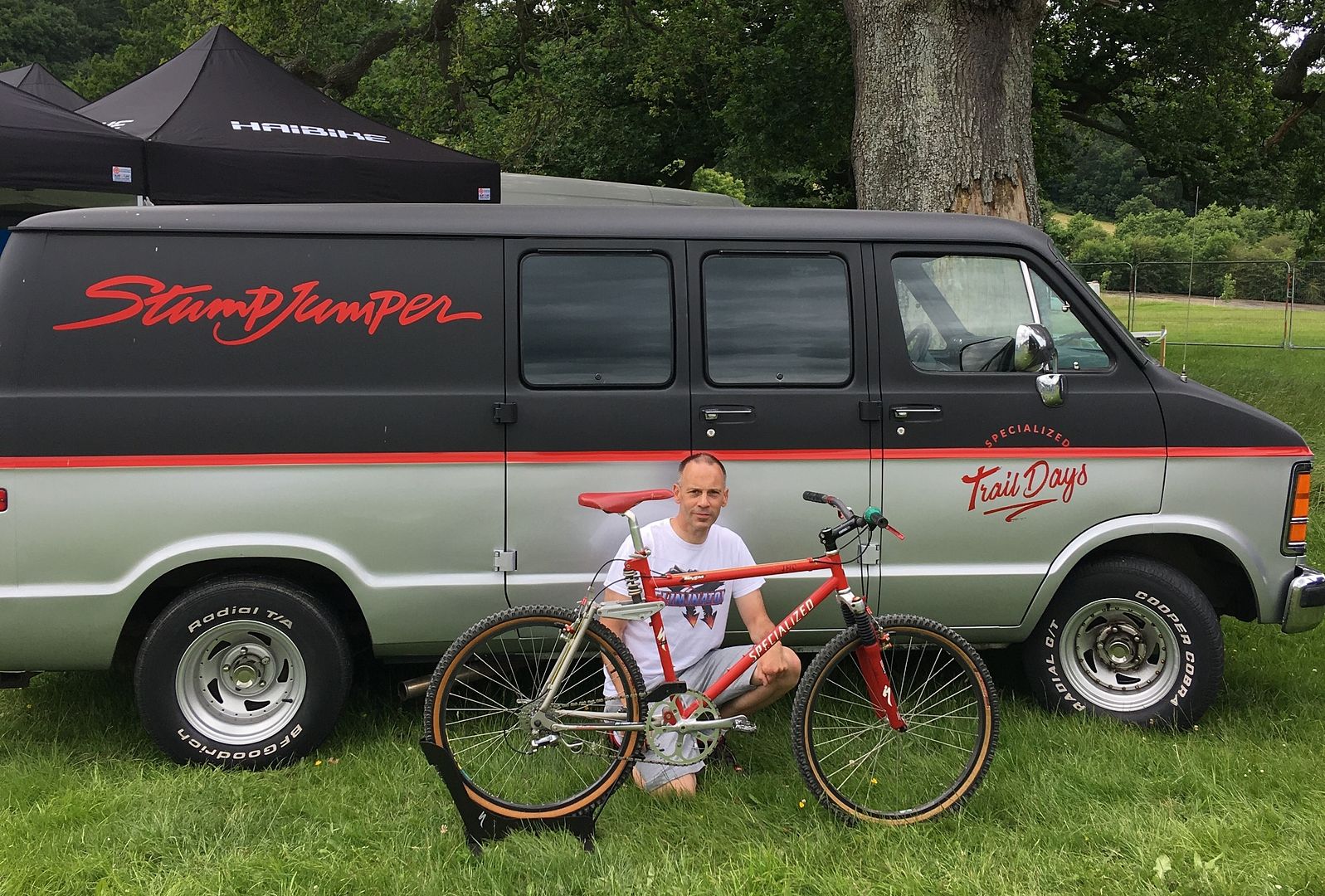 I'm no GT fan but even I have to say they brought their "A game" I wish now I'd taken a few more pics but never the less here's a flavour for what was on display….. Bizarrely No Steve Peat but Hans was in town although I missed him when he popped round to Retro Corner in fact I missed a lot of folk but I'm sure others will fill in the gaps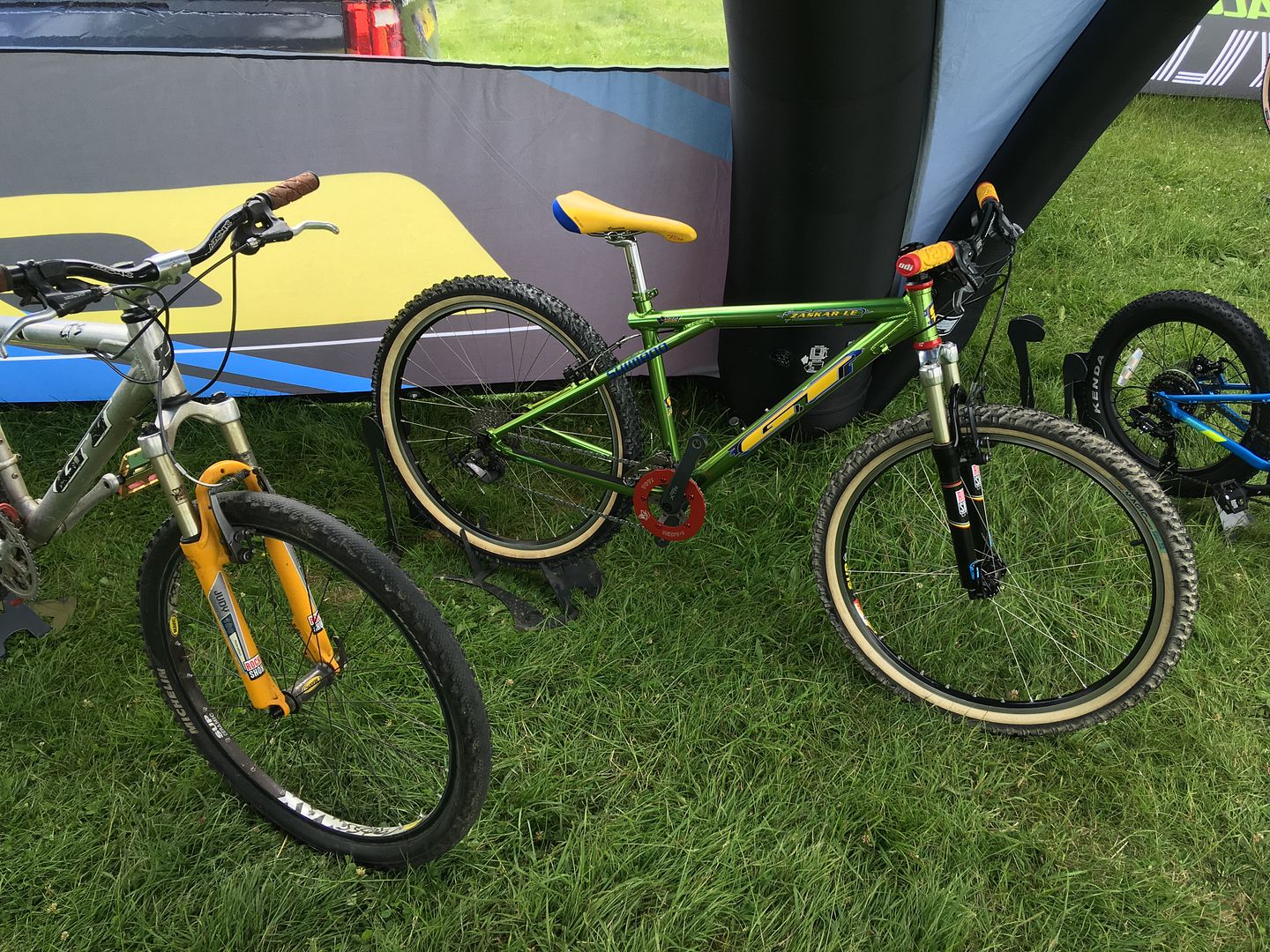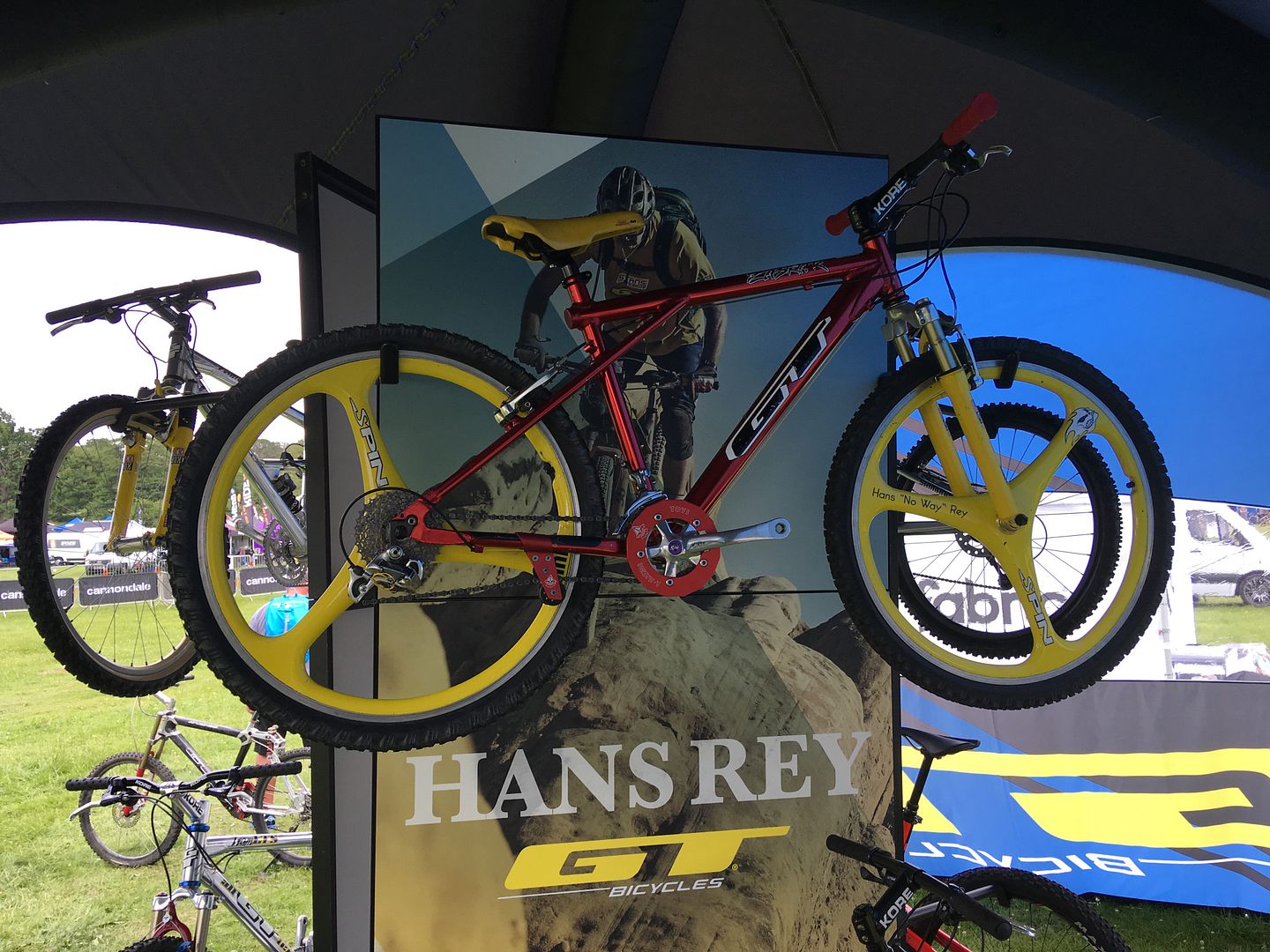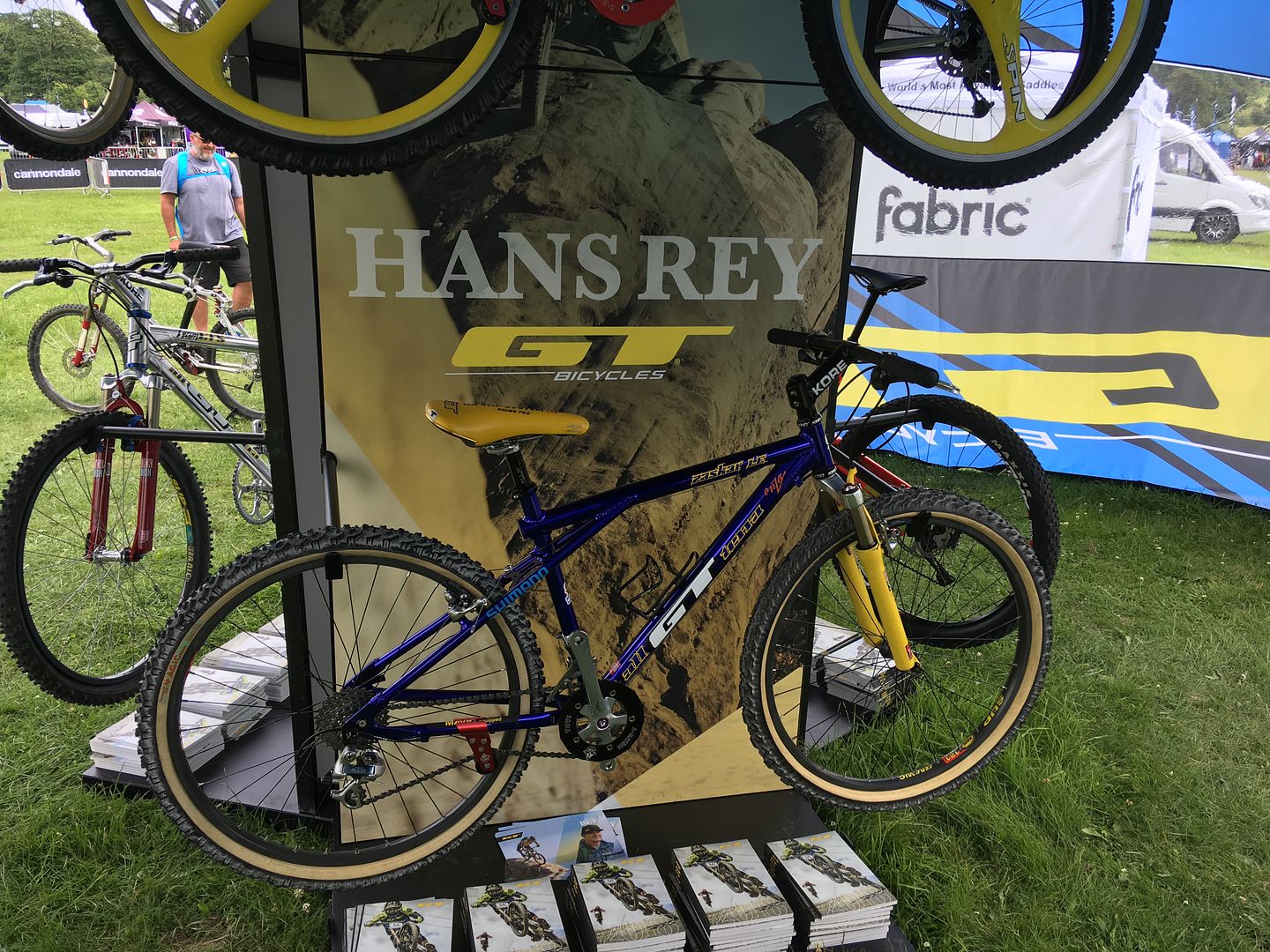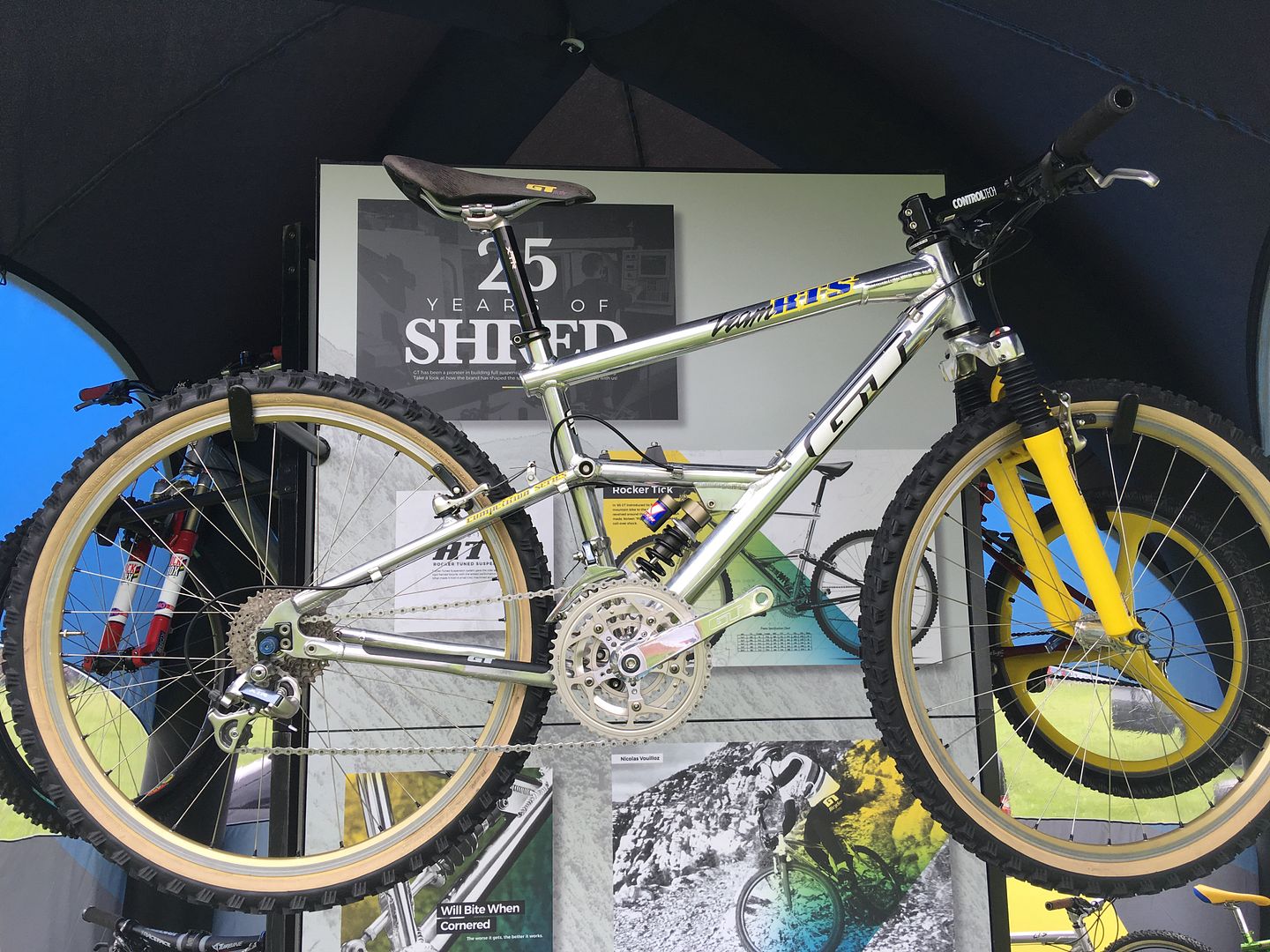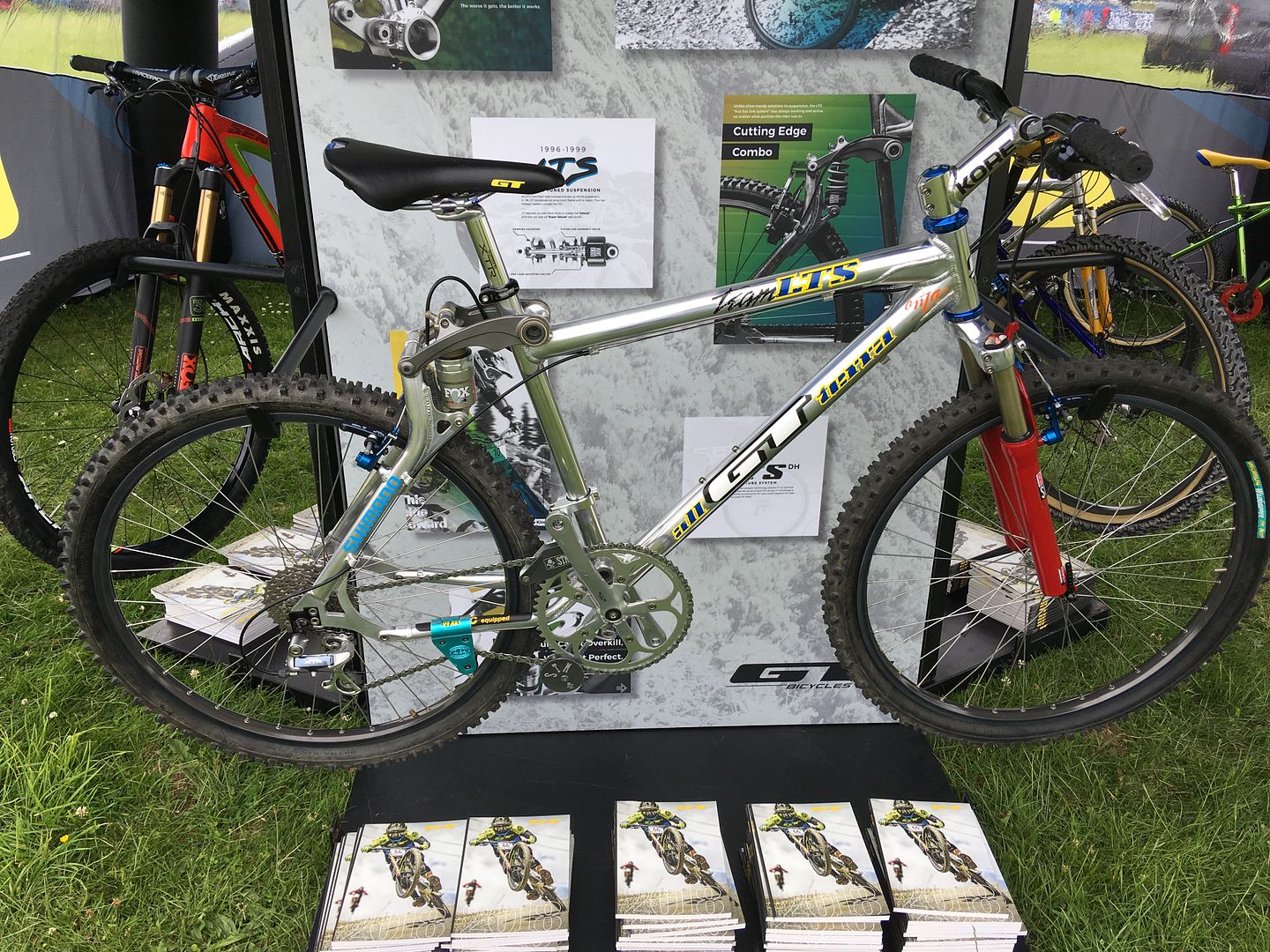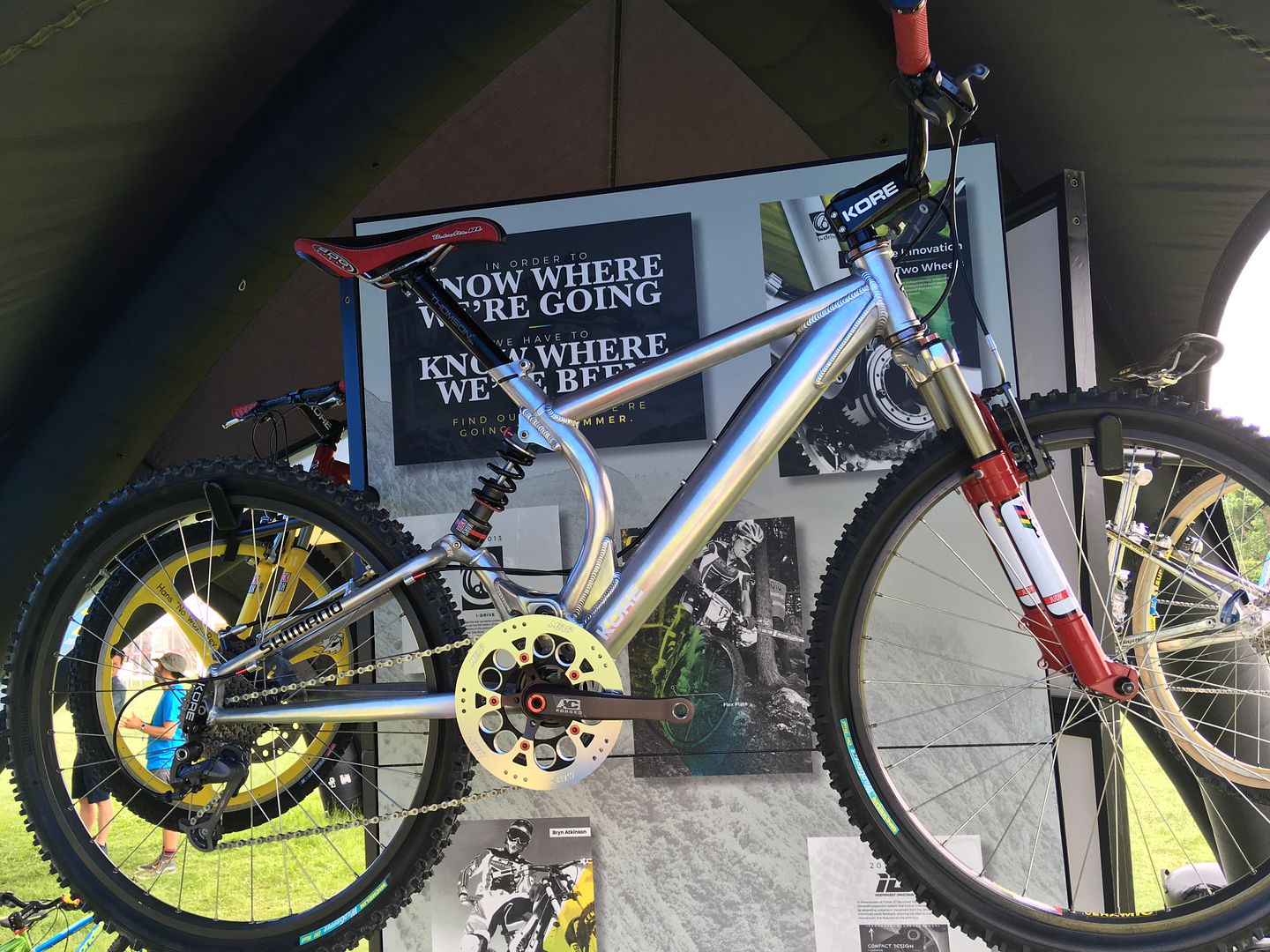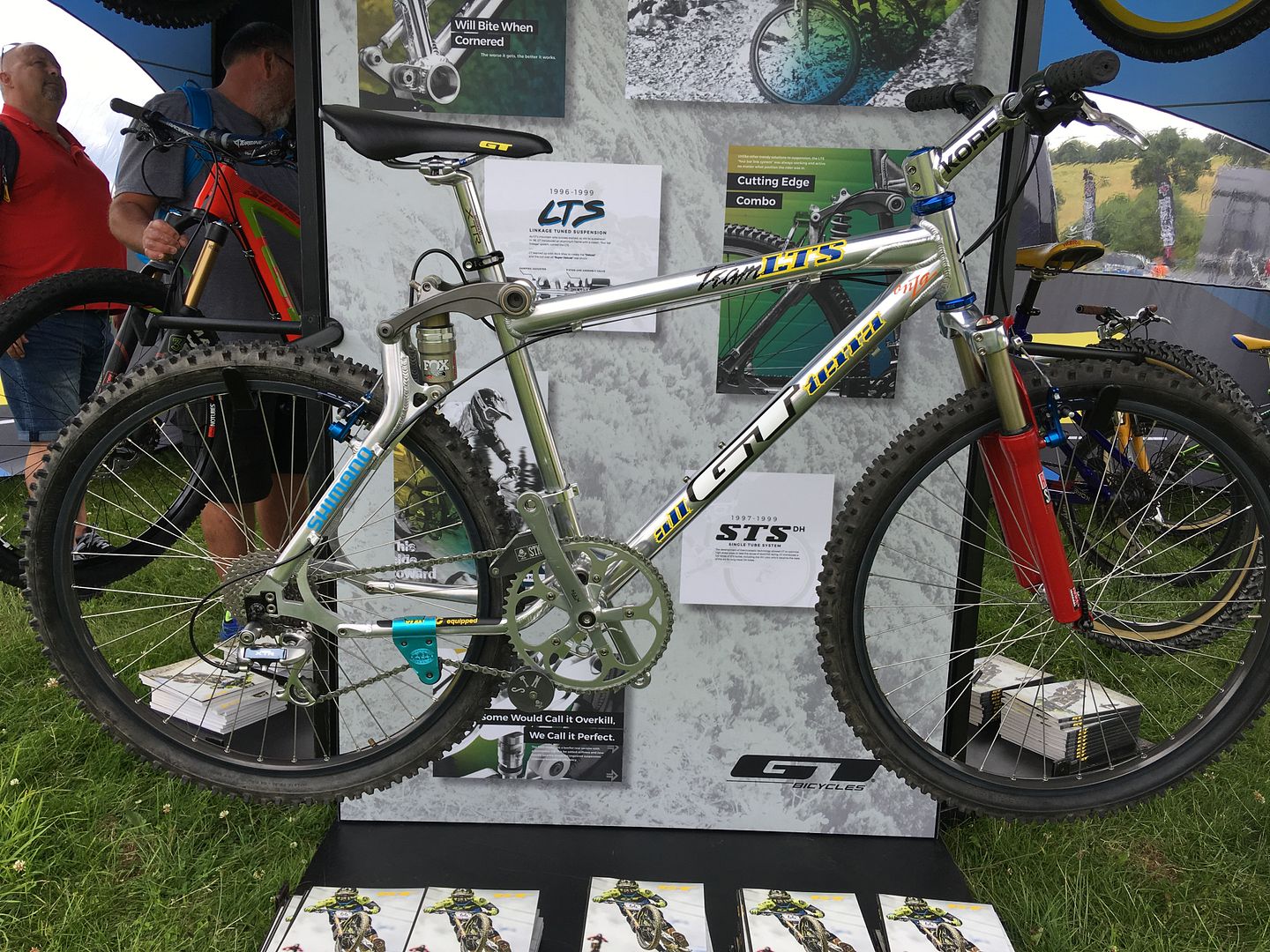 Darrens guys at Silverfish came tooled up with all their exotica although I only took a few pics of their Yeti's as my phone battery went into limp mode, check out the big ring on this bad boy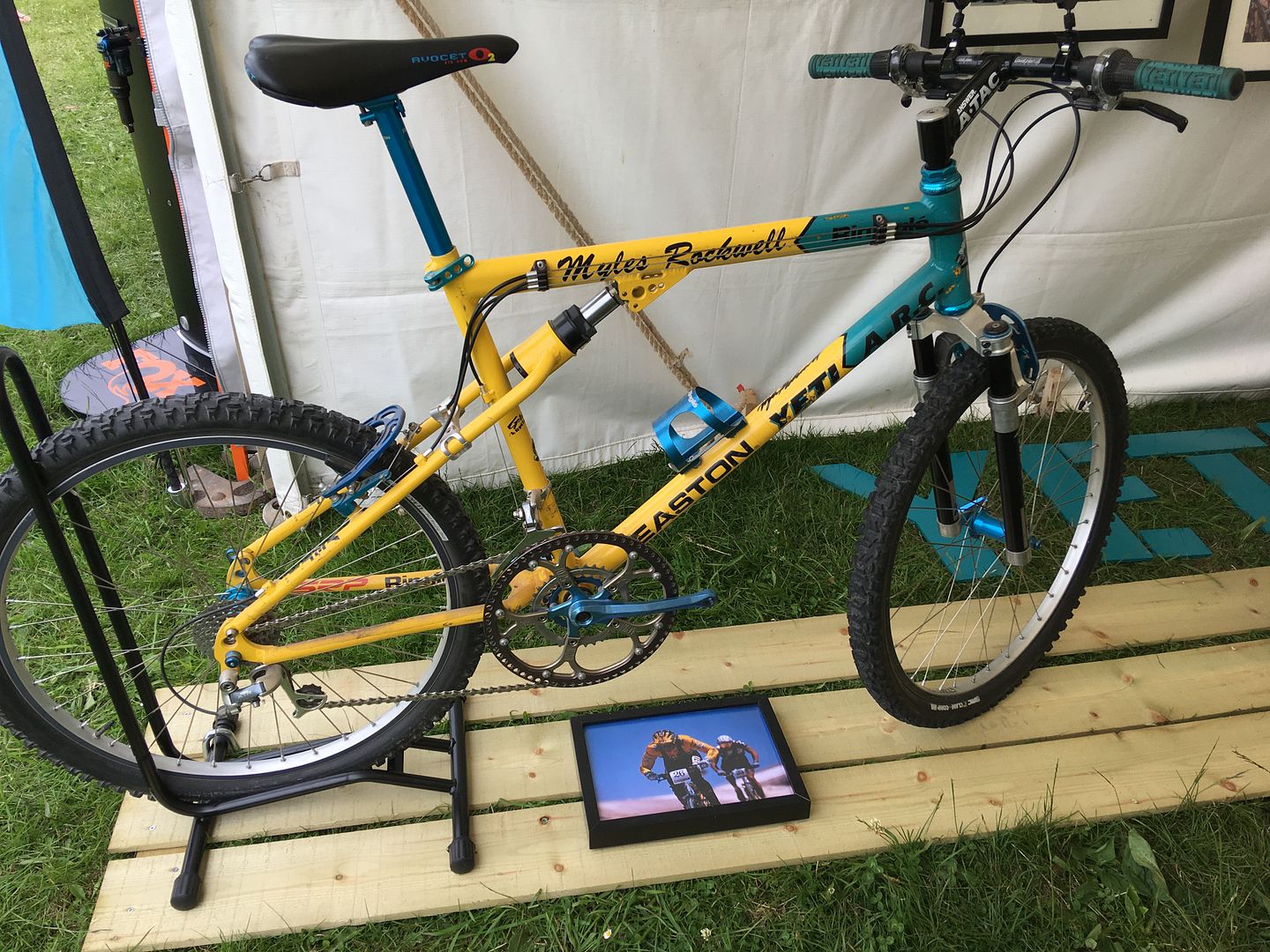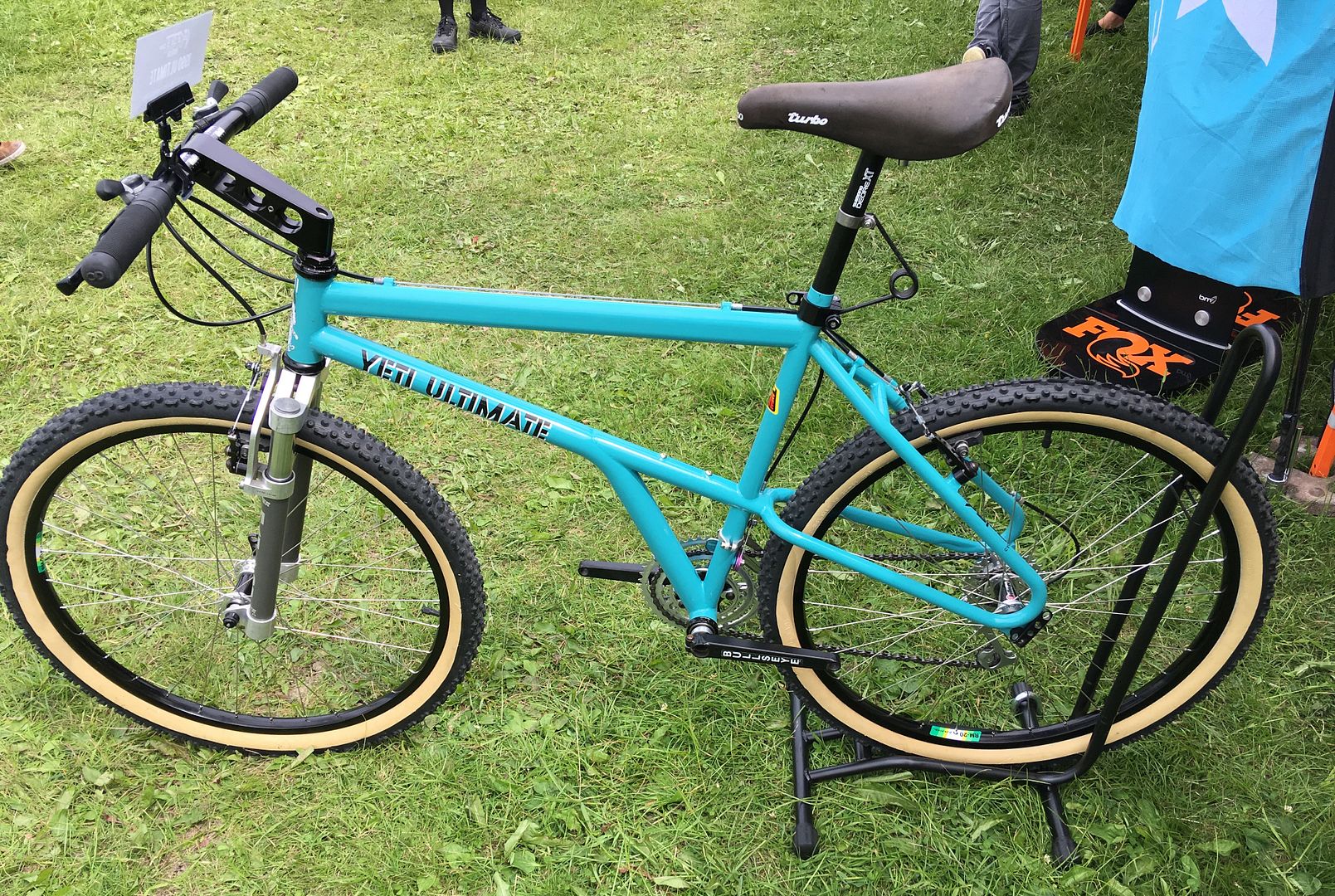 On the way back we crossed paths with a guy as big as Muz complete with his old race bike similar to one that Big Mike owns… although we all agreed that Mikes has a longer Seatpost or Mike buys smaller bikes.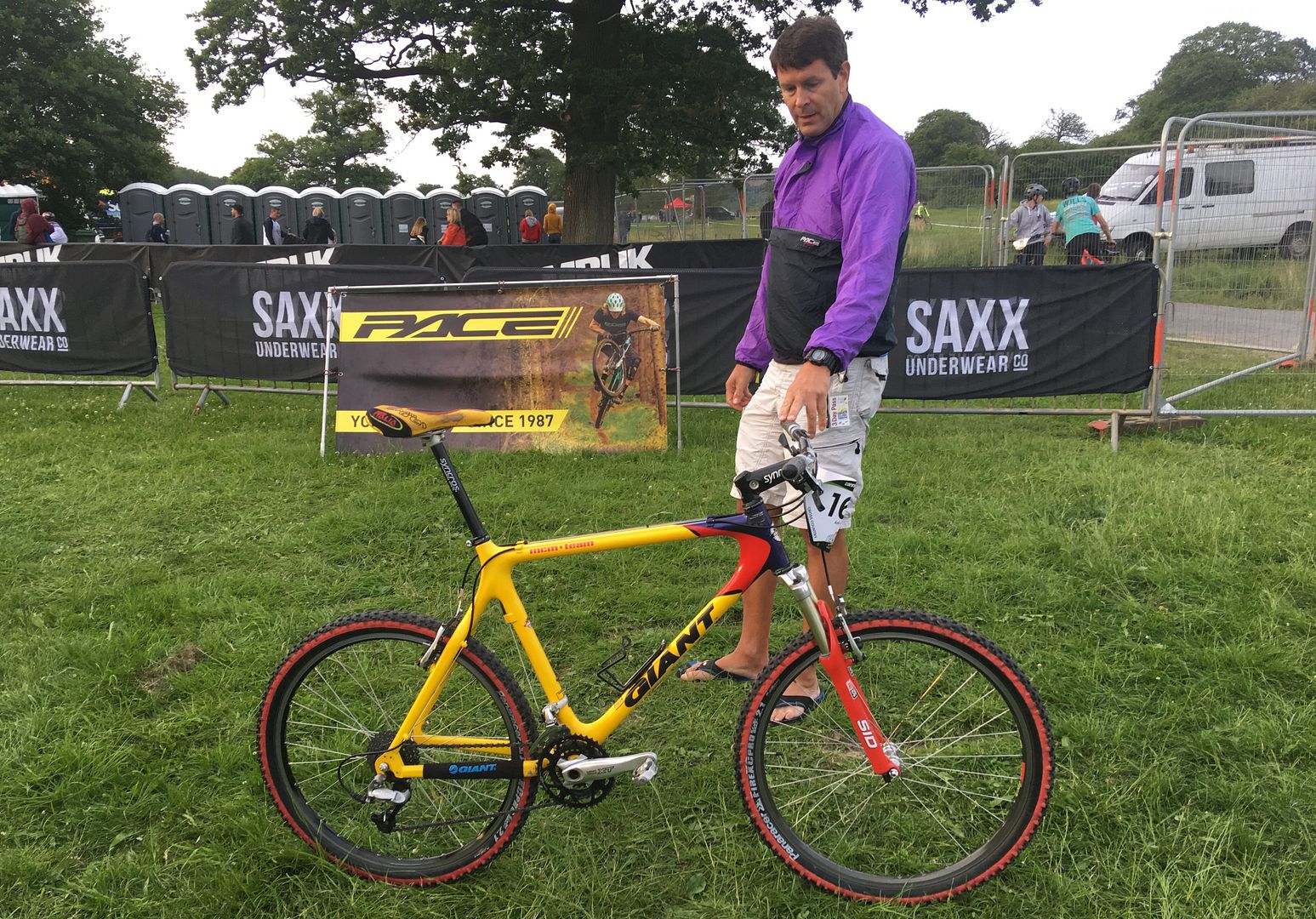 At TF Tune we finally found a Bike for Mike Muz (you should have come)…. Feast your eyes on this – it was nutz from the bars down, complete with two gears…. Pedalling backwards gave you a very low first gear and forwards a gear for the flat, check out the chain line and though that went into the drive.
What do you reckon Mikey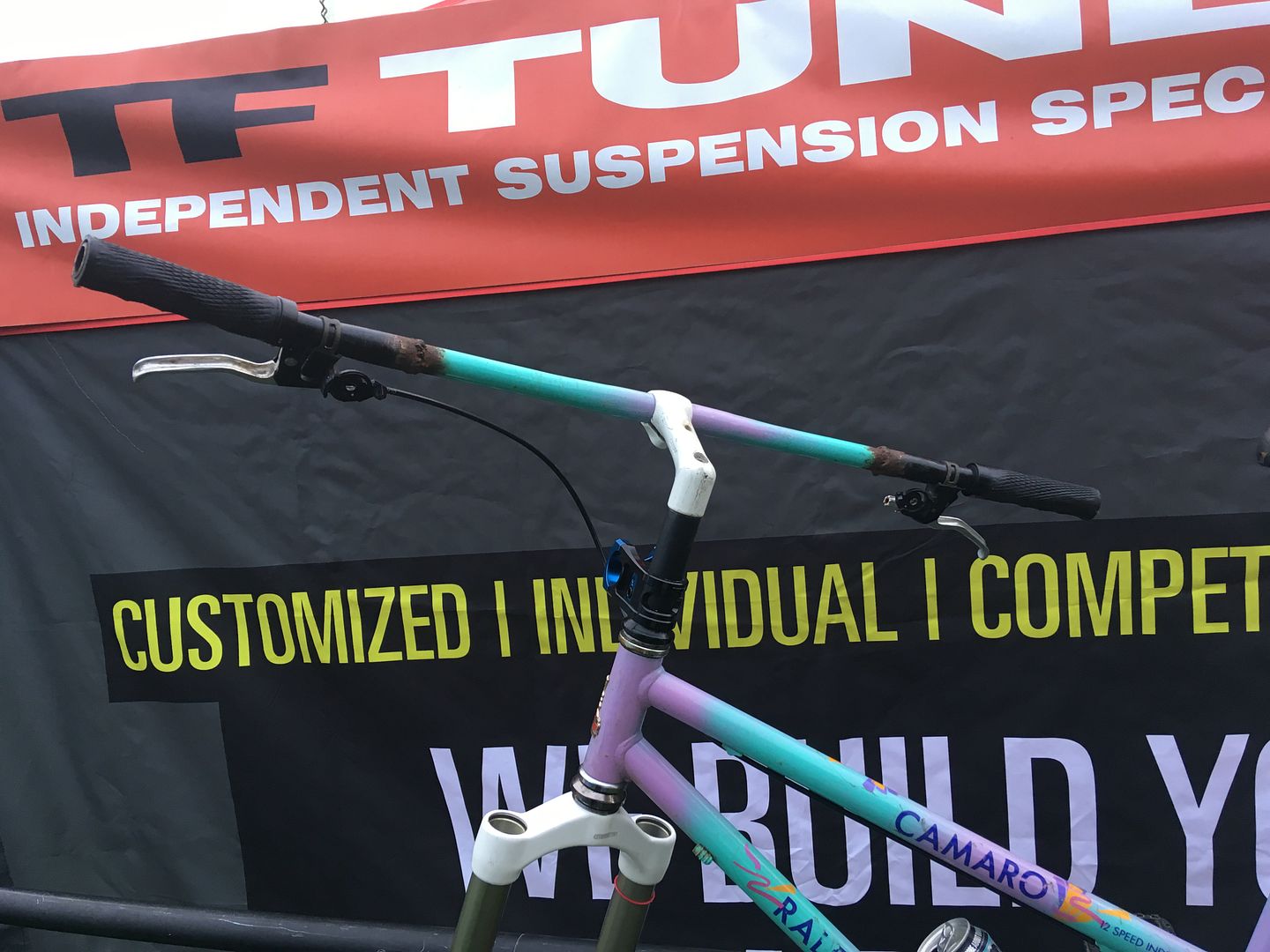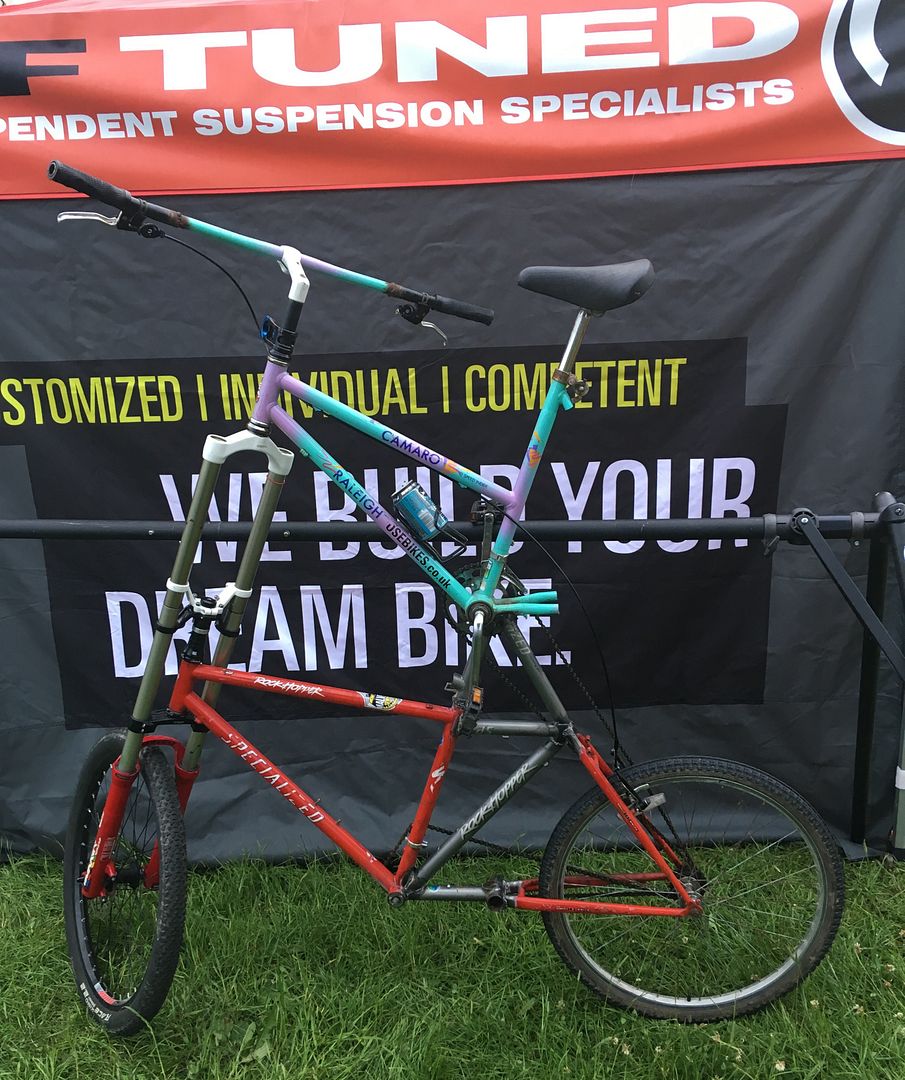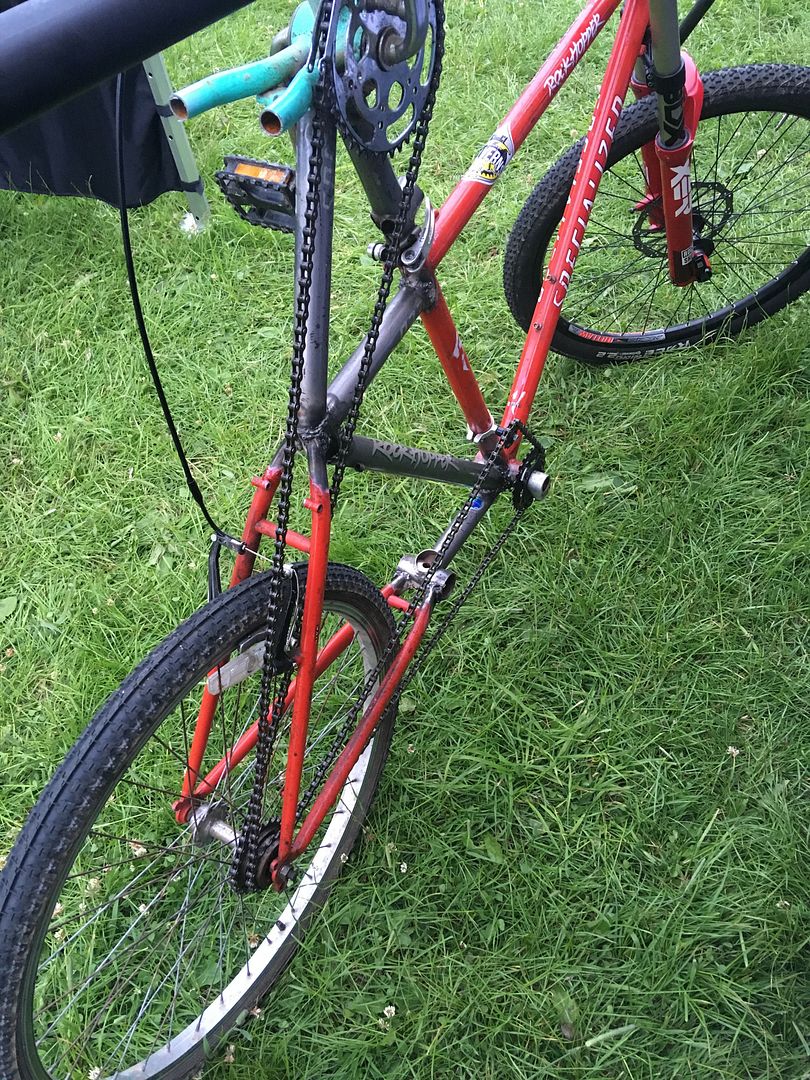 LongUn had a go but sadly I didn't get a pic of him in action, however we did come across what they were smoking when they dreamt this up – however upon reflection we all agreed it was more likely Richard Vickery's personal weekend stash/ weekend consumption (A bale a day)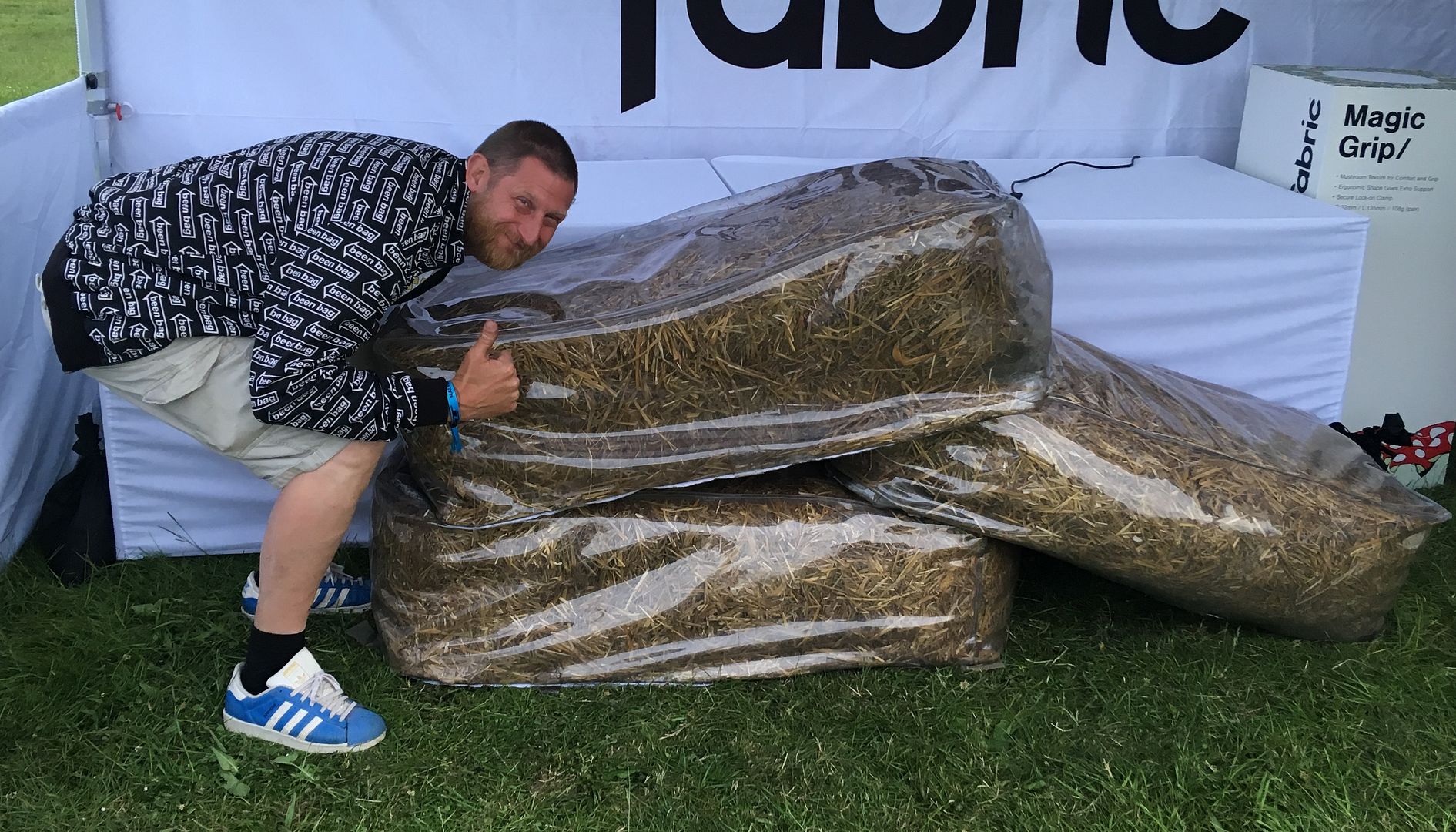 Didn't see any Lake jumping but in a quiet moment I wondered down to the lake to see the Open - Pontoon trials course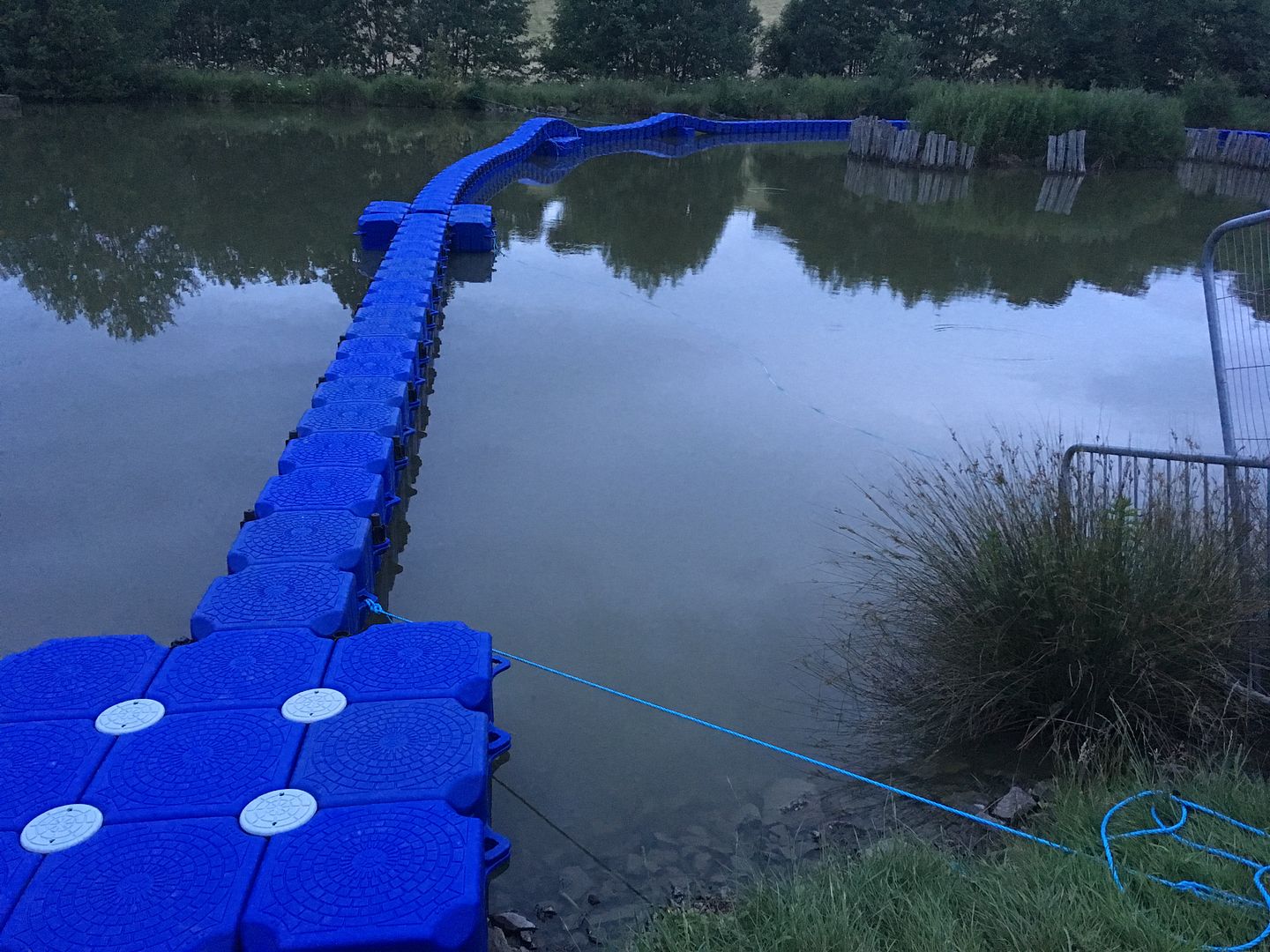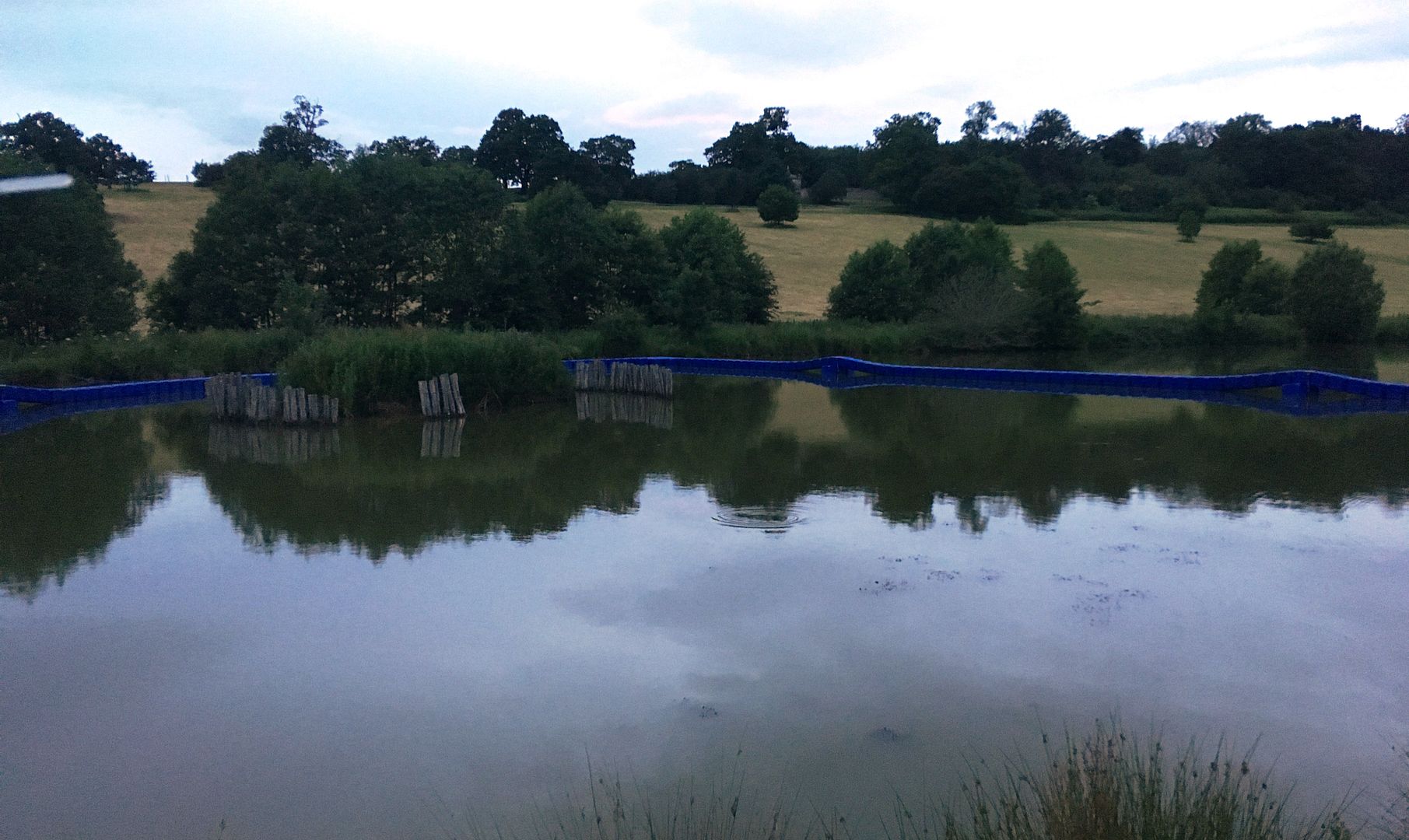 And also beer infused the Air Bag jump,
Sunday morning and the show and Shine was on – Queue Longun who was invited to join the Hall of Fame and officially judge the WD40 Retro Show and Shine
Here's the dude in his official judges coat, …Darn does he look good modelling that coat- even got the deva hands on hip pose going on.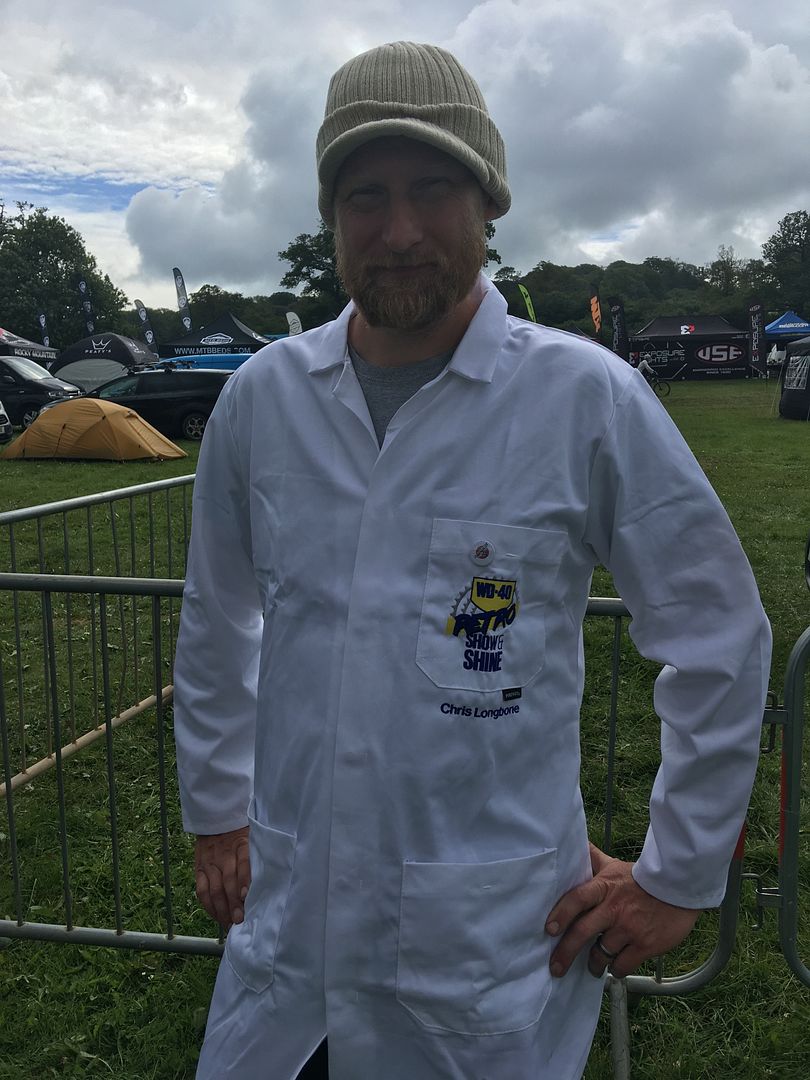 Me and Richard Vickery - check out the shoes and the Hawaiian shirt which were a constant all weekend – (At least whilst he was wearing clothes)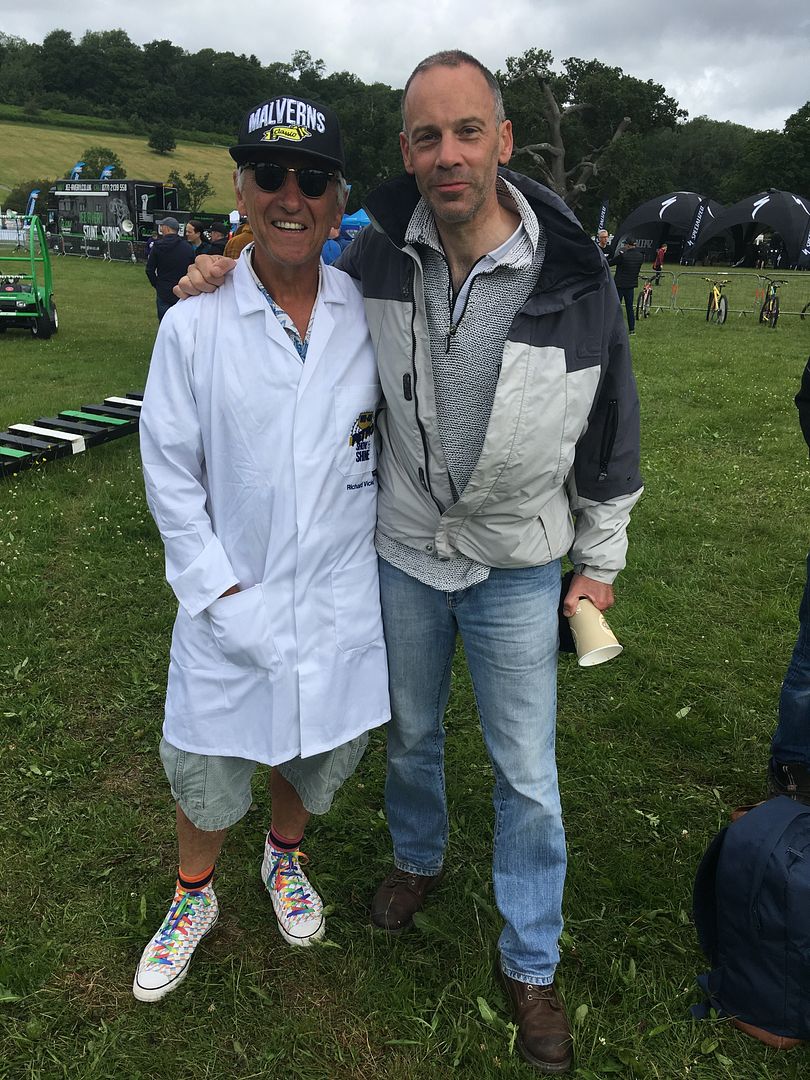 Will (Player) met a Legend and talked bollocks for a while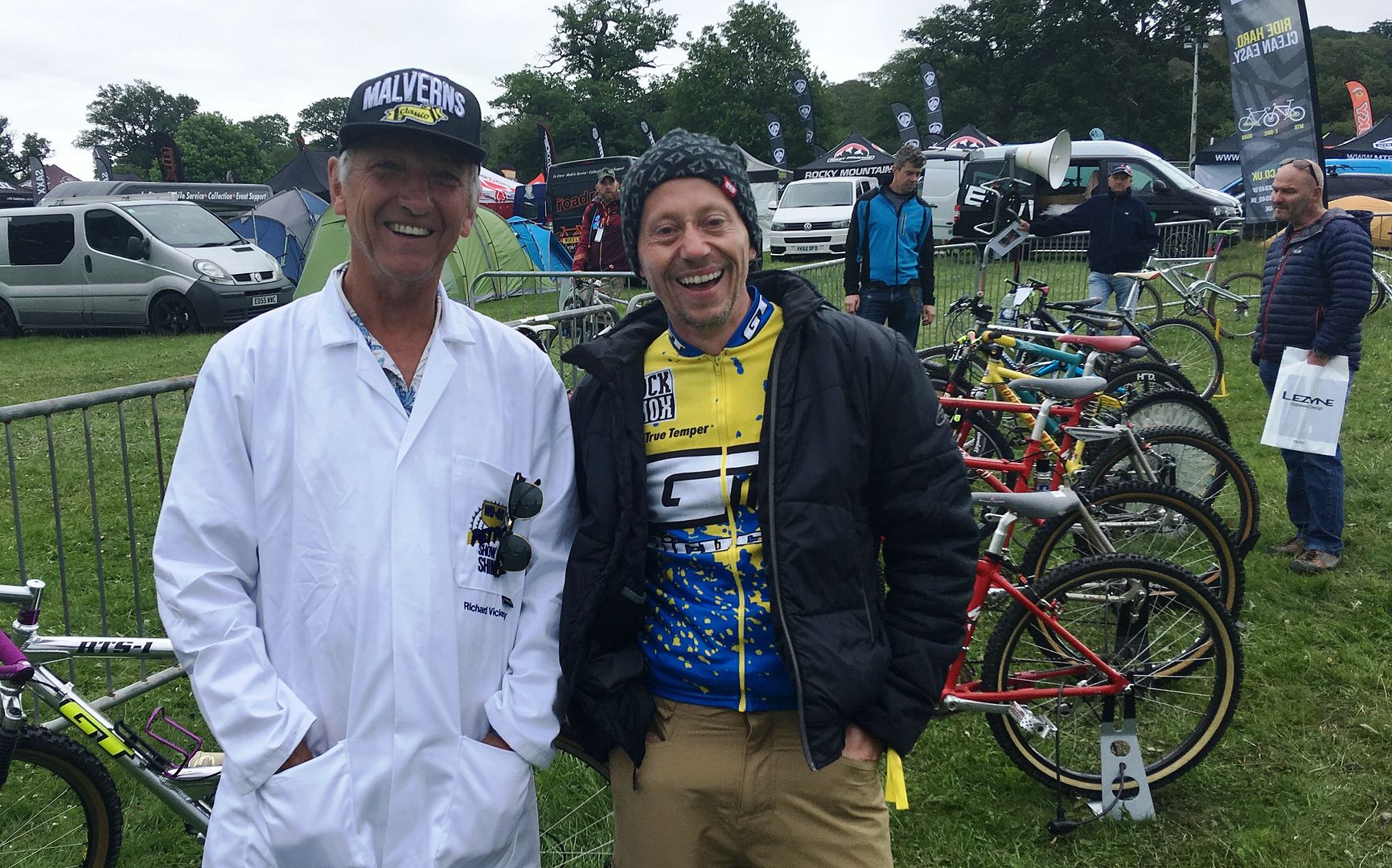 My Pace being judged by the Men in White coats queue Martin Hawyes, Jay Hardy, Rory Hitchens, Geoff Waugh, my campsite neighbor Richard Vickery and our very own Christopher Longbone.
Who I have to say more than held his own in such illustrious company and on more than one occasion told them they were wrong or wide of the mark on dates etc, Chris's inclusion did bring a new dimension to the group and made for a wide demographic of knowledge and informed opinion.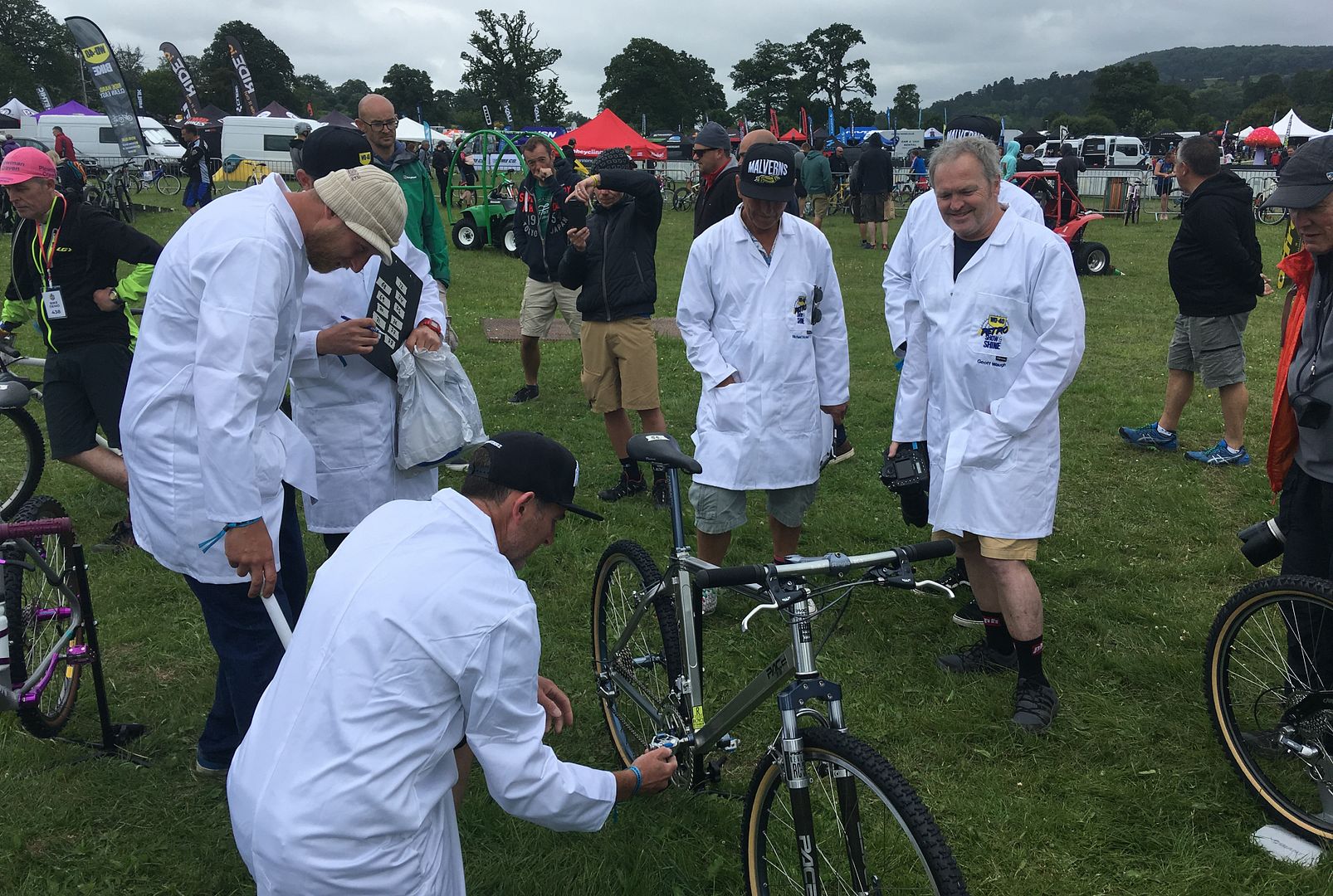 (below) From left to right Longun – Martin Hawyes – Richard Vickery – Jay Harvey – Steve Behr – and Geoff who wanted to get a pic of Rampages Anodizing on the fork crown and front hub that he picked up the camera
And of course Rory Hitchings digging the square-ness of the iconic design.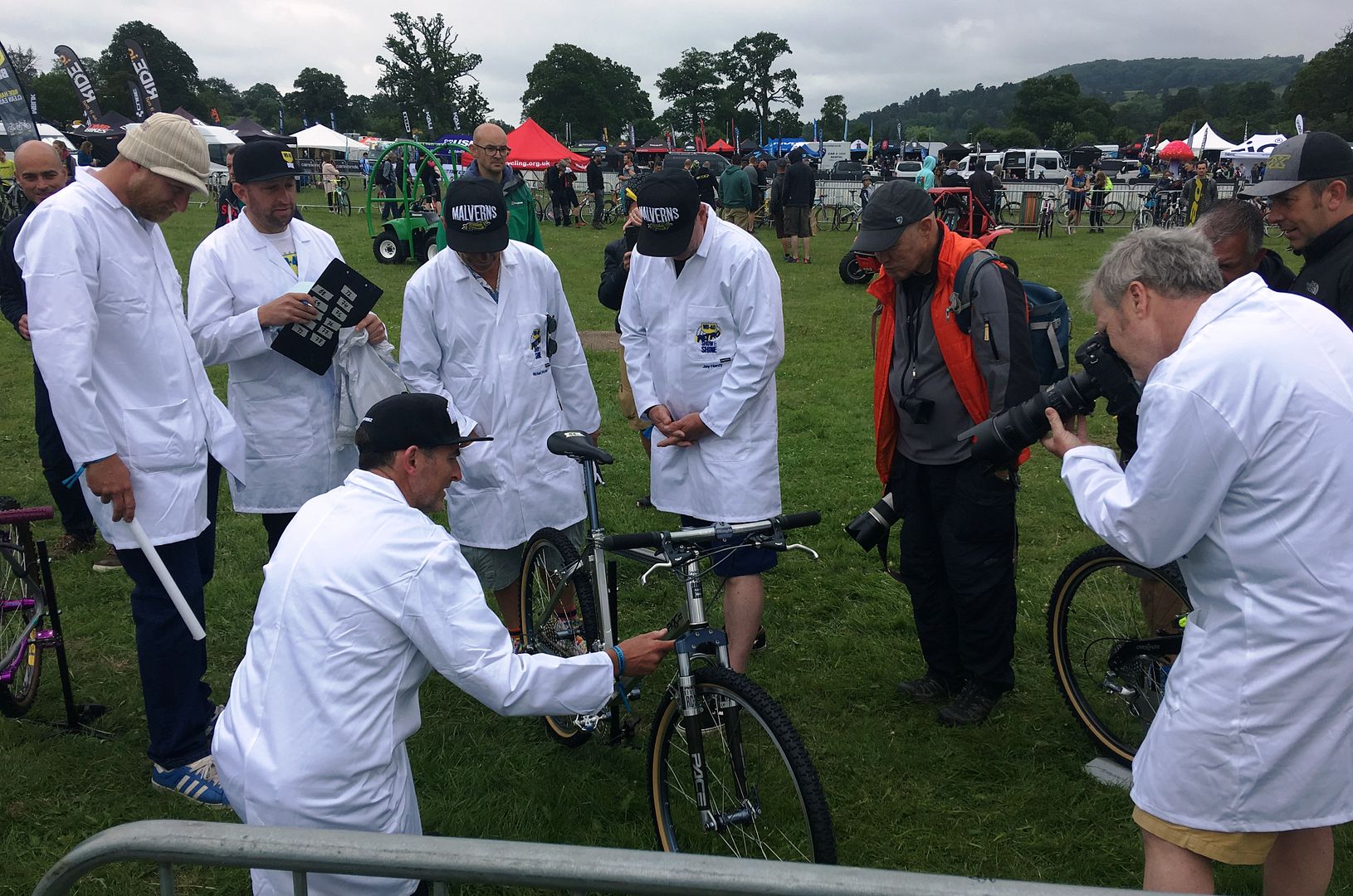 Where else am I going to better this A-list line up looking and discussing one of my builds…..
The ARC was next to get the once over although Longun and Rory Hitchens were still stuck on the Pace whilst Geoff who I think has a hidden penchant for Anno went straight for the escape pods and leavers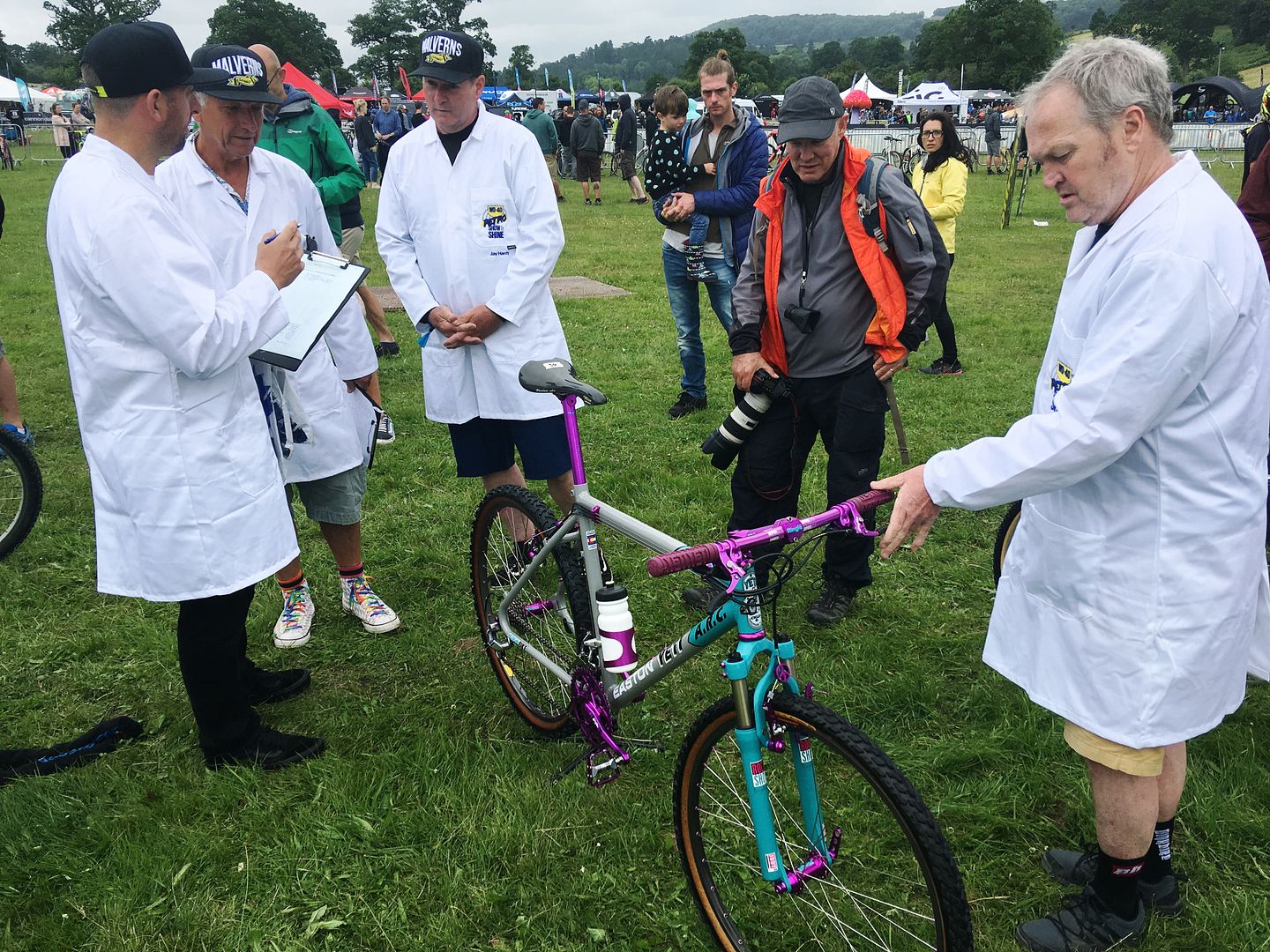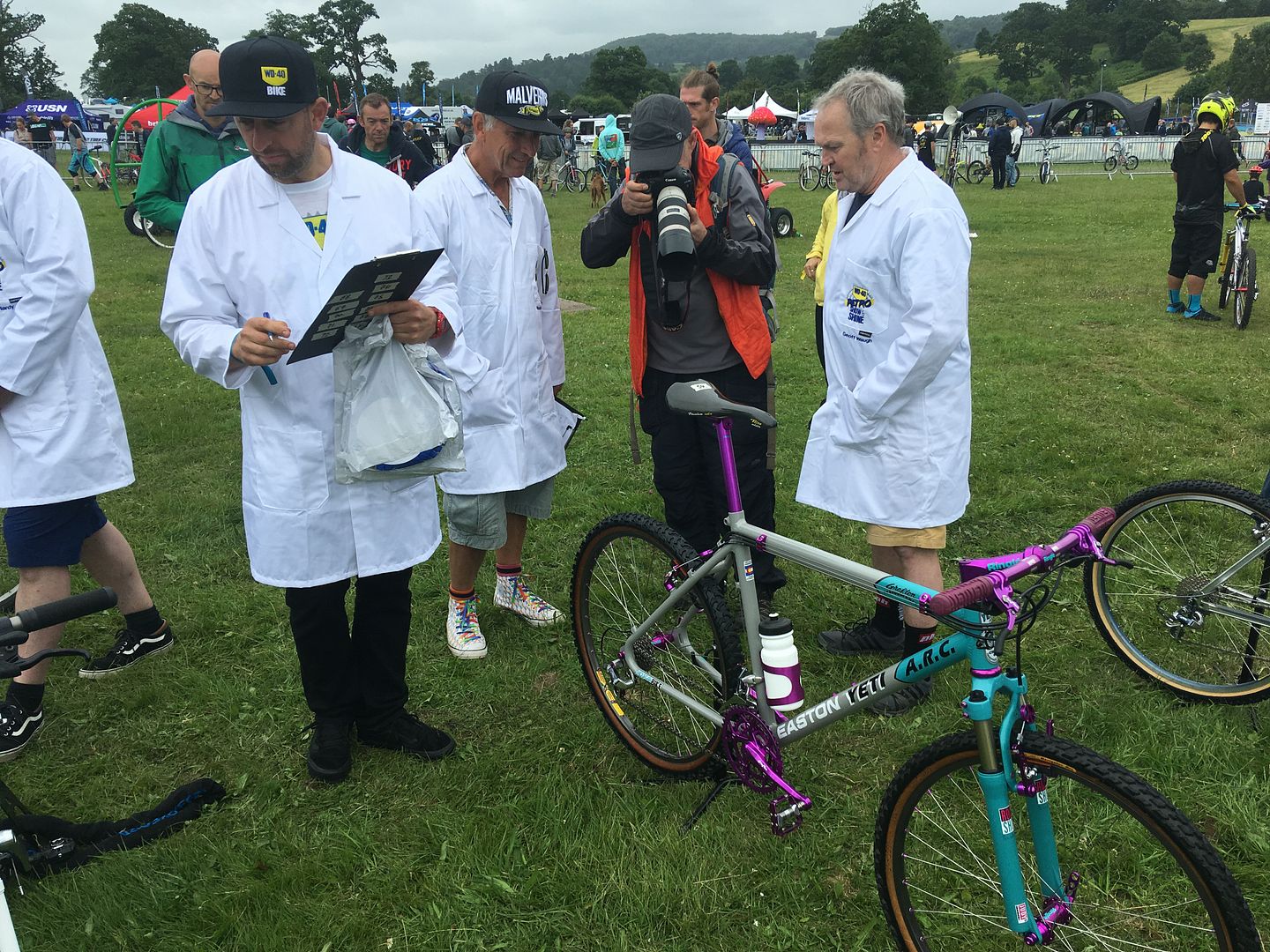 After much merriment over the Kirk they moved on to the Ultimate and Rory caressed my Snorkle whilst all of Dan chambers torch work went blissfully and seamless un noticed, there was a WTF moment over the cardboard still being in my NOS SPD's,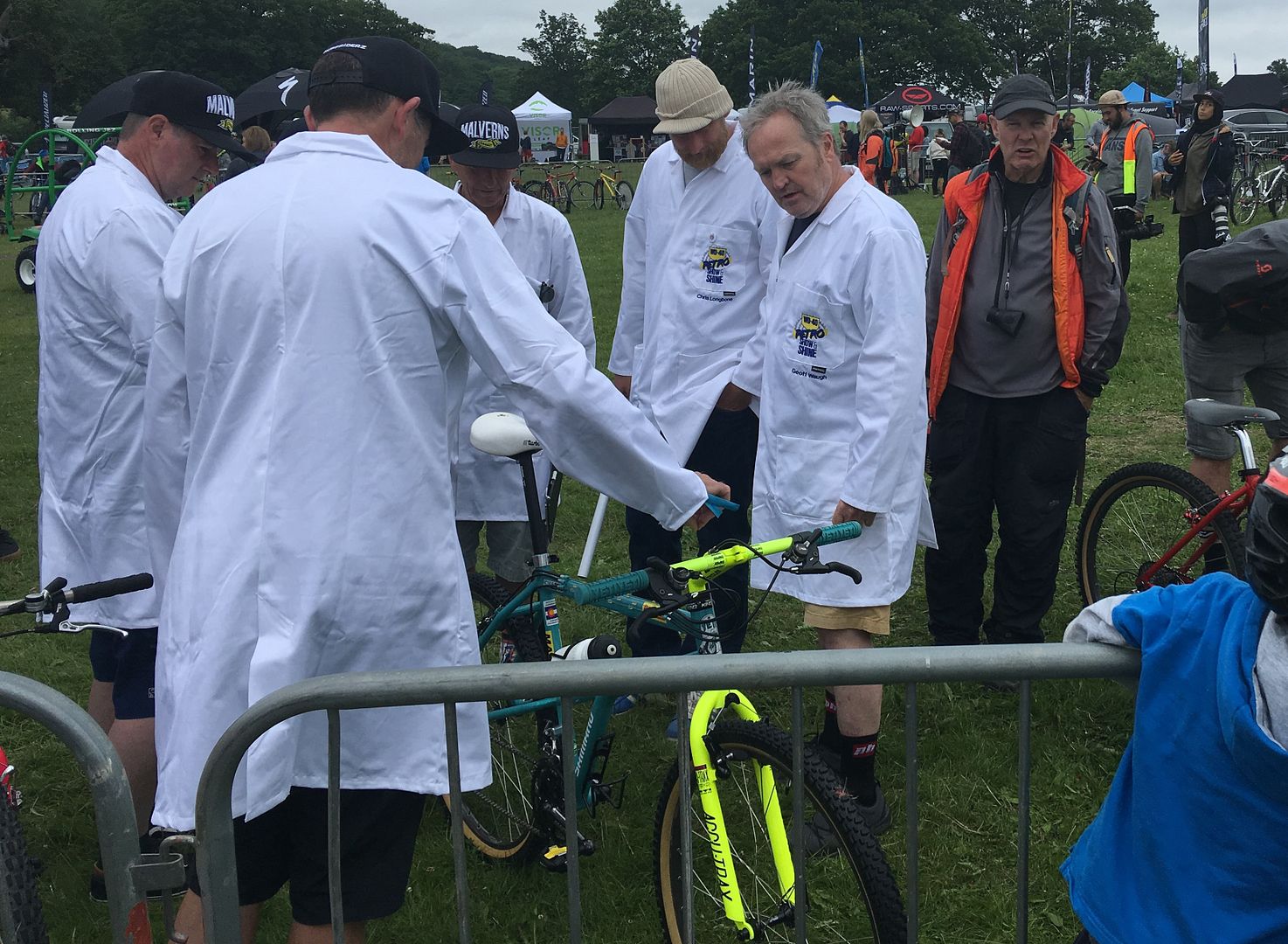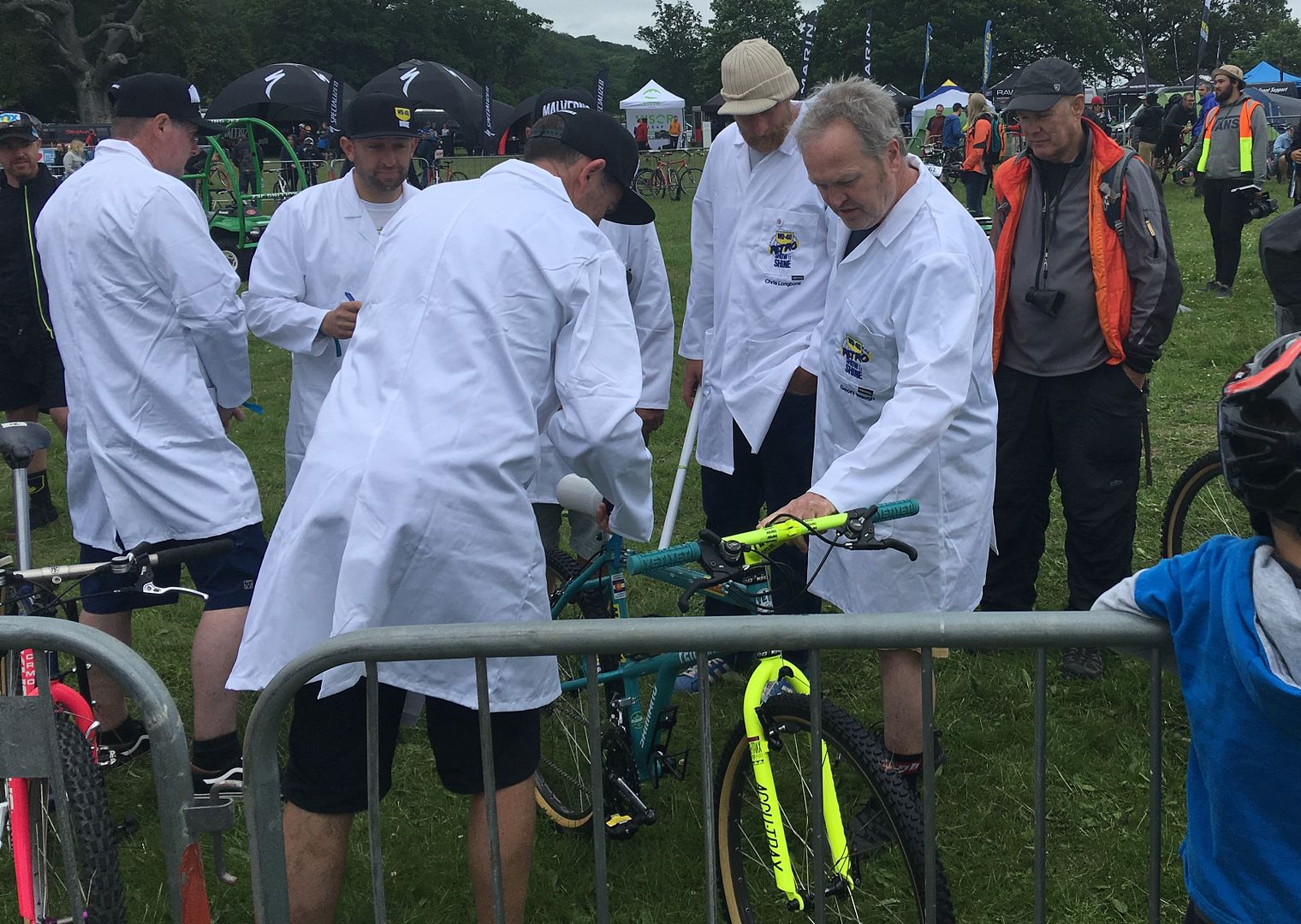 If you look to the right hand side you'll see the last of the three JMC rigs and to the left another forum members KHS Montana who kindly entered the Yeti on my behalf.
After a tense period of time 70 were reduce to 10 of which I was bowled over to be included in, along with at least two other forum members….
The wise monkeys deliberating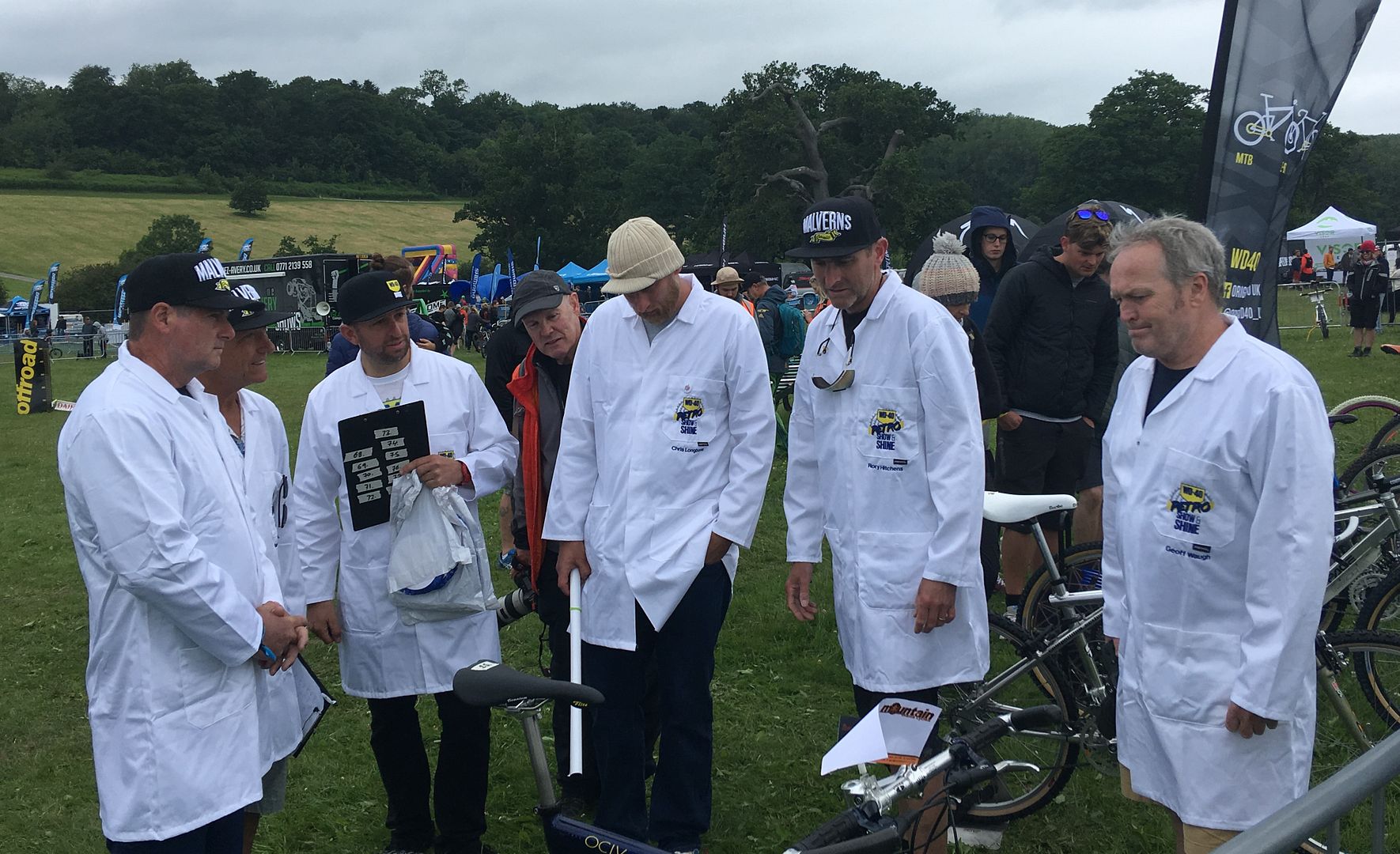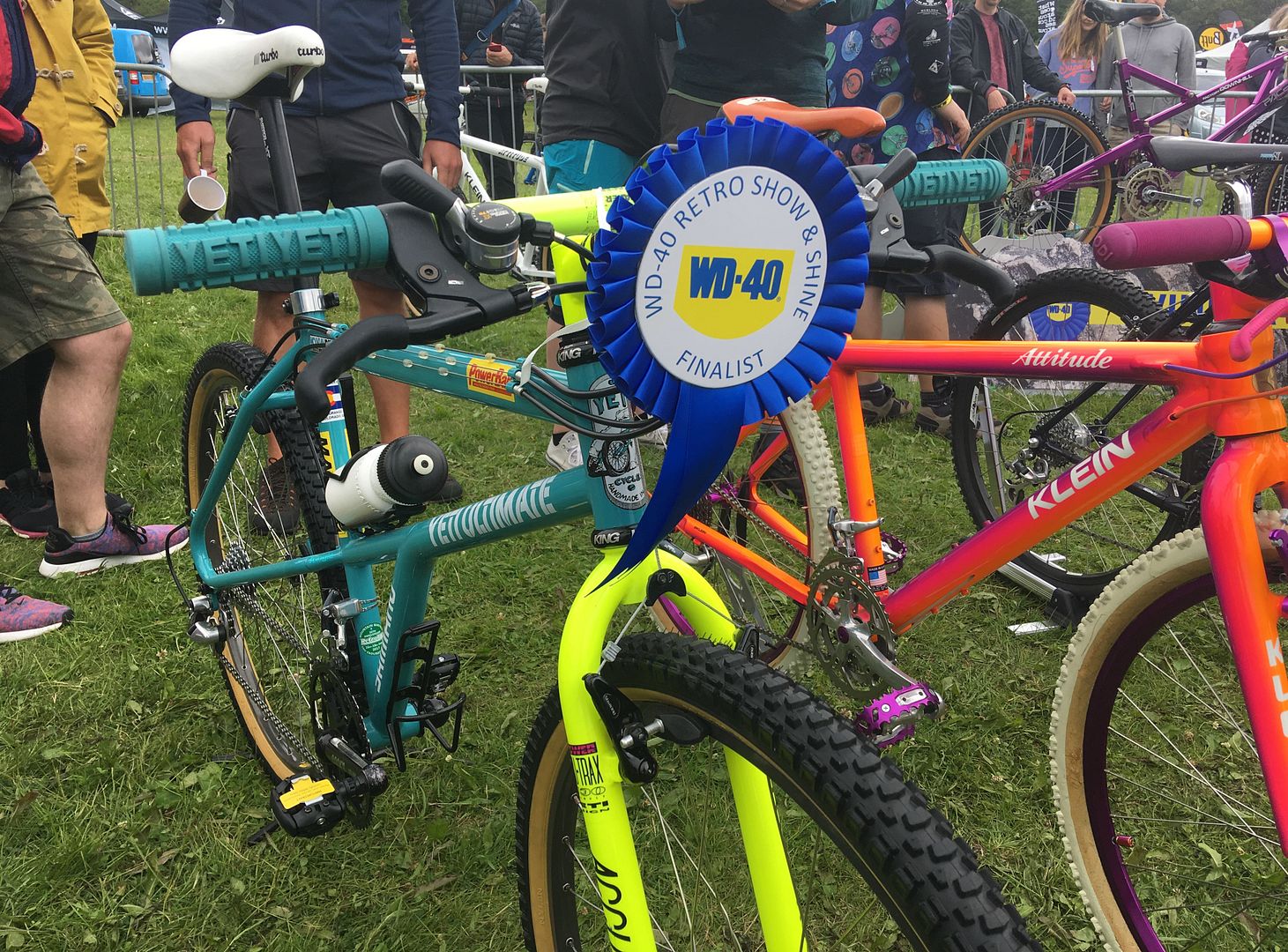 Spot Gruff at the back stood next to Sophie from Pace who I have to say was a delight to be around and being next to RetroBike joined us for evening drinks and the odd go or two on an ebike that Longuns buddy brought and duly put into warp mode.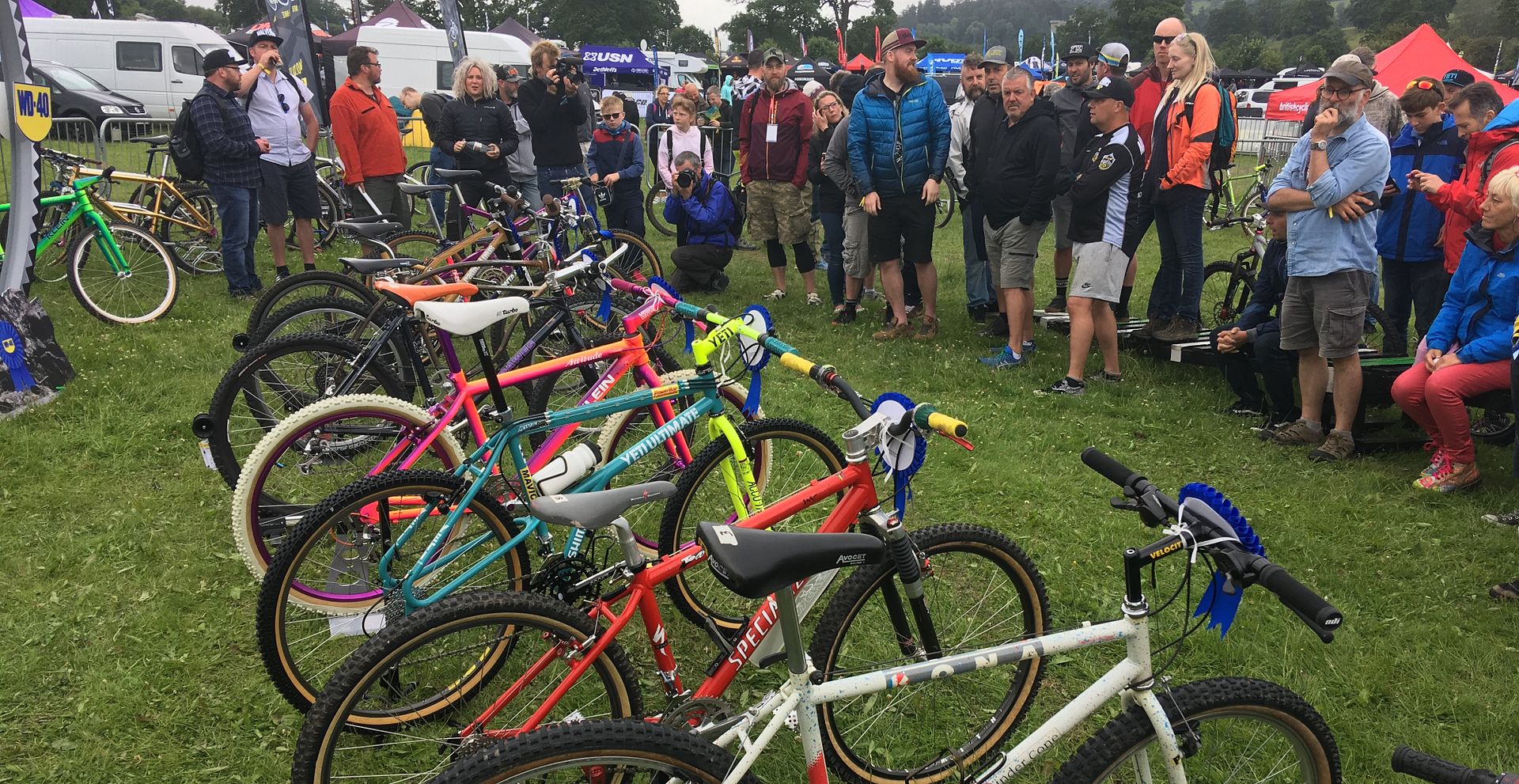 Unlike my usual form in BOTM I picked the winner, and what a winner…
And here it is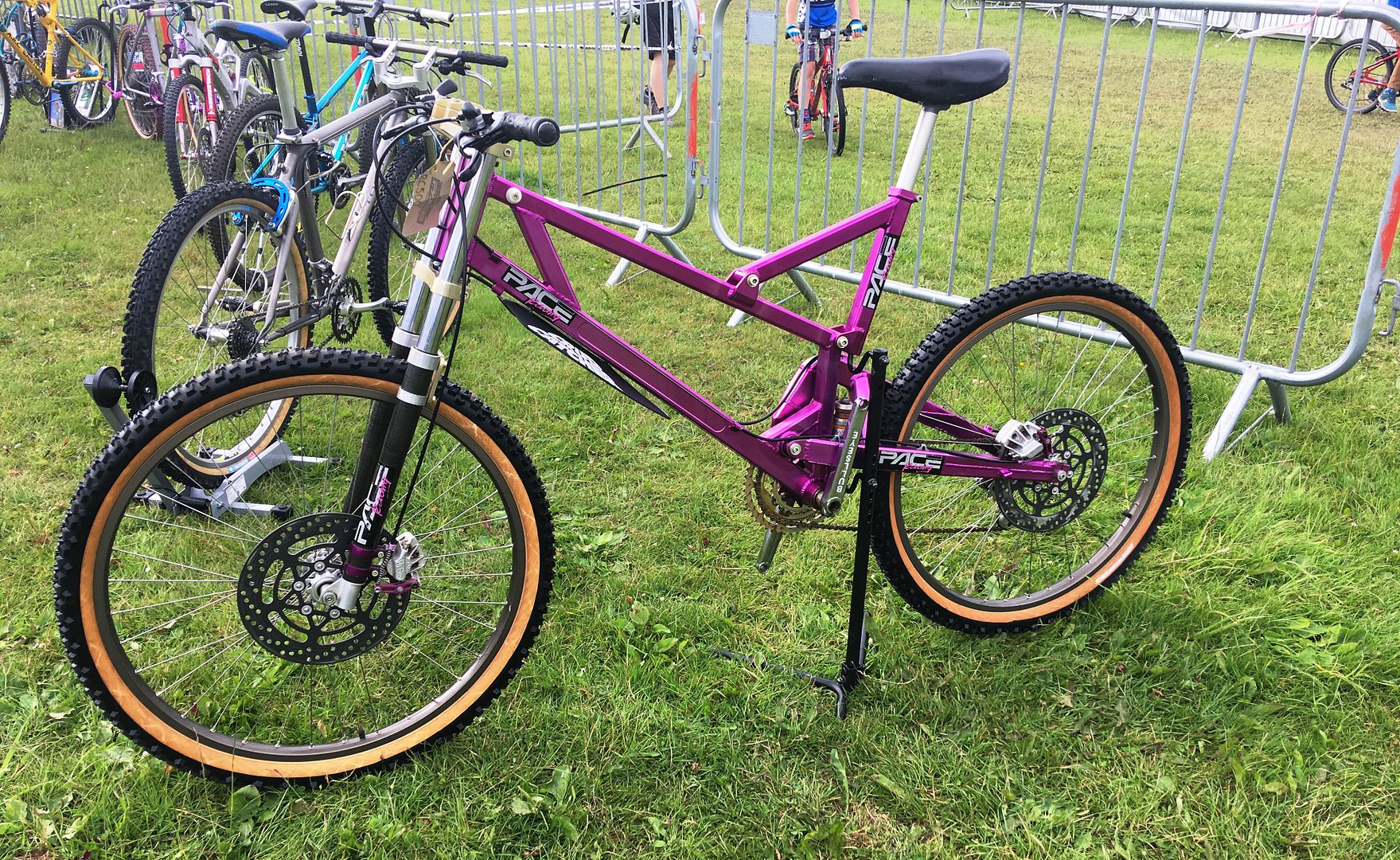 And whilst all this was going on Jez Avery was giving folk grief on the mic as he was next up and wanted every one out of his stunt show arena, which was running suitably late …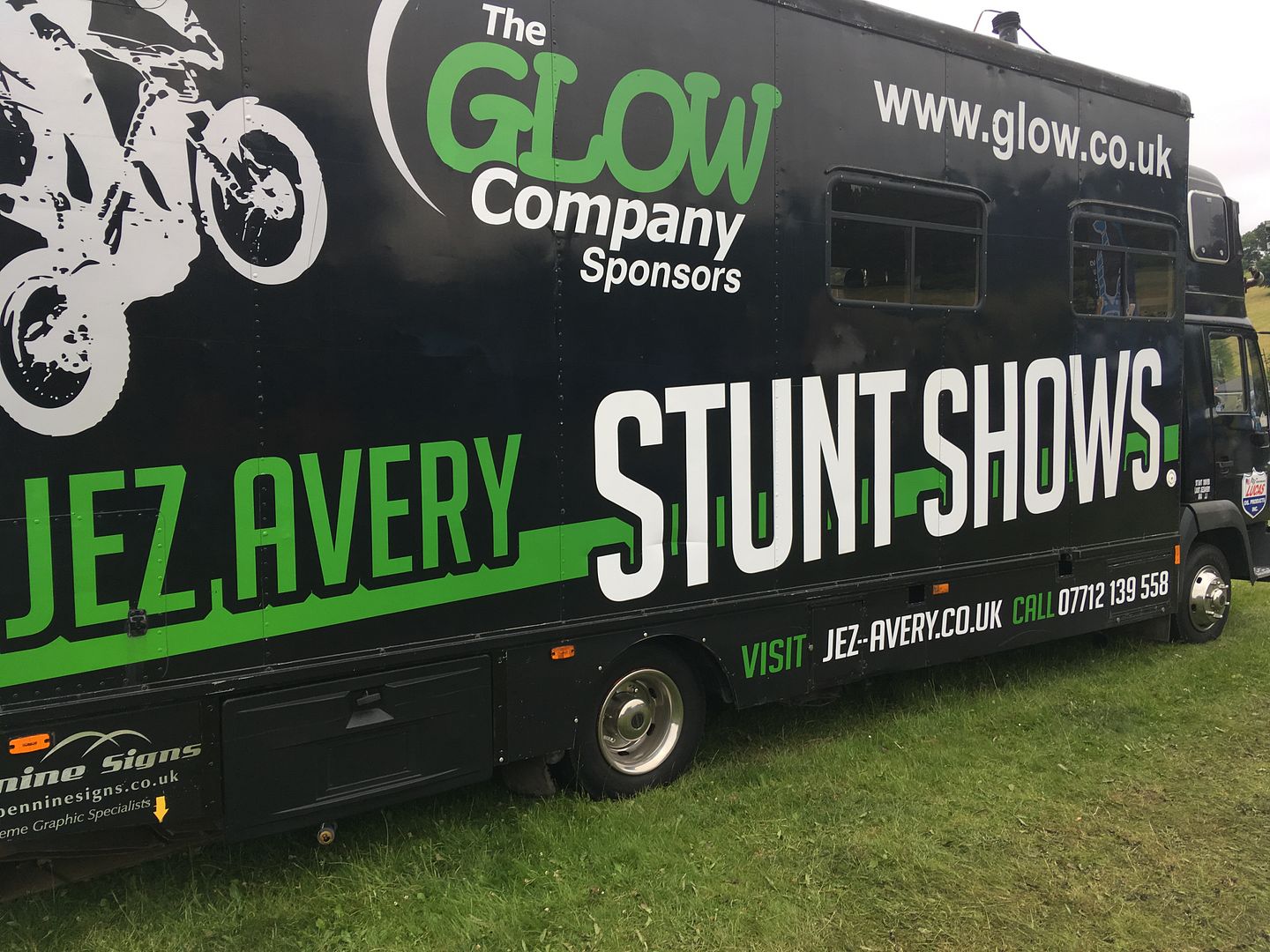 The rest of the weekend slipped by in a flash, The Retro race which I entered armed with the old and cracked Endorphin was a real highlight as we were tagged onto the Retro Legends race and lined up directly behind them on the same start line… there was me and Longun directly behind bonifide legends, needless to most cleared off pronto especially Dave Hemming and on our last lap myself and Chris we're hoping to get over taken by one of them however since most had turned up for fun many stopped to sign autographs along the way and as Chris kept pointing out "you've just over taken xxxxx !"
After the crank came lose on Dave Hemmings bike he disappeared to the Bomb hole and goofed off for a while before bringing back the Klien and leaving it once more.
Finally here's Player aka Will who entered the full XC race where upon he was he stood out like a sore thumb with him amazing GT Xizang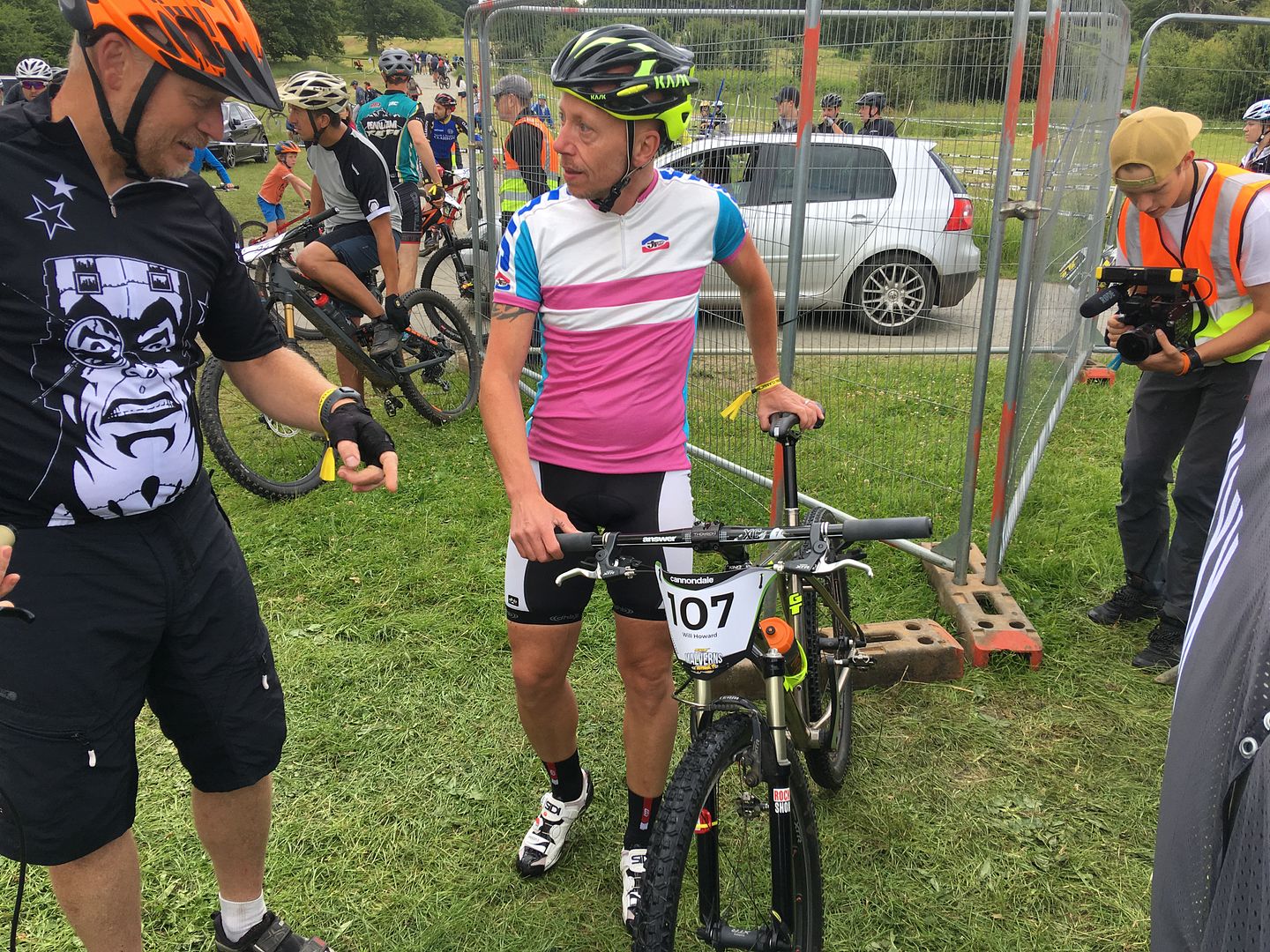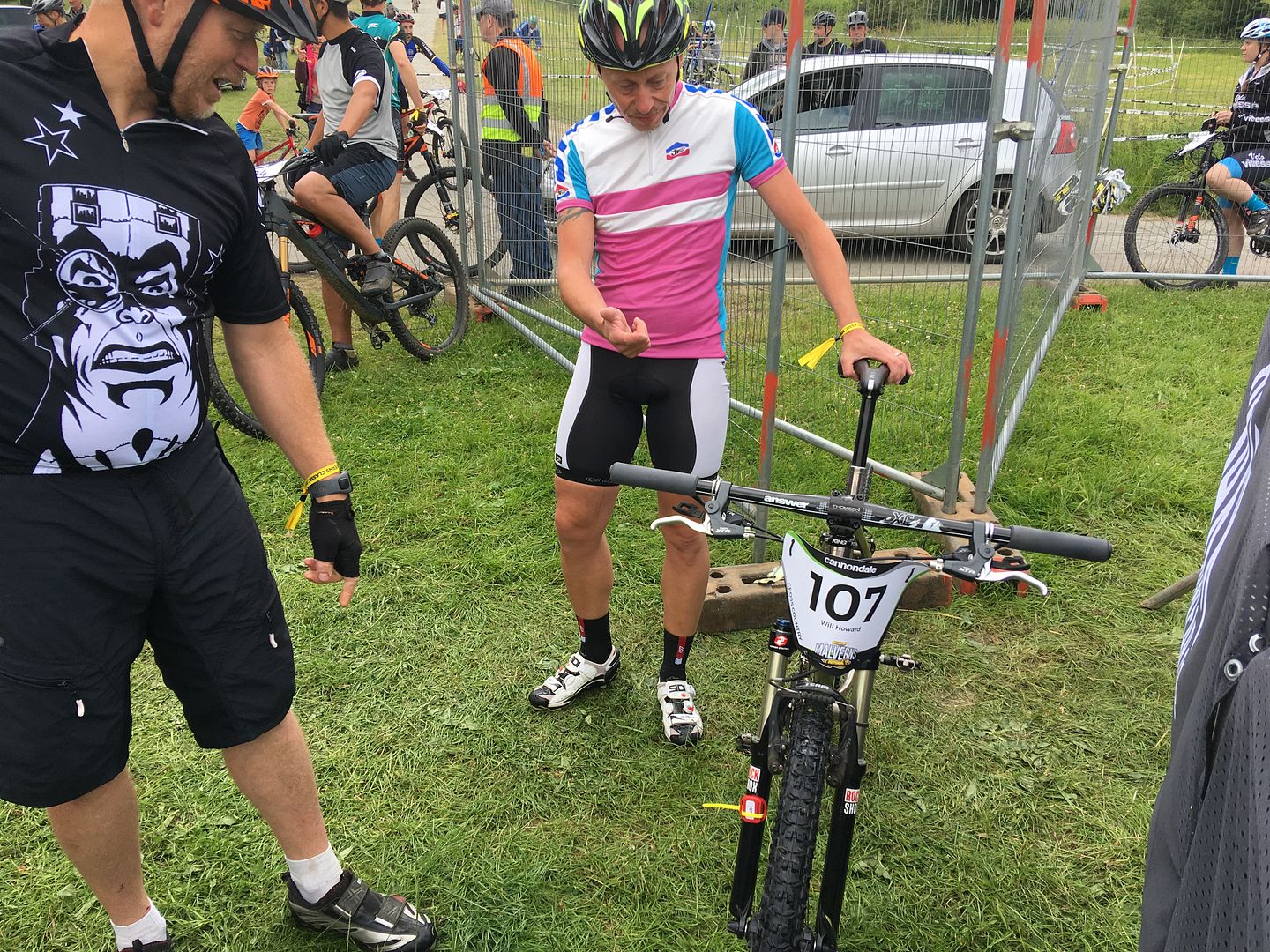 That's once race face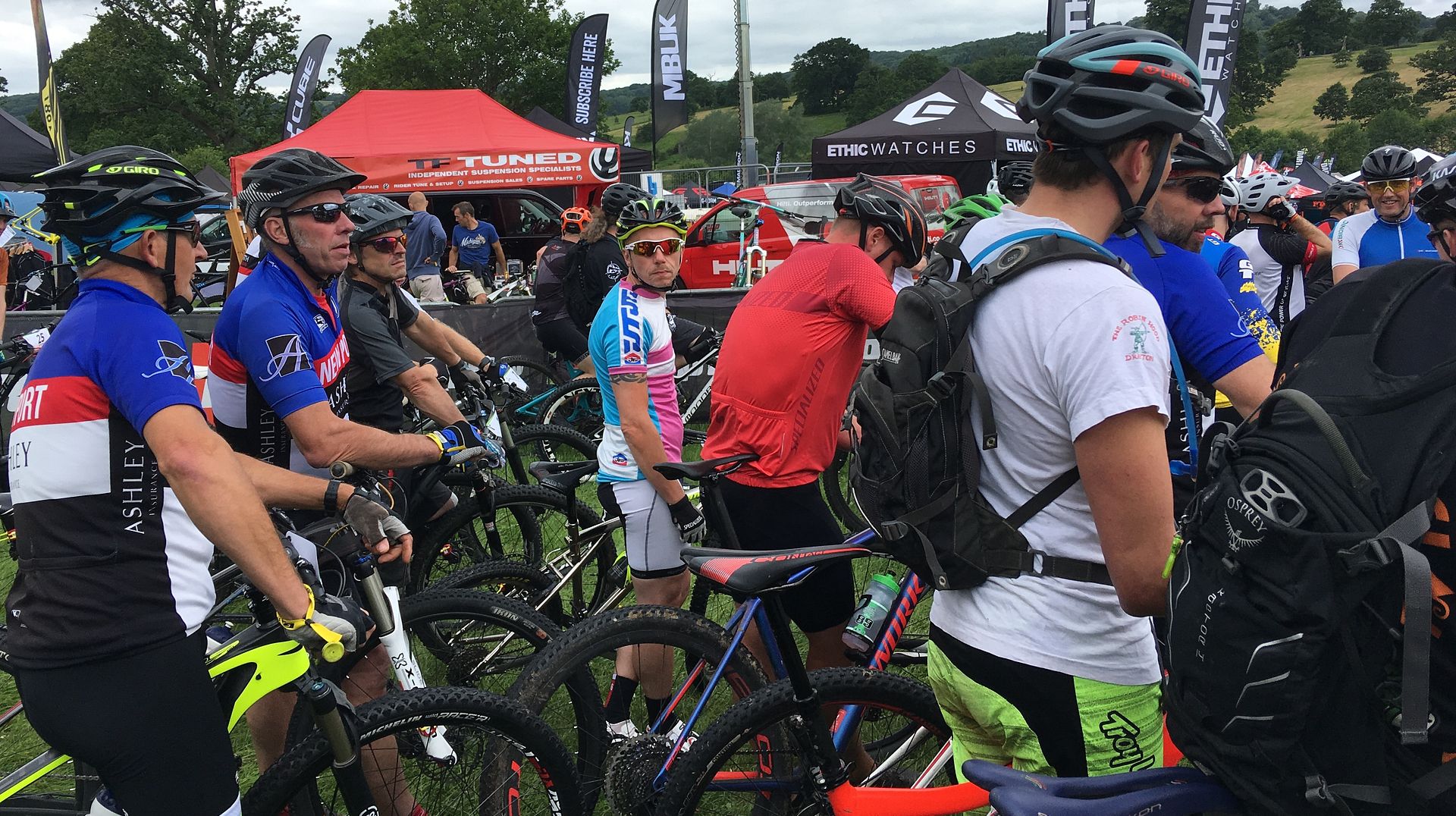 Great weekend, so glad I made the effort and went, hopefully it will grow and expand in some areas but in the same breath I hope it doesn't lose its inclusiveness.