The Retrobike RetroRoadRide Series 2013
Round 4:

4th Annual Herefordshire Grimpeur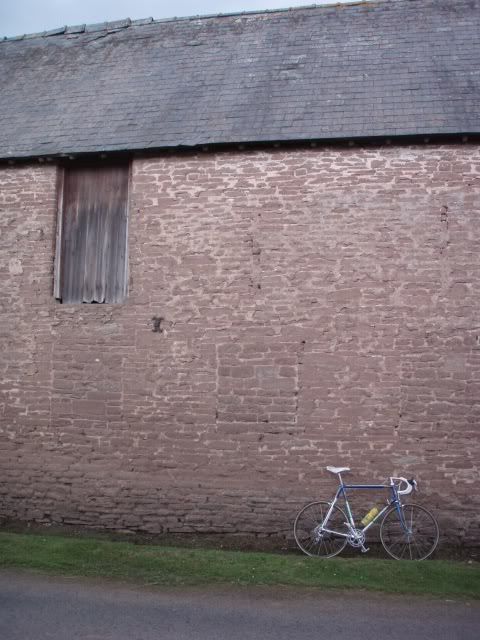 :: Date:
10 a.m. for 10.30 a.m. Saturday 6th July 2013
:: Meeting at:
9.30 am for a
10 am
start – Hampton Bishop Village Hall, Hampton Bishop, Herefordshire HR1 4JY
https://www.herefordshire.gov.uk/leisur ... lage-hall/
:: Contact Number :
available via PM from Ed
Where has the last 12 months gone? Wherever, it's time again for the Herefordshire Grimpeur, now onto it's 4th edition. Previous participants have described the route as "stunning", "scenic" and "undulating", all on very quiet country roads. There's obviously an option of a country pub lunch/stop although the collective may choose to press on to get back in time for the Tour de France mountain top finish Ax 3 Domaines. Actions may speak louder than words but here's the Aftermath from the 2nd Edition
viewtopic.php?t=149981
to give a flavour. Anyway, enough waffle, here's the detail:
:: Route:
80 km (we're continental, so no talk of 50 miles will be entertained). The pace won't be high, no one will be left behind and there's plenty of cutback options if weather is poor, mechanicals strike or legs get weary.
:: Terrain :
It's not a perfectly flat route so there's plenty of climbing but nothing super steep so all should be fine. The road surface may not be cobbled but a test ride a week ago revealed a rough, pockmarked surface that will help us to keep our wits about ourselves. Perhaps not a ride for the 20c silk tubs.
:: Suggested gearing :
As above, there is some climbing so suggest this is not one for the hipster fixed riders, nor for those rocking an 11-18 straight through block. Old bikes are obviously preferred but if it's a choice of 'modern or don't come' then modern is absolutely fine (although expect a little grief if you get a mechanical!). There will be a 'best in show' rosette for the sweetest old school ride.
A bit more route detail might help (but don't ask me to provide a GPS file to download as I haven't got the technology or competence to be able to comply). Depart Hampton Bishop, turn left at Mordiford and then after a mile or so it's on to the climb to Checkley, certainly a good opportunity to blow away any cobwebs/breakfast [img]After the Checkley climb loosener it's a smashing descent through the trees (mind the gravel, bumps and greasy surface!) and then onward and downward to Woolhope. Before getting into Woolhope proper however it's a left turn and the stiff climb to Marcle ridge, probably the steepest of the day but possible seated. Beautiful views towards Ledbury and, further, the Malvern Hills await at the top and then it's a fast, narrow road descent. Onward you descend but, just as the cider makers in Much Marcle beckon it's a right turn up the hill and on to How Caple which sparks a great flowing downhill although the small speed bumps mean you need to keep your wits about you. Quiet roads continue, a bit of uphill and then a smooth descent down to the pub at Hoarwithy, under half way but perfect for a pint or spot of lunch.
After reluctantly leaving the pub it's an undulating cross country route on super quiet roads to Bagwyllidiart and down to Kentchurch. The back of the ride is broken as we climb towards Garway and Orcop with gorgeous views across to Hay Bluff and the splendidly named Lord Hereford's Knob. A little trundle down to Wormelow and then it's Much Birch, Kings Thorn, Holme Lacey and the finish in Hampton Bishop.
[Note that points will be awarded across the Road Series].
::
NO HELMET, NO RIDE
If you fancy it, get signed up and we'll add to the list of attendees
- Ed
- daj
- bobbinogs
- grumpycommuter
- matthew71
- Harry Crumb
- John