secret_squirrel wrote:
Urban retrobike #3
As this approached I experienced a moment of panic asI realised both bikes were non-runners again. Cue a frenzy of activity on Friday night as I slapped a back brake on the Vit T - secured temporarily with cable ties, swapped the knobblies for some semi-slicks and fiddled with the perfectly set up rear mech that had suddenly gone squiffy. One search at the bottom of the bits bag for a crud catcher and a quick spin up the road and back it was nearly midnight but I was ready. Bag was packed with a random assortment of nibbles and drink and half a shop of spares and almost another set of clothes given the weather forecast.
Setting off around 845 to arrive in paddington for 930 to give me 1 1/2 hrs to cross London from Paddington to Greenwich. Having downloaded the route to my phone I was reasonable confident that I would make it to The Cutty Sark in time to meet Purley and Al-onestar. Off I set nice easy meander through Hyde park gave me time to realise there were a few set up niggles - the worst of which was the C2 brakes weren't the best in hincthe world - having the stopping power of cheap V's at best. Everything was bearable though so off I plunged into the traffic around Bucks palace and Victoria. TFL took me on a meandering route throughout west and south central London the highlights of which were my inability to stay on the route matched only by the inaccuracy of the initial directions. Highlight of the journey was a spin past the Met Police barracks where several hundred members of TSG where getting tooled up for the big matches and thatcher demos.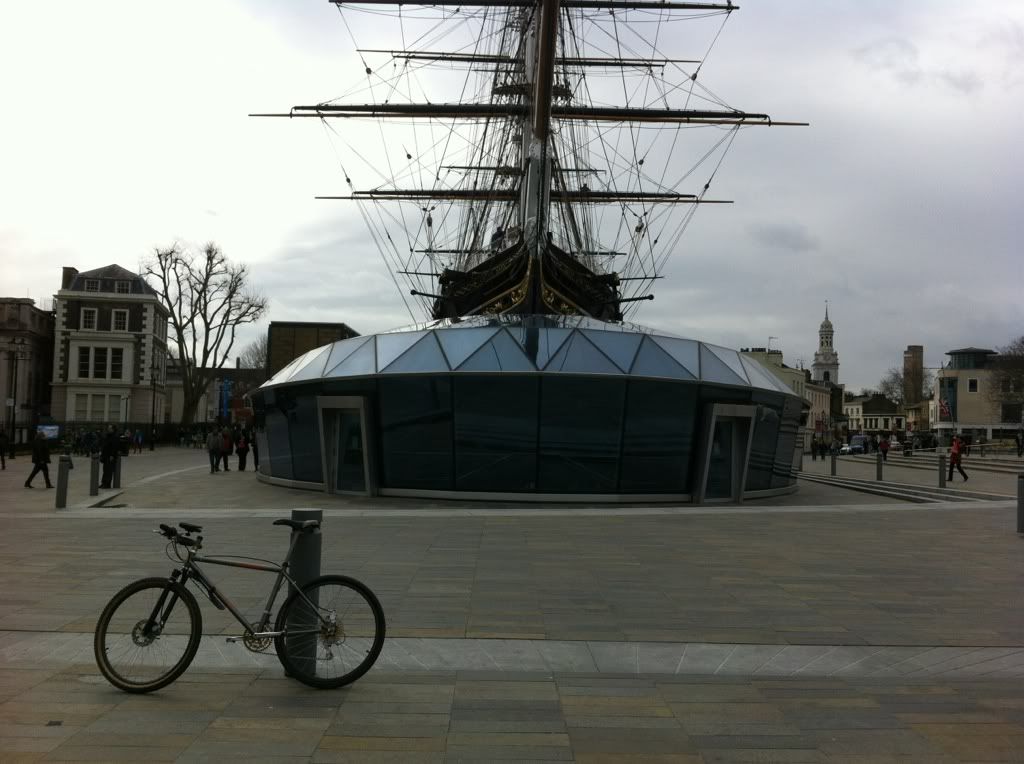 12.5 miles later (route should have been 9.5 according to TFL) I arrive at the bow of the Cutty Sark with 10 mins to spare having been sarf of the river properly for the first time.
Time for some minor adjustments to the cockpit and a photo op then Purley and Al arrived.
Some mutual bike admiring - I loved the Gold Explosiv - some gentle mockery for the futility of my Crud Catcher should the forecast deluge arrive and we were off.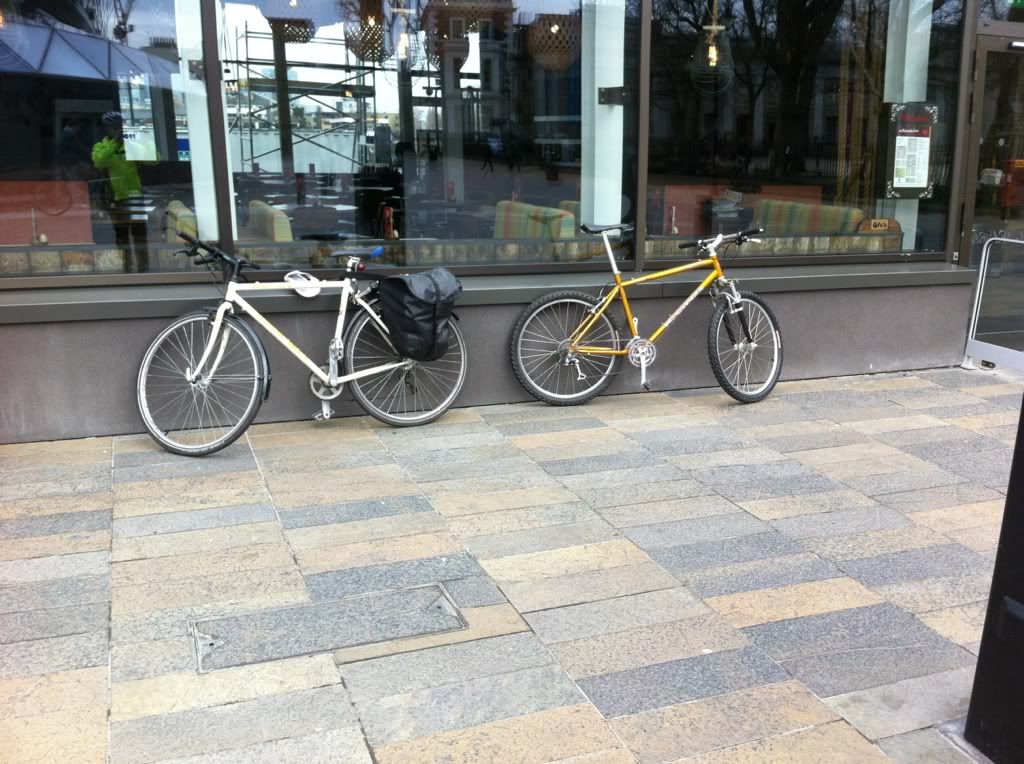 Off we went under the Thames on the Greenwich tunnel - pity it was too crowded to ride as Al noted. Then off on our guided tour of East London with Purley providing a running commentary. We meandered up the easterly side of the isle of dogs with the Towers of Canary Wharf providing a scrolling backdrop. Then up towards Stratford for a gawp at the now shuttered Olympic park. doubling back we then headed west until we hit the canal that ran for a good few miles along Victoria park and onwards towards Highbury and Islington.
A stop for coffee and a porridge in my case to ward off oncoming hyper or hypoglycaemia for me and a short natter then we were off again. Another mile along the canal and Al's puncture hit and we proved he could change a tube under pressure twice - we also noted that my pump had suspiciously retro insides - completely failing to inflate the tubes.
Whilst we were offering encouragement to Al I decided check my tyres - no glass thankfully but at least 3 deep cuts in the carcass! thing is not one of us saw any glass.
Puncture nightmare behind us we popped up in Highbury where I saw where the Van loads of TSG had ended up. A respectful nod and we were off south into the City stopping for the photo op in St Paul's and onto territory I vaguely recognised from my daily West-east commute. Accidentally lining the bikes up in order of age brought some interesting top top comparisons.
A good blast through the city dodging Boris Bikes left right and center and we were onto the Mall for quick visit to Her Maj who wasn't receiving Retrobikers or anyone else for that matter.
A consult on next steps saw me following the guys on a more sane route through Victoria to Vauxhall bridge than my first effort that morning and a parting of the ways.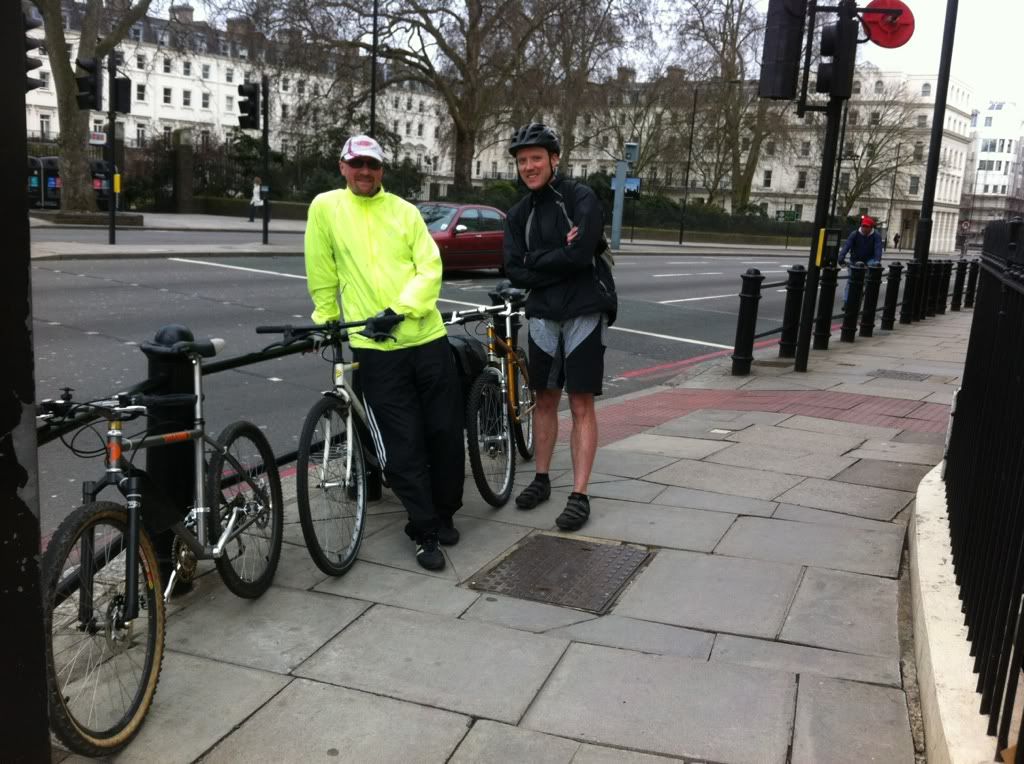 I headed back north to Hyde Park and did 2 sides of the square until Lancaster Gate and striking north to Paddington - congratulating myself on a ride entirely in the dry.
Jumped on the next train for Reading and the 10 min hustle to my house. Dived out into the biblical downpour at Reading and arrived home soaking.
You were right about that Crud Catcher guys....
Checklist for next ride (looking forward to it btw):
Working Brakes
Working pump
More Inner Tubes!
Cheers to both Purleysquire and Al-onestar for some great company. Here's to the next one.
al-onestare wrote:
First off another big thanks to one Purleysquire. The man has more factoids than an encylopedia and knows the back routes around our fair city better than anyone. Thanks for the 2nd inner tube donation and thanks to secretsquirrel for dazzling us with a fantastic piece of Ti, we need a proper thread for that. Those forks are super sexy! And of course, the 1st tube donation!!
The morning started well with sun and a hint of spring in the air. A quick blast from BR1 over to the concrete jungle of Croydon gave me enough time to fiddle and fine tune the rear shifting on the Explosif. I needed a couple of cm more on the seatpost so after a quick adjust and greet with purley at East Croydon station, we were on our way, scooting across some sodden tracks through Elmers End and up to and through glorious Catford and Lewisham.
I thought we had only been riding for 20 minutes when we hit Greenwich but soon realised it had been well over an hour and we were motoring at a fair old pace. I did debate about using the usual Cinder Cone commute but even though we did a lot of road work, the bits offÉroad would have be a no-go on 1.3s. And anyway, I was riding a golden bike!!
We met up with secretsquirrel and his Ti Orange before we walked under the Thames, a first for both of us! It was super tempting to hop on the bikes and blast it down but it was too busy...next time perhaps.
Purley treated us to the delights of Tower Hamlets before we joined the Regents Canal. This would be a nice stretch but it was very busy so it was stop and start. After the pit stop is all went Pete Tong. The Scratch and Sniff tyres may be a nice touch but they are a little thin. I think we had all been careful looking out for glass but under one of the many bridge I fell foul and an extremely rapid deflation occured, just yards from exiting the canal path.
Purley has described the story...proper LOL facepalm...whilst I desperately tried to look cool as I struggled to perform such a simple task of putting the rear wheel back on. (It was only as Purley and I headed up to Crystal Palace that he revealed the puncture curse and the location).
Up through Islington with a quick loop around Stratford met a blast into the city as we tried to beat the weather. Que standard bike rental shot:
Pretty sure this is what Ken had in mind back in the day.
Another blast through Trafalgar and the red tarmac up to the Palace (her indoors was not indoors) before we reached the river and said fairwell to the squirrel. It was beginning to drizzle and the wind was picking up so we got our heads down and got through the Oval, Hernia Hill, Dulwich and of course that little molehill at the Palace. Blasting through the Park was good and before we knew it, it was time to head our own ways. Luckily I was going the right way as the weather was catching up with me whilst Purley was heading straight into it, I literally got through the front door and the heavens opened.
Lets do it again soon and pray mother nature gives us a break!
PurleySquire wrote:
The curse of the Urban RetroBike tour strikes again, yes bad weather, today was forecast to be the warmest so far, even into double figures! Unfortunately precipitation was going to be the issue this time, even my postman quipped that I should be "home by 1pm" as he saw my readying to leave in fine sunny morning weather, it wasn't a day to be hanging about.
On Friday night I found myself packing sailing waterproofs as well as the more normal riding gear. Likewise I wanted to take out the Marin Muirwoods, but went for the wet weather friendly option of my Muddy Fox Tourist hybrid, with its freshly fitted new SKS lightweight mudguards.
I met up with al-onestare at East Croydon station in fine weather, but with the forecast in mind made a steady run over to Blackheath for the obligatory picture at the statue of General Wolfe. With only moments to spare I enjoyed the delightful run down the hill to the Cutty Sark to pick up Secret Squirrel. He was easily identifiable by the blingtastic nature of his Orange, mmm carbon fibre titanium composite forks yummy! It was then that the first few spots of rain were felt and the clock was ticking.
We headed straight over to Stratford via some the rougher areas of East London "Some nice places you take us to, Purley" was quipped, the joy of this ride, I explained is in the contrasts. We picked up the Regents Canal, stopping for a quick break at a new canal side place near Haggerston. Shortly after the curse of the Kona struck, with al-onestare suffering a puncture at exactly the same spot as fellow Kona rider Watley Meister had his first puncture on Urban RetroBike #2! The puncture was soon located in the inner tube, meanwhile I checked the outer casing, turning it inside out and feeling with my fingertips for the cause and finding nothing.
The wheel was reassembled and inflated only to immediately deflate due the large fragment of glass embedded right through it that I had totally failed to spot, what a school boy error. Luckily, I had a spare inner tube of a suitable size in my kit and the tyre was reassembled again, with better result this time.
Fortunately this was the only mechanical issue for the entire journey and with the temperature falling, wind picking up and clouds looking ever more threatening time was definitely not on our side.
Crowd barriers were already being installed at St Paul's Cathedral in advance of the funeral of Margaret Thatcher, which, along with roadworks, made the usual photo opportunity difficult. Likewise, at Trafalgar Square, a crowd was gathering to celebrate the death of Margaret Thatcher, although to be honest, judging by the amount of fluorescent yellow on show, the Police presence was somewhat disproportionate in my opinion.
As the boys didn't want to do photos at Buckingham Palace we headed straight to Vauxhall, Secret Squirrel staying with us as far as the river. Then it was heads down for the long stretch South into a gathering headwind.
I surprised myself by managing to ride the direct route up to the top of Crystal Palace Hill, al-onestar overtaking me and once he was out of sight, I made a sneaky halt for a minute's breather. As al-onestare was heading in the direction of Bromley, we tried a run through the paths in Crystal Palace Park, which were rather good and preferable to the local roads, certainly worthy of further investigation in future.
The rain really set in on the last 20 minutes of the journey home, I even stopped under the Croydon flyover and donned my Helly Hansen sailing jacket to get some additional protection. Hopefully, one day we might even make this trek in fine weather, take in the views and amble along without risking hypothermia, or drowning.