A few thoughts:
- great to get the series up and running and many thanks to all for attending, in particular those who had such long journeys.
- impressive good humour from all at the start despite the National Rides Coordinator turning up considerably late and faffing around with chamois cream, much to the dismay of the arkaela of the local Brownies who were using the Village Hall that morning.
- the only mechanical occurring within spitting distance of the end.
- the bravery of daj in turning up on his "electric yoghurt pot" (Cervelo S2 with Ultegra Di2) with new deep section carbon Mavics. Fortitude was particularly shown when he dropped said wheel down the cattlegrid at the top of Gospel Pass with not so much as a whimper.
- vivelesalpes riding toeclips (with overshoes) and centre pull brakes
- bobbinogs effortlessly dancing up the climbs like they were flat
- tarloone risking his pristine Vitus and Deltas on salt and ice strewn roads
- and talking of ice, the sheet ice across the road almost continually from Llanthony to the cattlegrid was really something, a couple of inches deep in places. Didn't put anyone off, nor did the sub zero temperatures so properly heroic effort in getting to the top in one piece. Fortunately the descent was ice free but the wind chill doesn't bear thinking about.
- the Spirit of the Ride going to Paul for "taking it".
- the Bike of the Road going to tarloone's Vitus (controversially it tied with daj's yoghurt maker but, thankfully, common sense prevailed) with extra kudos almost certainly for riding 42x23.
- big thanks to the Little Boss for the three course spread with a choice of desserts.
A few photos:
"Where shall we drop them next?"
Corporate whore
Martin, considering opening his legs and showing his class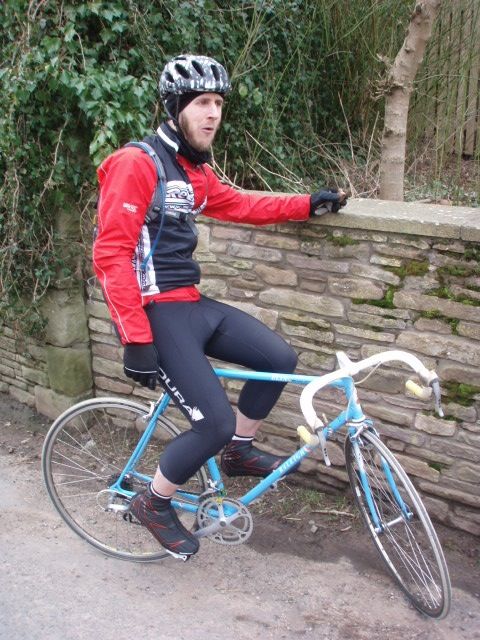 Chopper taking some sage advice from the DS "get on a ****ing wheel!"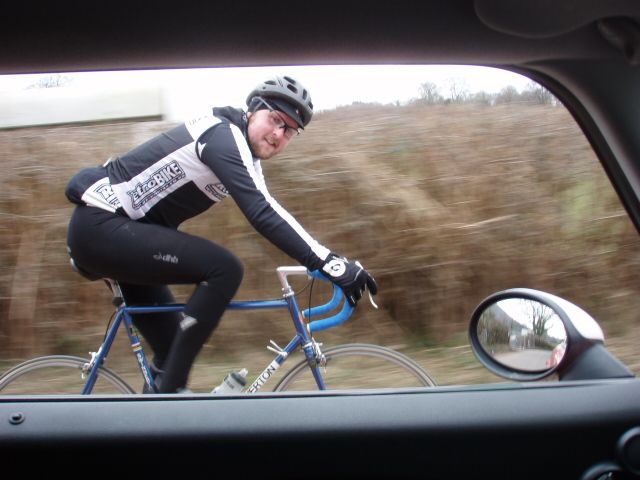 Ice Ice Baby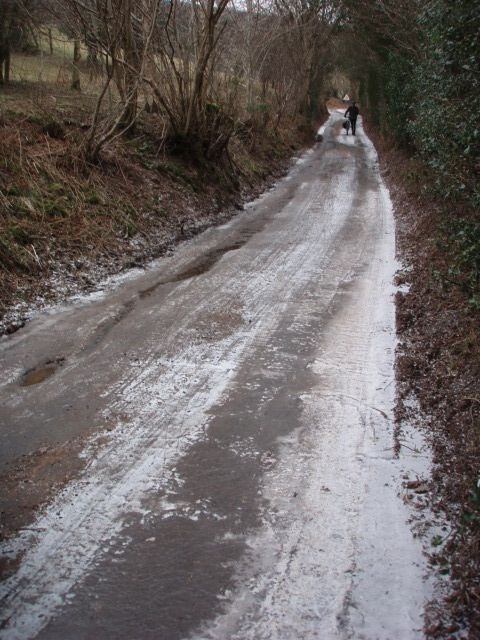 20m to the cattlegrid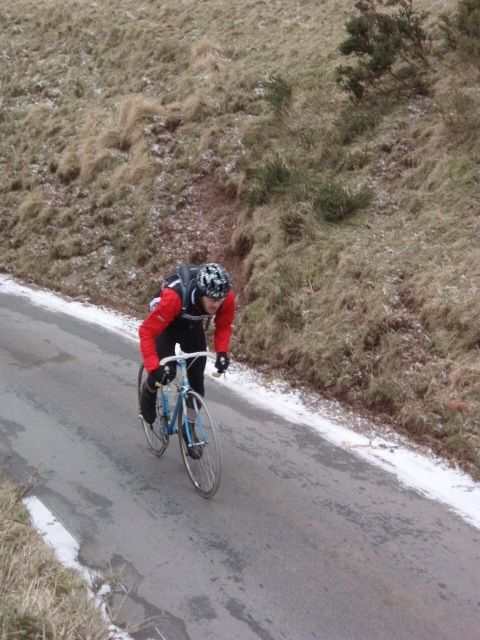 The peleton hammering along (with a lonely straggler)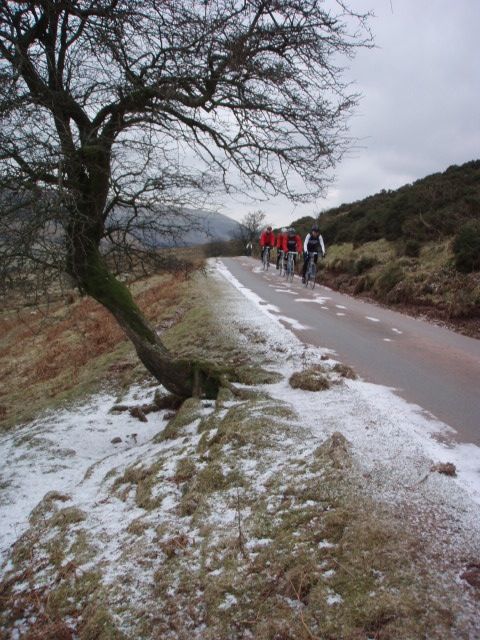 At the top of Gospel Pass - left to right: daj, vivelesalpes, drystonepaul, tarloone, bobbinogs, harrycrumb
Bike of the Ride - check the clearance!
Spirit of the Ride
Finally, after Round 1, we need some points for the overall National Road Series. After careful consideration the following have been awarded (judges decision is final but not that you get 100 for turning up and the rest is gravy):
daj 100 - 25 (plastic frame, electric gears) = 75
vivelesalpes 100 + 25 (toeclips, centre pull brakes) = 125
drystonepaul 100 + 50 (Spirit of the Ride) =150
tarloone 100 + 50 (Bike of the Ride) = 150
bobbinogs 100 + 25 (KoM) - 25 (KoM) = 100
harrycrumb 100 + 25 (too large bike) - 25 (seatpin flutes into frame) + 25 (chain too short "but it's Dura Ace") - 25 (straining rear mech) = 100
ededwards 0 - 200 (for organiser piking own ride) = minus 200