The ride took place yesterday. Two days earlier it had been raining, but the morning of the ride dawned bright, clear and COLD. It was below freezing when I left my house a little after seven and only a few degrees above for most of the day.
Nevertheless, a horde turned up and I never got a count because I tried to stay ahead of most of them with an early start.
Rolled out with Gary Fisher, Jacquie Phelan and Dirt Rag publisher Maurice Tierney. Gary was riding with his son Nick, and they must have had an appointment, because they pushed on while the rest of us relaxed on the grassy hilltop known as "Smoker's Knoll." I had been embarrassed last year sharing other people's food, so I hauled oranges, beef jerky, chocolate, bananas and Clif Bars and passed them around.
The first big downhill on the route is Pine Mountain, a descent of about 1000 vertical feet, and at the bottom I found Joe Breeze and son Tommy, both wearing team jerseys from Sir Francis Drake High School, where Joe is one of the team sponsors.
At the top of the second big climb, called "Scorcher" for its southern exposure during the summer but hardly that yesterday, the Clif Bar sponsors passed out goodies. Further up the road LBS mechanic Josh had set up a bar and a campstove where he served coffee, pancakes, and coffee with a whiskey kick.
By the time I got to Repack our group had dissolved, with Gary and Joe out in front, Jacquie behind, and just myself, Maurice and a couple of others still riding together amid the endless parade of mountain bikers on the dirt track.
The rangers were out in force to monitor the ride. Years ago they tried to stop it, but it was probably the first"critical mass" ride, where individually everyone was out to go for a ride and all just happened to be going the same way. The ranger even admitted that if there was a leader or an organization, the ride would not be permitted. Strike a blow for cycling anarchy!
Repack, as my handle suggests, is a favorite hill, and the ride finishes with an exhilarating run down it. Normally I don't have to share my run with dozens of other riders who haven't practiced on the hill for 30 years or so. No matter. I must have passed fifteen of them in the two miles, every time moving out of the sweet line and passing with a bad line.
Back in town there were more sponsors for the unorganized event. The Marin County Bicycle Coalition had set up a couple of tents, one where they sold memberships, the other where they gave away beer supplied by the local Broken Drum Brewery. The beer was more popular, and the line of a dozen or so waiting for a brew had to wait a couple of seconds longer, because I took full advantage of my local notoriety and connection with the ride to bypass them. Good thing, because it ran out soon afterward, and the drinkers moved across the street to the MTB pub, the Gestalt Haus, where the inside bike parking was saturated immediately and bikes piled up outside.
Riders line up to dive off the top of Pine Mountain.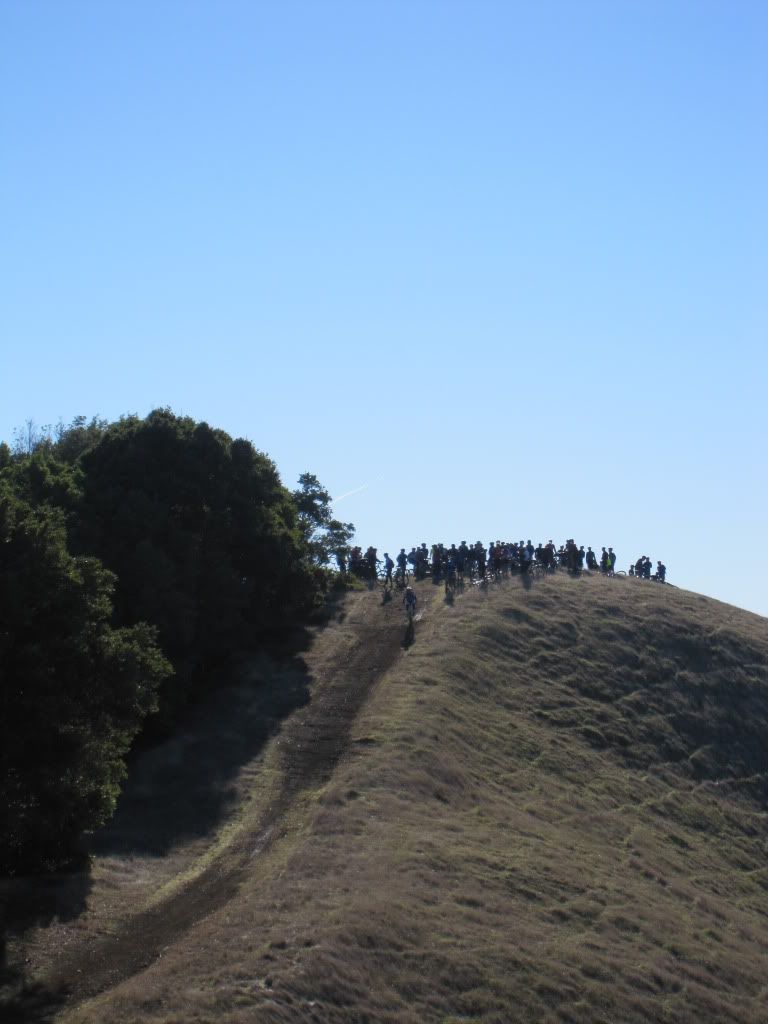 The Gestalt Haus is a pub catering to mountain bikers.