I'll be there on Friday morning.
Turning into a bit of a comedy this one
We are due to leave on Weds to travel down south for the Eurostar early Friday morning. Now though it looks like the little mans passport wont be through in time, so I may be on my own, which means I wont be going to see freinds in Germany afterwards so no family holiday this time.
I will also be in the wifes Beetle rather than the T25 Van.
I have been building up my new 1x1 but unfortunately due to finances its not as bling as I had planned, maybe ready for Ireland
I have fitted new Avid V's rather than discs as I hadnt had the time to build up the Spank rims or the cash for BB7's. Using my old LX cranks for now, hopeful to replace them with a set of ENO's. My trusty Titec H bars fitted, a nice new ano green seatpost. I bought a set of Schwalbe Fat Alberts that finally showed up on Friday, only to find they had sent a FA in 2.25 instead of 2.4 for the rear specific, no big deal really but for the front they sent a plain Albert again in 2.25, so not happy. I left a messege on their shop phone Friday and Sat hoping to buy the right one over the phone so they could send it out right away and I could then send the Albert back for a refund but so far no luck which means I will probably have to use the Albert as I only have one working day till I have to leave and I am in no way buying a Fat Albert at retail. It was a good deal as they were half price but it wouldnt matter if they were almost free, if its not what I want. Anyway enough of a rant about tyres and Planet X
Really looking forward to it, just hope the rest of the family can join me.
Velo, sad to hear your not well and also that you wont be riding. At least take your gear as if you feel better I am sure we could russle up enough stuff to build a bike.
Flash, that Pugsley is the way of the future, one of my most wanted in fact, maybe I could blag a shot on it around the campsite.
Heres a couple of pics from build
This one just cobbled together for fit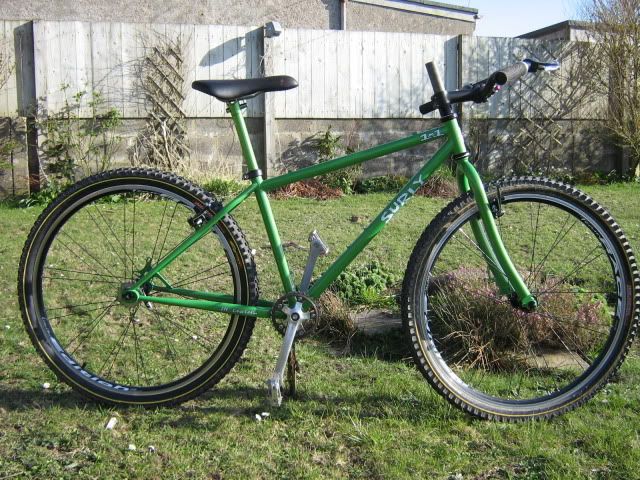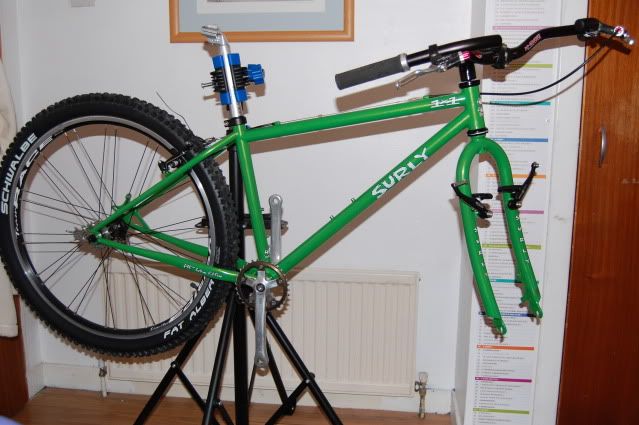 _________________
Carlsberg don't build Singlespeeds but if they did.......they would probably look just like mine.

I've spent half my life on bikes.........the other half I wasted