Enigma titanium frame
Custom made Enigma Echo frame 58cm. As the stock frames are up to 57cm only. Hand made by Mark Reilly himself so the welds are awesome.
Top tube is 585mm (vitual)
Seat tube 560mm (c-clamp)
72 head angle
74 seat angle
Would be perfect for sportif, road racing, Tri if you push the seat forward with tt bars, or enduro multi day racing.
This has been a great bike that has done may a great race. I have race in category 3&4 on it and won and it has crossed the Pyrenees from coast to coast in under 100 hours so it's more bike than most will need. It lighter than the boardman team carbon will never rust and the frame will last you a lifetime. Upgraded group set from the 105 to ultegra and new tape and saddle to be hygienic. Always well maintained. Recent decals and only a minor scratch to the forks some marks on the spokes and wheel decals and a mark on the front mech clamp. In great condition. Reason for sale is i have a Cervelo S2 and cant afford to keep two bikes.
Ultegra groupset. Cost over £3400 new.
£1600 with Mavic carbones
£1300 with Stand wheels
pics
http://www.pinkbike.com/u/biglev/album/2013/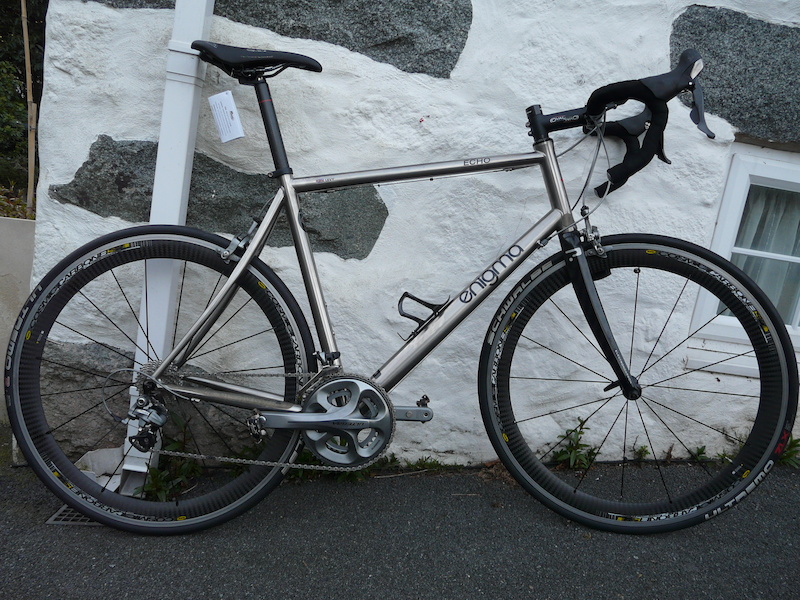 More details. below
2010
Item Condition
Frame: Enigma echo Ti Custom 58cm (Mark Reilly build) new decals and polished, marked where the old front mech was
Fork: Enigma carbon (385g) some light marks
Headset: Enigma 45 degree sealed (campy) New bearings
Stem: Oval 120 some light marks
Handlebar: Oval Alloy 44cm some light marks
Tape Specialized double wide New
Shifters - levers: Ultregra 10sp Good some scuff on the rubber hoods
Front Derailleur: Dura ace Good/ recent
Rear Derailleur: Ultregra 10sp Good
Cables: shimano/Jag wire Lined Good
Brake caliper: Ultregra 10sp Good
Brake Pads: dura ace new
Cassette: Ultegra 10sp Good
Chain: Sram Hollow pin and plate recent
Cranks: Ultregra 10sp Good
Chainrings: Ultregra 10sp Good
Bottom Bracket: Ultregra 10sp Recent
Hub Skewers: Mavic Good
Rims: Mavic carbone some light wear
Hubs: Mavic sealed Good
Nipples: Hex Good
Spokes: Aero Good
Tyres: Schwalbe some light wear
Tubes: contie Good
Saddle: Selle flow alloy New
Seatpost: Enigma carbon Good
Seatpost Binder: Enigma alloy Good
Computer Mavic (speed/cadence) Good
Weight carbone wheels: 7900g 17.4lbs
Weight stans 340 wheels: 7500g 16.5lbs
Enigma cataglog weight 7300g 16.1lbs