Unfortunately having to sell this lovely light Blue bike before I've even ridden it properly as Its just doesn't ride right for me, that and the fact I've just been hit with a Vet bill
. 52cm center top frame. Looking for what I paid minus the postage, so £160 including postage
Any way back to this bike, It's in good condition but with the usual rusting here and there, nothing major just where chips have exposed steel. Handbuilt in Coventry by Tom Bromwich this is an unusual retro ride. It will need bar tape as it's currently missing.
Mavic Ma40 wheels
Shimano 600 series drivetrain
Tiagra brake levers
Italian leather saddle
I'll sort some in detail pictures later, but for now here's a general shot.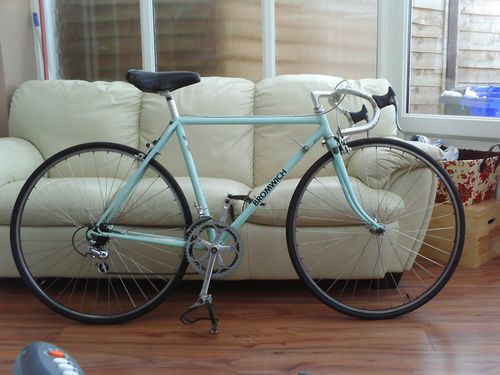 _________________
1988 raleigh Cobra (always falling apart), 1993 Raleigh Mtrax Ti1000 (in bits),