Right, I've been putting this off, in the hope that I would find some cash elsewhere.....not going to happen this month. All are priced to sell.....and if all of them get 'dibbsed' and deposit paid via paypal before, say Wednesday or Thursday, I will make the run from near Stansted airport to old London Town, and deliver them to a mutually convenient area outside the congestion zone.....Tottenham hale perhaps, or somewhere similar. Other than that, collection please.
So.....I have for sale, three separate Gazelles......
#1
Gazelle cyclocross frame, fork and headset.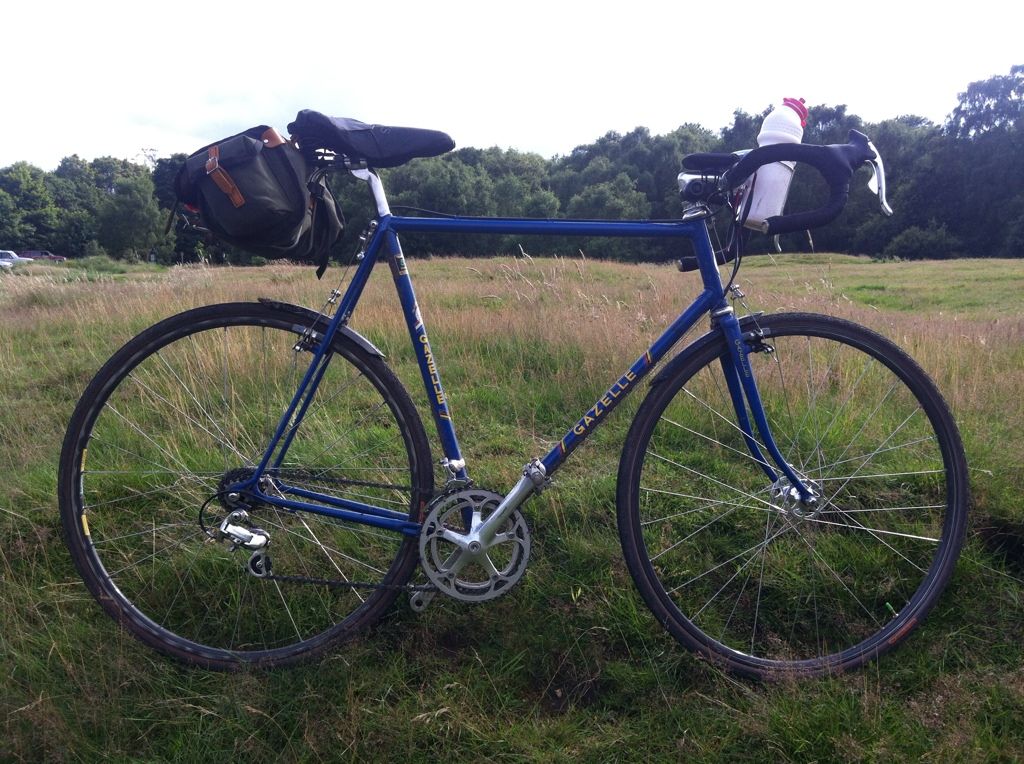 This is Reynolds 531, and measures 60cm ctc seat tube, 57cm ctc top tube.comes with a decent stronglight headset, that is fine at the moment.
It is a fantastic, versatile frame and fork, that I am only selling because of my 29er.....it's just not getting used. There are no dents, but there are some scrapes that have been touched in with black paint, by the previous owner. I'm not sure of the year, but the serial is 4005737, if you can work it out frm that. UTFS, I found out that I paid £100 collected for it....so taking into account going to collect it, is what I want please. I think I got a good deal then.
#2
Gazelle champion mondial AA Special 1985 frame and fork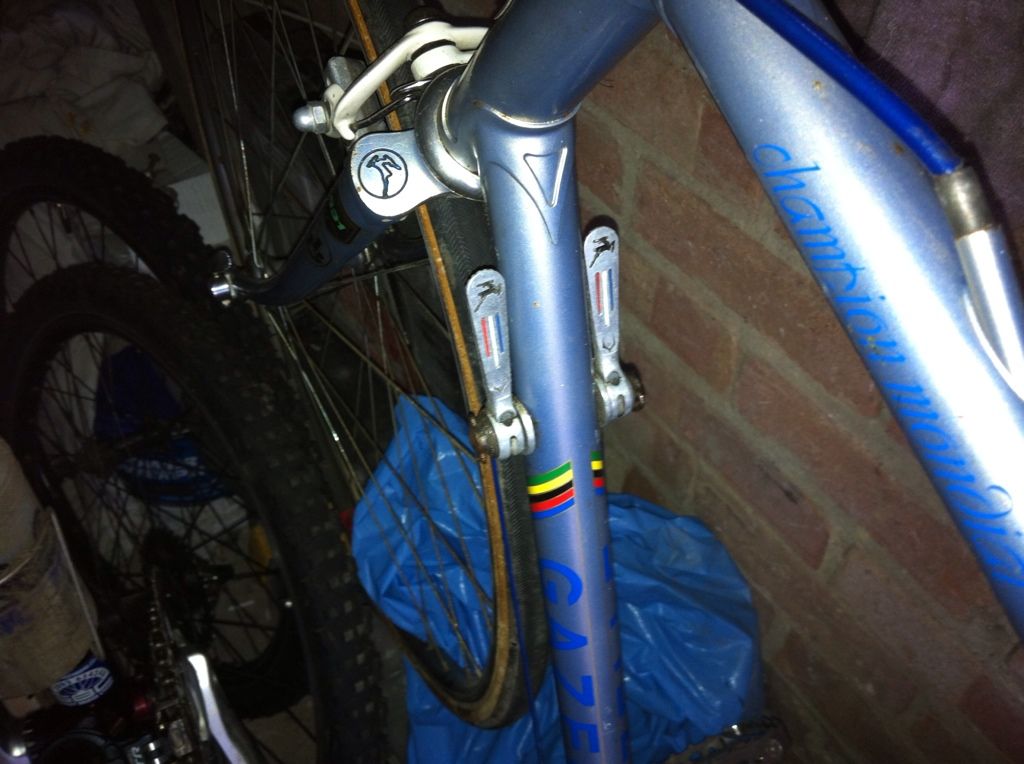 This measures 58cm ctc on the seat tube, and about 56cm ctc on the top tube and is in sapphire blue, made from Reynolds 531c throughout.
I bought this from the bay in a sad state.....this was stripped and rebuilt to perfection, in my eyes.....so much so, it never got ridden either. I was going to ride L'eroica on it with the cabling changed, but used my hetchins instead.....the story is, that this was raced semi pro, then retired. The mavic group will be up for sale separately.this is a frame and fork sale only.
There are no dents, but the top pearl coat is scratched in places through to the darker blue base colour......this doesn't detract from it's beauty though.
It was supplied new from 'reality cycle importers' in Sheffield, and has the initials 'UB' as a decal on the fork blades... I will leave the original Gazelle pantographed gear shifters on it too. For this, I want £145.... You know it's worth more, as the shifters regularly go for up to £50 on their own.
#3
This is the jewel in the crown, as far as I'm concerned.
It is 59cm ctc on the seat tube, and 55cm in a straight line, ctc top tube.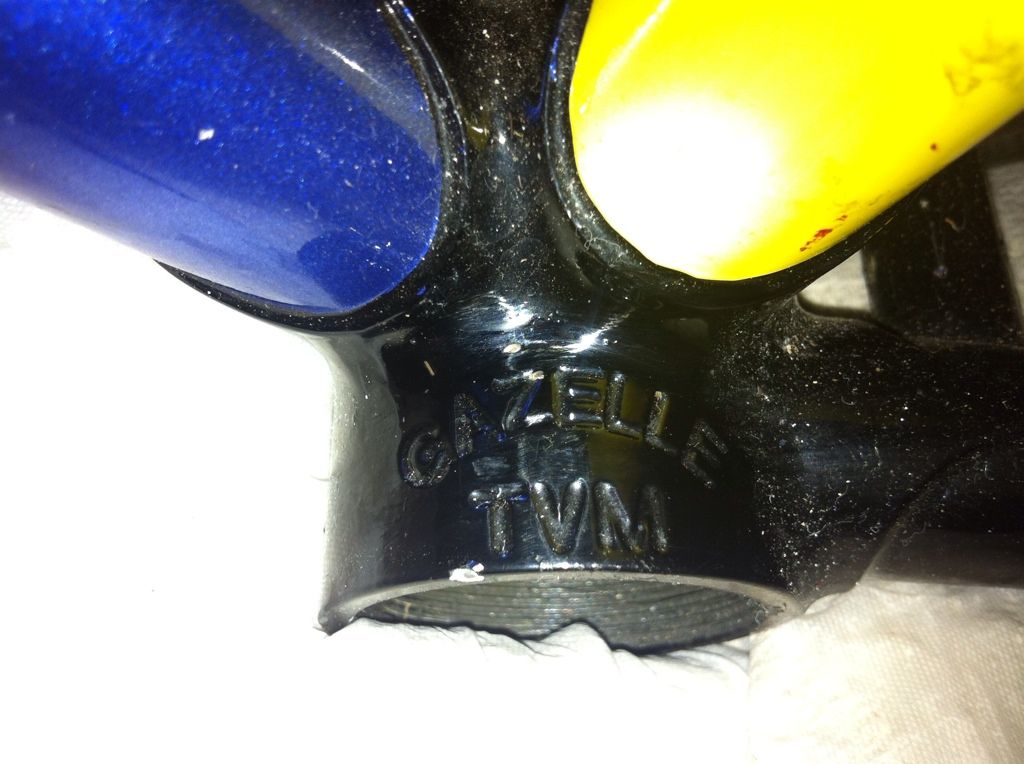 This is a Gazelle lo pro TVM-bison ex team bike, which has was with them for a time, as the 'TVM' sticker has been put on over the top of the Bison one.....it was allegedly ridden in the Tour de France by Hendrik Redant. I have no provenance for this, as such, but the guy I got it from has form for producing things like this.....I have also joined twatter, purely to engage mr redant in dialogue.....which I am in the middle of!
He says he isn't sure if it was his or not, at the moment.....damn those 140 characters......but I am awaiting another reply.
Either way, I asked on the 'Gazelle' thread about the value.....one of our Dutch friends, who is very much 'in the know', thought that it was worth between £350-£600 as a frame, fork with the original Dura-Ace headset. I have since built it up with bits from the parts bin. The groupset is 105-1055 nearly throughout.....it is only the rear wheel that isn't, but that is a nice old campag number, with the winged logo. It isn't dialled in, as the cables are a little short, to be honest, but it rides beautifully as it is. The bars, stem and the seatpin are not included, but for everything else, I'm looking for £375..... Go on, find another for less!
That's all for now......I'm in my garage doing this on the piddle pad, and my fingers are numb.......I'm also a bit pissed on Henry westons vintage cider, which is the bollox.
Here is a link to the album for more pictures, I think.
http://s929.beta.photobucket.com/user/stedlocks/library/gazelles

_________________
Some velocipedes.........