another in favour of these bad-ass rim brakes.
do make sure you are putting them to use on decent rims, i split a rim before as it was quite worn
also, setting them up is 100000% easier if the tyre is removed from the rim, means you can get them as close/parallel to the rim surface as you like.
but do also bear in mind the sidewall of the tyres, if they bulge out wide, this can rub on the pad holders too.
also worth noting - if you are running wide tyres and using a brake booster, you may need to deflate the tyre before removing the wheel, as the brake gets in the way of the tyre (it did with me when i had in on the rear of my FSR) - pic here: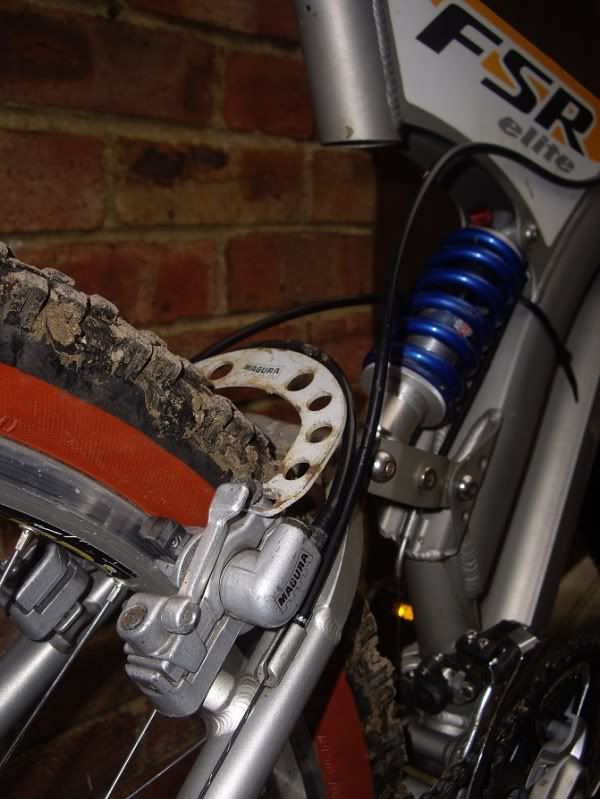 i've a set that i'm considering putting back on my FSR
i havent bled them for about 10-12 years. they're seriously fit and forget
i may bleed them in the near future -
MAY
_________________
My Bikes:
>Specialized FSR Elite '99:
viewtopic.php?t=173952&highlight=
>Diamondback Apex build:
viewtopic.php?f=6&t=320993
Projects
>FSR frame bearing upgrade project:
viewtopic.php?f=41&t=288979
"Happy is my last goal"