I dont think that you can rebuild a right hand shifter in a lefthand body, all the springs and cogs are build to be worked from right and can't be flipped upside down.
i like this problem! here is some idears:
a dual controle shifter will work just as fine flipped upsidedown, he just have to push down for down shifting not up
rohloff makes a lefthand shifter for there hubs, but thats a hole new setup needed..
I not sure if it will work but sram lefthand/front mech grip shifters has 30 small clicks, just like pre-index suntour shifters. thy are really inexpensive so maybe its worth testing.
If you flip a XTR Rapidfire Plus 180 degrees it might be an option, the position might be a littel odd but still okay if he is not "small" handed
the XTR SS95 Remote Shifter can be mounted on a barend if a longer cabel is fitted i might work as a left hand shifter.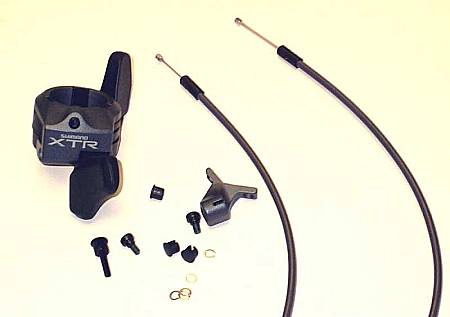 any friction thumb shifter can be used for both front and rear mech, here a new one on a paul mount:
Bar-end shifters can be mounted on the end of the handlebar
specially a newer sram barend will be nice, thy jump back i center position after each shift, it might also work really nice on a paul mount placed upside down
here is an article aboud the some problem, but on a roadbike:
http://www.campyonly.com/howto/lefthandshifting.html