Well, I've eventually managed to build the frame up. Most of the components were transferred over from my other bike (a Motiv alloy framed job from Costco that had been progressively upgraded over the years until only the frame was original) so they aren't exactly 'ultra-high end' (the TK30 forks weigh more than the frame...), but it will do for now.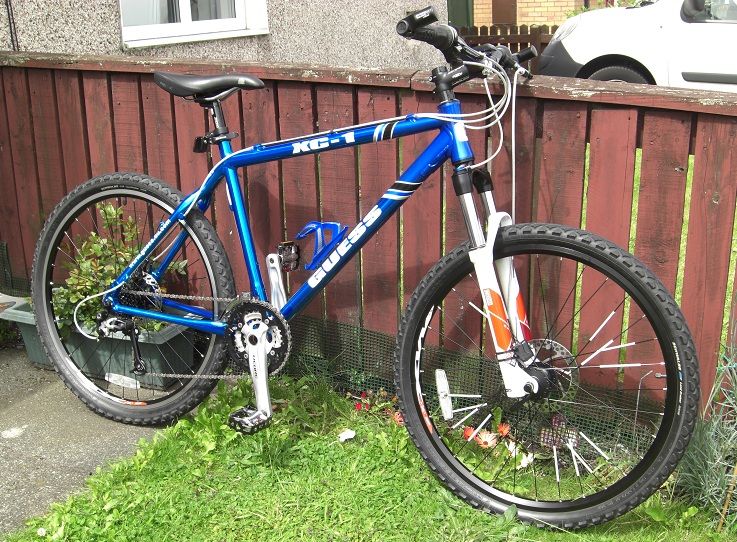 The biggest problem, as I mentioned in my last post, is the headset. No ACB-based semi-integrated/internal headset I found would fit the oddly-shaped headtube (and I ended up buying a few, which will eventually end up in the 'For Sale' section):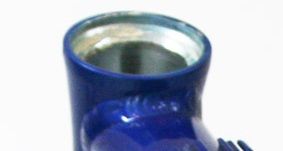 I tried a few cartridge bearing-based ones too and only one of them was shallow enough and had the correct angle at the bottom to fit, but the ID of the top end of the headtube was too large for it to be secure (incorrectly-machined, I think - maybe why they are boing sold off?). Rock&Roll had a cartidge bearing headset that was listed as suitable for the Guess frames, but it is out of stock (discontinued, I expect).
What I ended up doing was taking an FSA ZS3 and reprofiling the back of the cups to fit against the angle of the 'bearing surface' that can be seen in the above photo (it was easier than modifying the headtube, and safer). The fit in the top of the headtube still wasn't great (it could be pressed in by hand) but shimming the inside face of the tube with thin aluminium tape sorted that out.
Another question: does anyone know if an 'Extra Lite SC7 Scandium' tubeset decal is available anywhere?
The one that came on the frame is a 'clear bubble' type which isn't flexible enough to stay stuck on the curved tubes. I asked a framebiulder in the US who had used the same tubeset if they had any left over, but they hadn't use the decals. I've seen a very nice cast/enamelled one used on some Mosso scandium frames from Taiwan, but I wouldn't know where to start to find one.