Hello all... I'm a newcomer to your forums, but in my defense, my bike wasn't actually retro the last time I rode it...
Thought I'd post up a couple of pics of a pair of bikes I own at present, and canvass for a couple of opinions... Whilst not quite old enough to be really "retro" there seems to be enough knowledge here that someone might know something about them.
Basically, I'm toying with the idea of getting rid of them and updating to newer bikes. But I wondered if either of them would be of interest to anyone who collects this sort of thing, or if they are simply fodder for a the sub £50 section on a card in the local shop window.
Both bikes were bought new by me, in 2000 or 2001, and have been used very sparingly since, hence, apart from a few scratches here and there, they are both immaculate (no dents or cracks either), and both pretty much original. They even still have the original chains and rings on them, and I'm embarrassed to say they have planty of life left in them. (I changed the bars on both for more comfort, and the Schwinn now has an air shocker on the back - all the original parts and the shock are still kicking about in the garage somewhere though.)
Both bikes were subject to a complete stripdown, total clean, and rebuild with all new bearings in 2009, and they have only been ridden once since. The Schwinn was a pain in this respect, as that rear end contains 8 seperate ball bearings, all of which had to be pressed out and pressed back in... Soooooo comfortable though...
I'd be interested in any history on the types, what they might be worth (if anything), and whether or not you think its worth replacing them or keeping them. Has the technology moved on far enough to make the investment worthwhile?
The Schwinn in particular seems to be an interesting bike, as I have never seen that rear end on anything else. Technological dead end perhaps, but from my point of view, its a brilliant piece of engineering. Much better than the old Marin I used to have.
Thanks.
The Schwinn four banger, last year.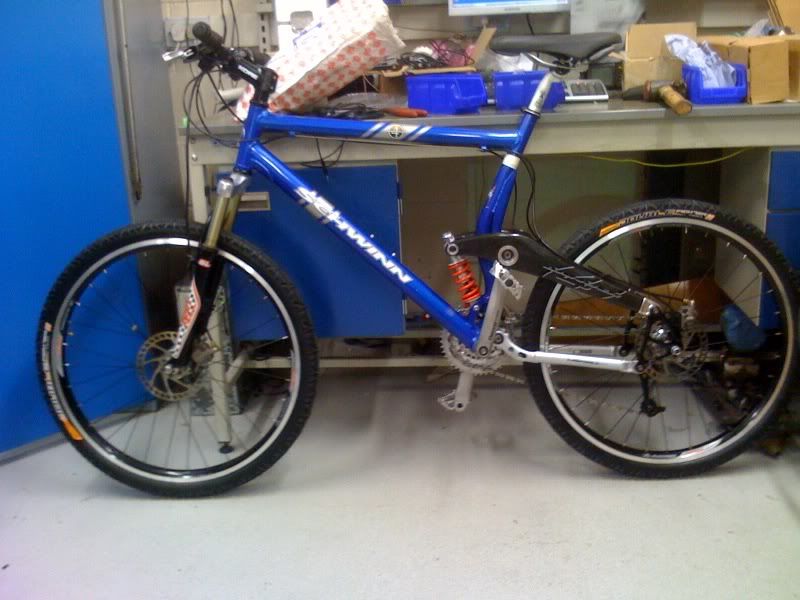 The Giant, mid rebuild.