Right, we have made some more progress with the RC500. It has spent the last three weeks over in Pickering having the RC150's fully serviced by Tim at Fork English. I am highly delighted with the job and the time spent this morning chatting about all things Pace was great!
Seriously, if you have a set of Pace forks that haven't been serviced for a while, seriously consider sending them over to Tim (justbackdated on here). I'm sure you'll appreciate the difference when you get them back and some of the examples of broken & worn forks were a serious eye opener to the value of a regular service!
Tim also sorted the Hope brakes. The mystery of finding an adaptor for the front has been solved. At some point in their life the front caliper had been attached to the longer rear hose. When Tim swopped them, he had a suitable adaptor which he very kindly sold me for a bargain price! so brakes are all bled and ready to rock!
I then travelled to the Pace workshop in Dalby for some RC35 grease and a couple of keyrings! Saw Duncans Purple Decender and even had a small chat with Adrian. He didn't want to see the RC500 saying that he'd seen more than enough of them in his time! He did approve that the rebuild would consist of period parts though...
Back home this afternoon, I have stripped the rear Hope and found that it will take the 12mm axle as all of the bearings in the hub are 12mm inners - result!
I've also stripped the GT Bottom bracket that I am planning to use. One of the bearings had fractured so I am in the process of sourcing a replacement.
The rear is fitted but I just need to machine some spacers and with the help of some suitable washers (to adjust the lateral position of the caliper), I should be in business.
EGS mech is also fitted.
I've got some Gripshift Xray units arriving early next week, so will use the right hand one to drive the mech. I'm not a big Gripshift fan but i think with only one shifter needed it offers the most aesthetic solution.
Front hub in a slightly faded Big'un with NOS axle adaptor. I've got two tidy Sunn rims, so I need to get these built up.
So, all I need to finish is -
Cranks and Big Ring and Chain
Cassette (the one that is on is only seven speed for show!)
Tyres (want Tioga downhill jobbies
Spokes
Grips
Saddle
That's were you guys come in! Any ideas for remaining spec would be greatly appreciated...
Tomorrow, I will fit the headset and get the front end finished. I'm also going to spend some time tidying the axles and fork lower brace... I think the mentality of the average downhiller is to kill everything and look after nothing...
Getting close.... Can't wait!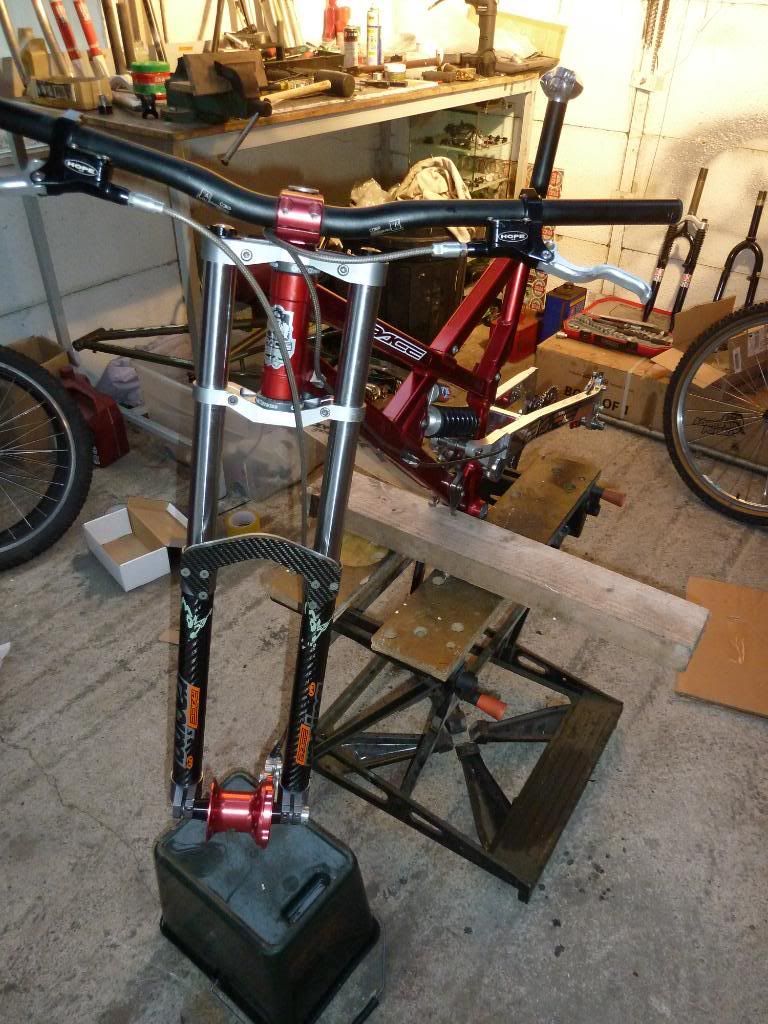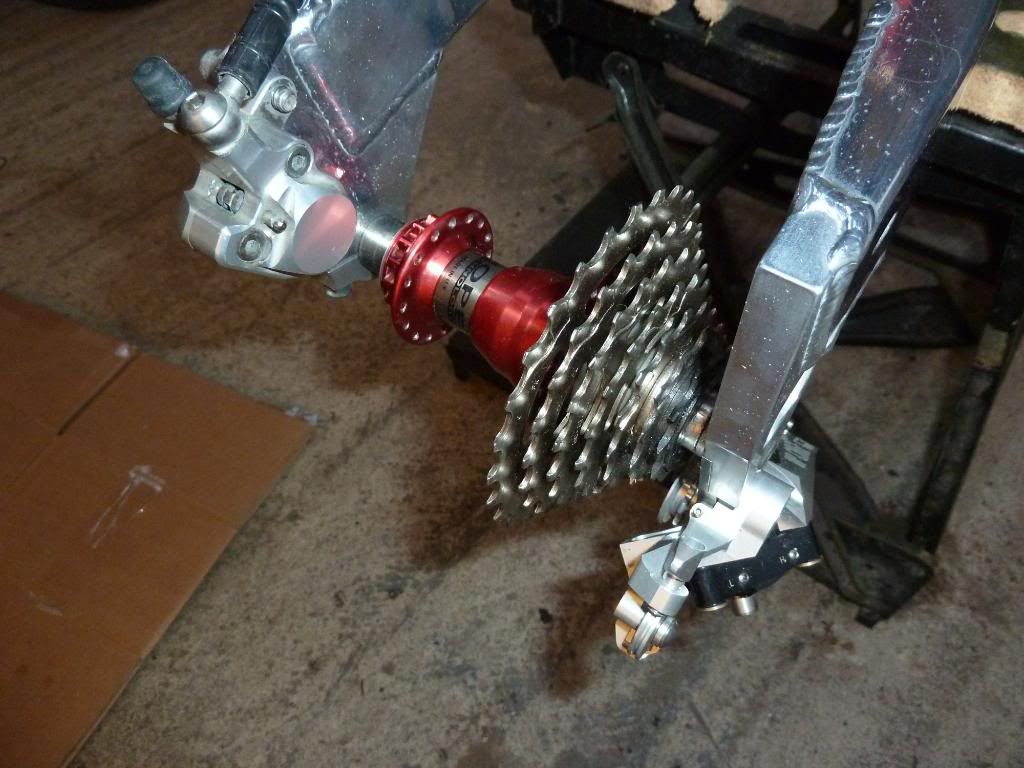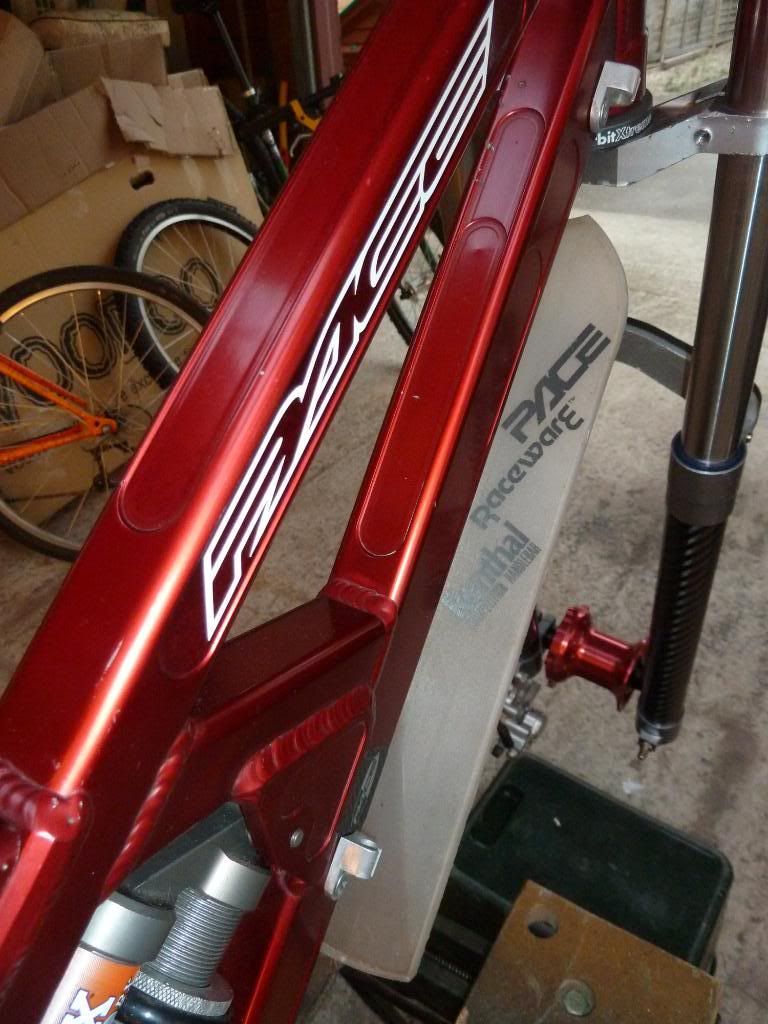 _________________
Back in the Dekerf Mountain Club - Hurrah! (1995)
Trek STP-300 (2001)
GT Zaskar (1992)
Dave Lloyd Tirant (Road) Paul Milnes X Bike (2013)