Keitht, I am not sure that its a Mr White. Unless they fundamentally altered the frame design at some stage, could it be a prototype?
heres a Mr White from the 99 catalogue
heres my old Mr O which Enid now has As you can see its the later version with added cross member, the earlier version didnt have it. Note the down tube, its dead straight no kink where the seatmast is welded on.For all intents and purposes the Mr White is the same as the MR O. All the Mr White pics I have seen look the same as the MR O barring the top tube.
The Mystery Mr O as seen on ebay bike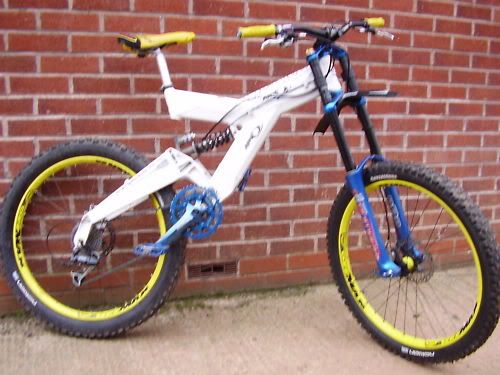 Note the kink in the down tube where the seatmast joins
And finally the UFO
(Yours I believe Keith?)
Same kink in the down tube as the ebay Mr O
The difference with the UFO and the ebay bike is obviously its a SPP swing arm with the pivot mounted above the BB and the UFO is a URT