From:
http://www.23mag.com/tricks/flat.htm
Quote:
RL Osborn, BMX Action september 1985 : I started wheel-walkin' about a year ago, but I was standing on the front pegs. It was a variation for front wheel hops. Then, I saw Martin Aparijo and Eddie Fiola doin' it the same way. All three of us were attempting to perfect it using the front fork pegs. Then while I was in Switzerland (in May), I tried doing it with my left foot on the pedal and I got it dialed. I haven't seen Eddie or Martin since I got back, so I don't know if they learned it this way yet. Yup, it helped me a lot doing those shows in Switzerland.

Gork, BMX Action september 1985 : With the recorder goin' full bore and RL scooting backwards tons of times for the camera, I intensely quizzed the Rad Lad for every detail I could get on how to do this maneuver. Imagine my surprise back at the office when the last word I heard was "Switzerland" and then a "squeak... squeak... squeak!" of RL 's front brakes when he would push the wheel. Not one word was left from there on -only the squeaking of brakes drowning out all the taped info. After playing it over a few times for Steve, a little 60 watt light bulb appeared above his head. "That's what we'll call it, The SWITZERLAND SQUEAKER!" I thought that was kinda dumb at first, but after a few minutes of saying it, I began liking it The Switzerland Squeaker it was.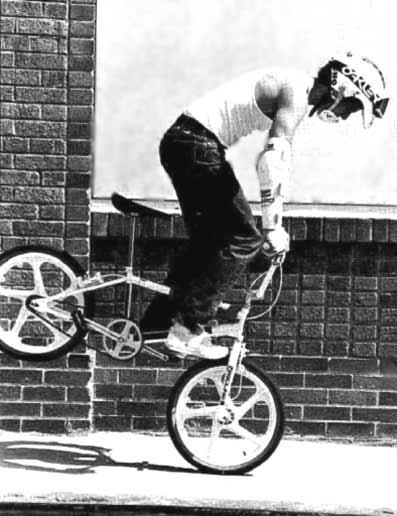 And! There was that thang Jez Avery did where he'd wheelie and drop the front wheel out.......I allus assumed he'd pull the wheelie right out the back........or mash the forks and go R. Sovertit on landing!!
Cheers,
Dav
_________________
Yer Power b'roight Weak, Old Maan- Oi'll tek yon Loightzaber an' Stick it Up Thy Bum!
If only they had let Dave Prowse do the voice.......
PLUS!!
...............buy my old tat!!
Road Stuff
MTB Stuff