A few people have asked about adapting the adapter...pre-2000 to ISO 2000. This is what I did:
Cut and filed off 3.5mm from the inside face of the mounting tab, carefully. The shape of the milling depends on your caliper mount.
This is for a Hope Mono Mini #5 caliper direct to ISO without a postmount adapter, others are likely to be more straight across: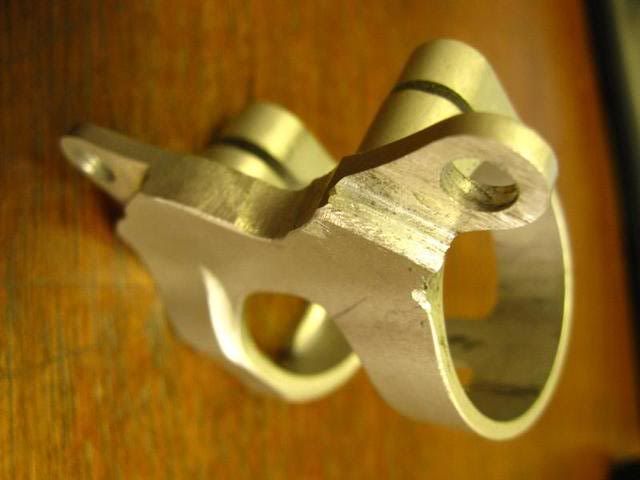 Unfortunately this leaves the mounting tabs only 3mm thick, not the ISO 6mm+ but it does work (At your own risk).
Also increase the chamfer on the bottom inside edge of the adapter to about 6mm at around 30 degrees. This stops the rotor boltheads from fouling.
I've drawn up an ISO version of the adapter, with the mounting tabs rotated clockwise slightly for clearence and moved outboard: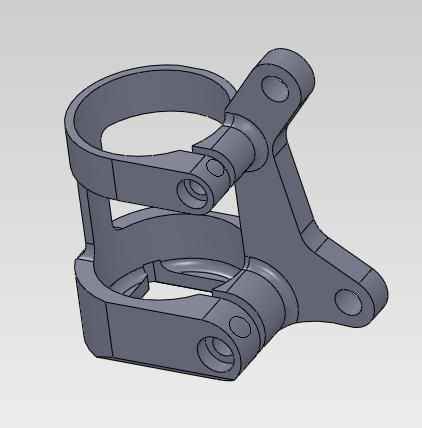 But I think the whole thing could be designed a lot simpler, maybe two separate clamps around the leg and a bolted on mount bridging the two? What's the rotation risk?
Is there any interest out there for an ISO 2000 adapter? I'll farm around for some quotes if there's a demand. Otherwise, I'm happy to pass some untested CAD files around...dxf/STEP/IGES/SW etc. for CAM milling. Maybe even Laser Sintered RP, anyone?
Alternatively...if you're running a chunky caliper mount, like the cheaper Avid ones (rather than the finer forged or CNC milled ones):

it might be easier (and less risky) to just remove the thickness from around the mounting holes on that, and just chamfer the bottom of the Fournales part.
All the best,
_________________
Dan Chambers
danson67
Pause, take a breath and ask yourself: "What would
Rast
amo
use
do?"
New in the quiver:
Danson Pinion P1.18 hardtail