Huge clear out of many many saddles. Loads more pics in Photobucket.
All plus £3 for uk post, or buy some more bits from my for sale threads in my sig and get free post! Worldwide shipping at cost.
Velo Toplite Titanium, used 3 times, underside cutout, 265 x 130mm, 210g £24
SDG Ti Fly, Kevlar style fabric covering, 265 x 130mm, super light at 187g!!! £32
Fizik Pave Giro Titanio, rare early Fizik from 2000 model year, black leather top, carbon composite base, ti rails, spare trim set in blue, 270 x 130mm, 265g £30
Bontrager RXL titanium, used twice, ti rails, carbon composite base, 270 x 143mm, 206g, £38
Prologo Kappa Pro Ti 2.0, 276 x 143mm, 265g, £28
Fizik Aliante Gamma, carbon composite base, manganese rails, 275 x 140mm, 266g, used 3 rides £36
Charge Spoon black leather, 280 x 141mm, 315g, £20 SOLD
Charge Spoon tan/brown leather, as above but just 270g, £24 SOLD
Giant branded Velo Charge Spoon, as per a normal spoon but with a bit more padding, used 3 rides, 336g, £12
Selle Italia Flite Titanium Genuine Gel, 280 x 143mm, 280g, £29
Selle Italia XO Genuine Gel, 275 x 140mm, 319g, brand new take off in blue £22 or used approx 20 rides in white £18
Selle Italia XO Flow, cutout, black, 5 rides old, 275 x 143, 283g, £30
Selle Italia X1 Ergonomic, flat top, NEW, 262 x 138mm, 290g, £20
Selle Italia Zoo Sports Tourer, used once, 280 x 153mm, 299g, £20
Bontrager comfort saddle, very padded, 260 x 150mm, 379g, £12
Specialized BG Sonoma 155, hardly used, rails marked, 280 x 155mm, 400g, elastomer system for shock absorption £22
Trek CRZ comfort saddle, 255 x 173mm, 400g, well worn in places, but a very comfy hack seat, £10
WTB Shadow V saddle, done 2 rides, 268 x 130, 225g, almost mint, underside cutout, black, £19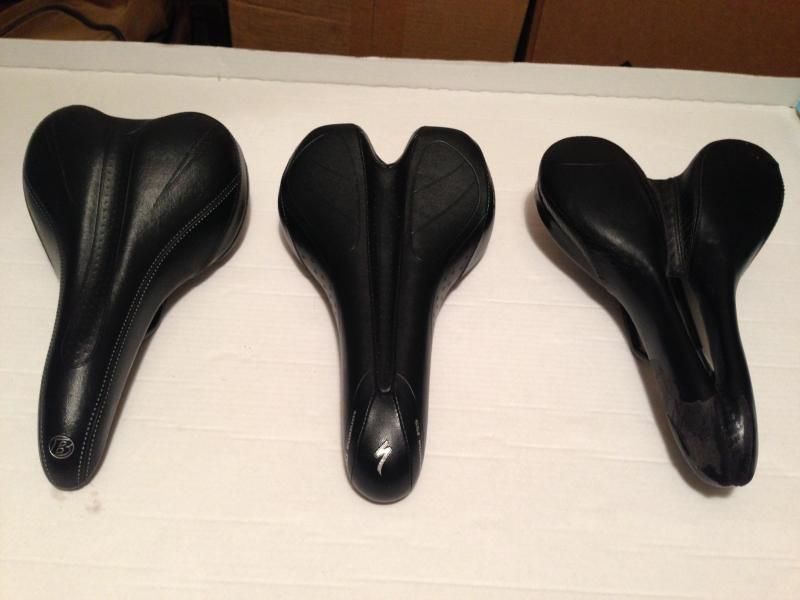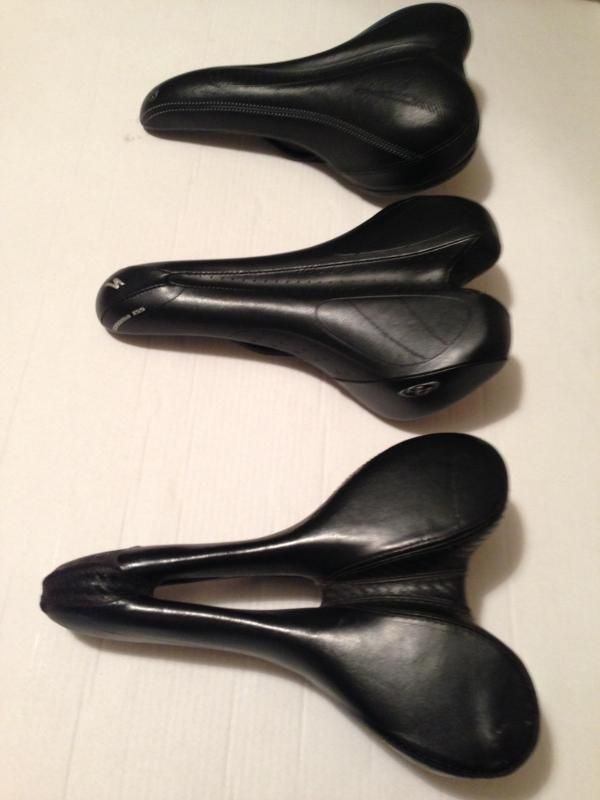 Loads of pics in the album, just click on pics above and browse away. Multiple purchase deals always welcome.
Cheers!