Kona Kikapu Deluxe Frame
16", Fox Float R Shock, 100mm Travel.
Great frame, well used but not abused. Shock still feels smooth and no play in pivots. Paint on main triangle is good although the stays have quite a few scuffs and chainsuck scrapes (see pics). No cracks or dents. More components from the bike up soon. £150 posted, collection possible from Newcastle area.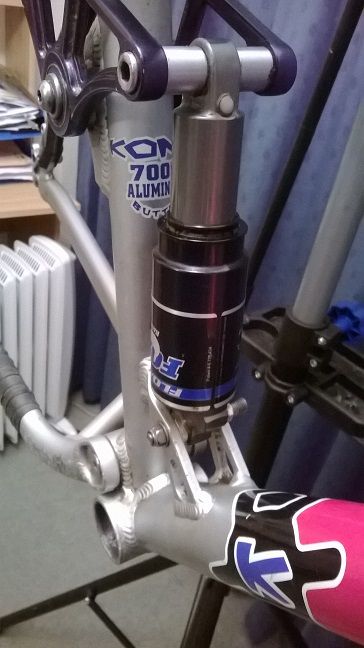 Rock Shox Reba
100mm Travel (can go to 120 with internal spacers), dual air, for 9mm QR axle. 170mm steerer so smaller frames only.
Very nice condition, stantions unmarked, smooth travel and lockout works perfectly. £120 posted.
Other parts listed below. pics here:
http://s1246.photobucket.com/user/nj_ci ... na%20Parts
Wheels
- Mavic XM 317 Disc Rims on SLX rear and Deore Front hubs. SLX is centrelock Deore 6 bolt. Decal missing from front rim. Very good condition no dings or cracks. QRs included. £70 for both posted or can split if needed.
Easton EA50 Bar
- 25.4 diameter. 635mm length. Uncut. A few marks from brake/shifter clamps but otherwise good. £12 posted.
Rotors
- 180mm Ashima 6 bolt and 160mm Shimano Centrelock. Both have had very little use. £7 Each.
Ergon GA1 Evo Grips
- Hardly any wear to the grips themselves just a few scuff on the end caps. Very comfy. £10 posted.
Deore M596 Brakes
- Excellent condition, good bleed on both and pads have loads of life. Front caliper mount faced with file for more accurate centering (see pic). Hoses 125cm and 78cm. £55 for the pair posted.
Deore SL M590 Shifters
- 9 Speed, Great nick again had very little use. £25 posted.
XT M760 Chainset
- BB and fittings included. Quite few heel related scuffs. Middle ring is middleburn. Rings are used but were shifting fine and no slippage with new chain. BB is good no play in bearings. £50 posted.
Schwalbe Ice Spikers
- Had great fun on these last winter! Loads of tread left and I've counted just one missing stud on each tyre. £60 the pair posted. SOLD
Maxxis Advantage 2.4 Folding
- Loads of life left in tread. £25 the pair posted.
LX Chainset
- Never used by me as I went for the hollowtech XT in the end. Super condition looks hardly used. £30 posted.
Just bought the Salsa as a complete bike but due to a sizing mix up turns out its too big for me. Gutted it doesn't fit so going to have to move the frame on and buy something my size. Also selling a few other odds and ends that I'm not using.
Salsa Las Cruces Frame & Winwood Carbon Fork
Seat tube 57cm (centre to top), disk or canti brakes, 135mm rear spacing.
Very nice condition, no dents or cracks. Some cable rub on the head tube and minor scuffs on chainstays but otherwise paint is good. Apologies for poor phone pics its more orange and less pink than it looks here. Hope headset, top cap and salsa seat clamp all included. BB will be removed before sale. £250 posted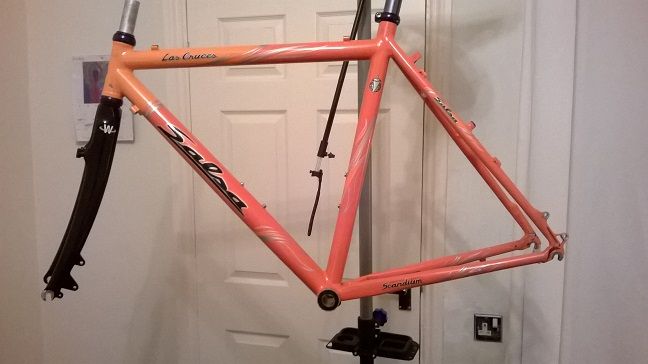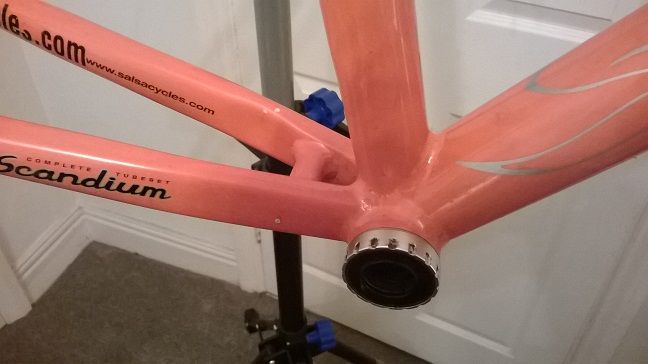 XTR M900 Front Mech
34.9 clamp, bottom pull
Great condition almost unmarked. £25 posted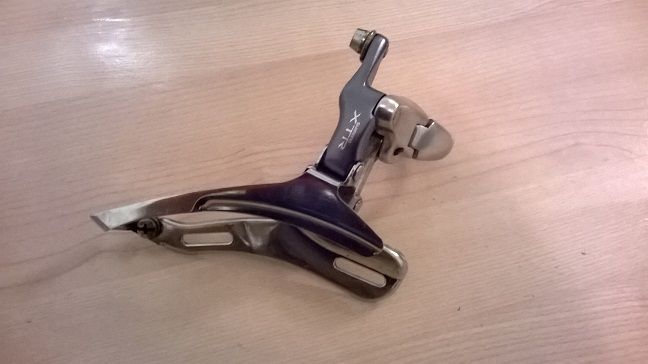 Thomson Elite Stem
25.4 clamp, 110mm long, 15 degree rise.
Very nice no scratches. £30 posted
Crank Brothers Cobalt 3 Seatpost
31.6 Diameter. Was 400mm but had to cut 2cm as there was a small nick in the bottom so now 380mm.
Still loads of length, very good condition, some slight insertion marks but mostly below min line. £25 posted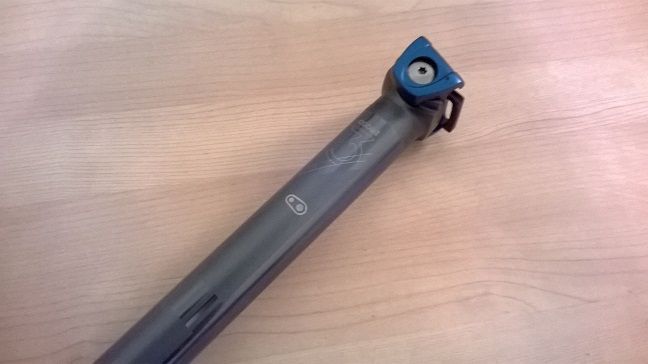 Open to offers on multiple bits, will always combine postage. PM for anymore info or pics.
Charge Spoon
Great condition no tears or scuffs.
£15 posted SOLD