Various spares
fom top left:
Titec El Norte Scoper Post SOLD
Telescoping seatpost for frames with little or no seat tube.
30.9mm. Almost unused. I only used the lower half as a shim, the upper section with clamp is unused.
£15 plus postage of £3.00 (sold subject to payment)
blkmrkt turquoise seatpost clamp 34.9mm
very light and minimalist. Has no upper 'lip' for some reason, just 34.9mm straight through.
£4 plus postage of £2.00
Shimano SH51 cleats - brand new, only opened bag for pic.
£5 plus postage of £2.00 SOLD
Shimano M424 SPD pedals
Plastic cages a bit bashed but still ok. Mechanism works flawlessly.
Cages have had the plastic teeth cut down flat to allow better clip-out with my MT-91 boots.
£10 plus postage of £4.00
Spare spokes and nipples (2) and sticker pack for Hope Hoops 262mm. New and unopened.
£4 plus postage of £2.00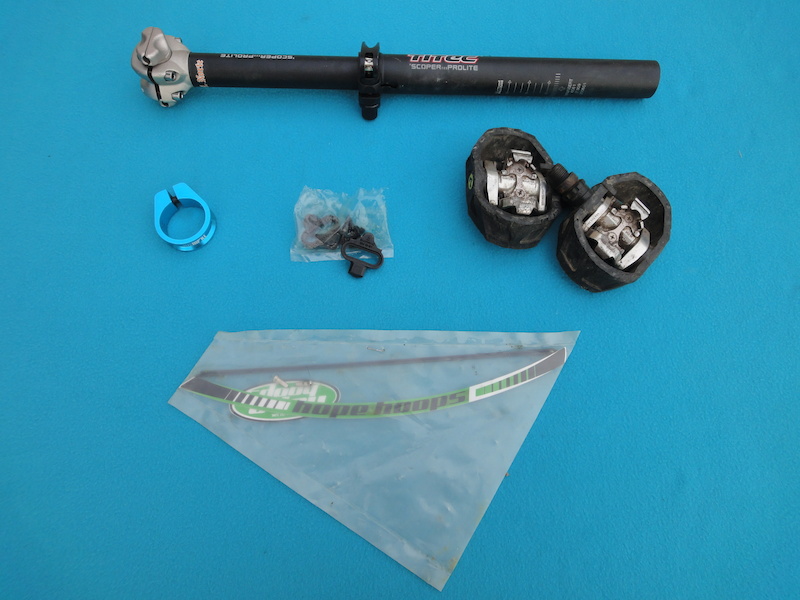 A firm offer by PM will take priority over a thread post so make sure you send a PM (I can see all PMs in one place in my inbox all in date and time order, I have to scroll about to see posts so I might miss one - I have more than one sale thread active)
A firm offer will always beat a cheeky offer as long as a cheeky offer has not been replied to by me with a 'SOLD TO YOU FOR £X'. I always believe my stuff is priced fairly so a VERY cheeky offer will probably be ignored!
All shipping is by Royal Mail signed for unless otherwise agreed.